LAMBAYEQUE, PERU – When floodwaters engulfed the ĺllimo district on 14 March 2017, Lily Silva Aricoché led her family and neighbours to safety. During the months that followed, she coordinated assistance to flood survivors – including protection from the rising violence that threatened women in temporary shelters.
Yet one year after the Coastal Niño floods hit Lambayeque, Piura and other regions of Peru, much more work is needed to make sure that flood-affected women have the protection and reproductive health services they need.
There had been steady improvement in their situation, Ms. Aricoché recalled. Threats of violence began to abate after a Women's Emergency Centre (CEM) came to Lambayeque.
A mobile unit of lawyers, social workers and psychologists deployed by UNFPA and the Ministry of Women and Vulnerable Populations, the centre offered psychological support and legal advice, and empowered women to organize.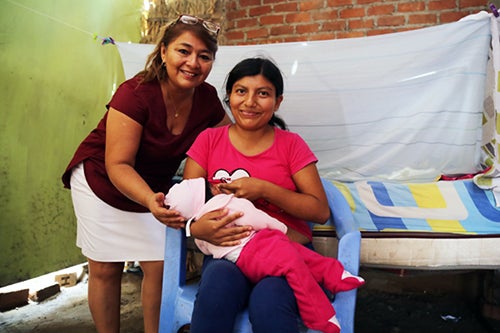 Maritza gave birth at home because her local health centre was shuttered. She is here with her obstetrician and 9-month-old daughter. © UNFPA Peru/Angela Valverde
"The CEM was a liaison between us and the authorities," said Ms. Aricoché. "Our voices were heard, and we felt we could do something for the situation at our shelters."
The centre closed in December, after most displaced people in the area had returned to their homes or been placed in temporary housing.
But according to Ms. Aricoché, who still lives in a shelter with 60 other families, women in the area have again begun to feel unsafe. "We need support," she said.
Amid slow recovery, heightened risks remain
The situation remains difficult in other areas, as well.
Piura, the region most affected by the floods, remains under a state of emergency, and reconstruction efforts have encountered delays. About 11,000 people, including nearly 3,000 women and adolescent girls, still live in temporary shelters, without basic services, according to an April report of the National Institute of Civil Defense.
Women and adolescents in humanitarian situations are acutely vulnerable to a range of threats to their human rights – from heightened risks of gender-based violence to death and disability for lack of adequate health care. Women affected by conflicts, disasters or fragile settings account for 6 out of 10 preventable maternal deaths, according to 2015 data from UNFPA.
In Piura, 22-year-old Maritza went into labour in the aftermath of the floods, which isolated her community of Simbala and kept its health centre shuttered for weeks.
"I was afraid I would give birth inside a precarious motor vehicle," she recalled later. Instead, Maritza sent her husband to find an obstetrician from a UNFPA-supported health post. "She came with all her equipment and, with the birth kit that I had handy, I gave birth right here [at home]."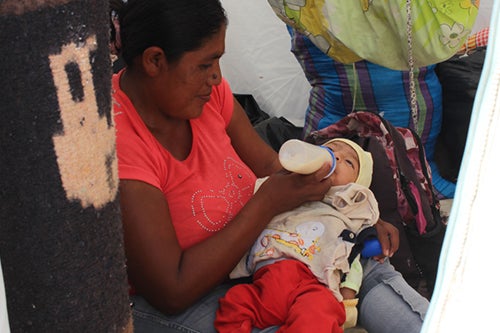 A woman feeds a baby at the San Pablo camp. © UNFPA Peru/Angela Valverde
Services to save and rebuild lives
UNFPA's mobile reproductive health brigades delivered obstetric services – including antenatal care, safe delivery and postpartum care – to 3,000 women in the Piura districts most affected by the flooding.
In addition, over 13,500 disaster-affected women and adolescents in Piura, Lambayeque, and six other affected regions directly benefited from sexual and reproductive health kits delivered by UNFPA and Peru's Ministry of Health. UNFPA also supplied medicines and other assistance to help the health ministry reach more than 500,000 women of reproductive age in the nine affected regions.
UNFPA has additionally trained 258 doctors on reproductive health care, gender-based violence prevention, and prevention of sexually transmitted infections, HIV and other infections, including dengue and Zika.
Many of these efforts are ongoing. Two of the four UNFPA-supported Women's Emergency Centres remain operational, for instance. And with financing from the European Commission Humanitarian Aid Department, UNFPA is continuing to support and train health and protection personnel in Piura, Lambayeque and at the national level, which will strengthen the provision of these critical services in emergencies.
For Maritza and her little girl, now 9 months old, timely access to quality reproductive and sexual health services made a critical difference at a life-and-death moment. And it's a key part of rebuilding their lives.
Every month, Maritza takes her daughter to the health centre for a check-up. "Today," she says, "we have good health and we are recovering, little by little."