THIMPU, Bhutan – Nuns might seem like the last people needing sexual and reproductive health education. But in the tiny, landlocked Himalayan nation of Bhutan, holy women are being empowered by this information – and they, in turn, are empowering the members of their communities.
Bhutan has thousands of nuns and monks living in over 200 monasteries, most of them in remote mountainous areas.  Women of any age can become a nun, and many join as young as 5, missing out on a formal education. With limited government support and most nunneries headed up by men, these girls and women often lack even basic information about how to live healthy lives.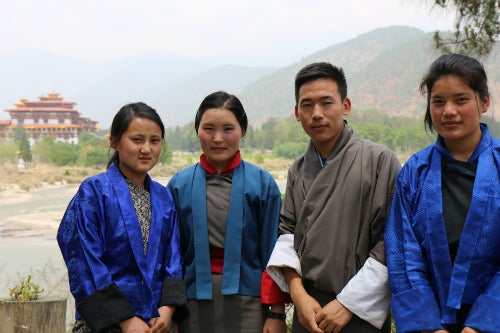 Students in Punakha. Young people need education about their health, bodies and rights in order to make healthy choices. © United Nations/Tim Jenkins
Ani Tandin Lham, 22, is one of 150 nuns from across the country who received life-skills-based sexuality education from the Bhutan Nuns Foundation and UNFPA. The training included information about women's sexual and reproductive health and their human rights, including their right to freedom from violence.
"I learned proper hygiene, how to care for my body during menstruation, and that we should not feel ashamed," said Ani Lham, at Sangchen Dorji Lhendrup nunnery in Punakha, the ancient capital of Bhutan. Ani Lham joined her order after attending high school, but she says the training was still very informative. "These are natural things, and life-skills education helps now and in the future."
Even though nuns do not marry, this education is valuable to them. And as community leaders and sources of knowledge, they can convey these lessons to members of their communities.
With other nuns, Ani Lham now shares her knowledge with women and girls both inside and outside of her order. She holds both informal talks and group learning sessions, and she works to correct misconceptions surrounding sexuality.
"With these life skills we can help ourselves and others," she told UNFPA.
Reaching Bhutan's youth
People under age 24 make up over 56 per cent of Bhutan's population, according to the 2015 State of World Population report. Information about their bodies and rights is essential to helping young people make healthy choices, yet many youth are never exposed to these ideas.
Studies have shown that fewer than half of students receive information about reproductive health from their parents. And according to the government's 2012 National Health Survey, over 74 per cent of women believe there are acceptable reasons for a husband to beat his wife. Fifty-five per cent said their husbands expect them to ask for permission before receiving health care.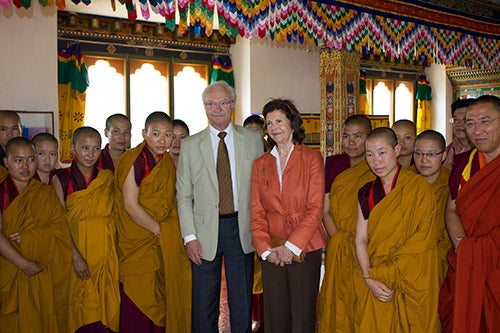 "It's extremely helpful if these nuns can get an education that they can then spread further," Queen Silvia of Sweden told journalists when she visited Ani Lham's nunnery. © United Nations/Caroline Aberg
"It's extremely helpful if these nuns can get an education that they can then spread further," Queen Silvia of Sweden told journalists during a visit she and King Carl XVI Gustaf paid to Ani Lham's nunnery earlier this month. Sweden has partnered with UNFPA to support the training programme.
In addition, UNFPA is supporting the implementation of comprehensive sexuality education in schools. Through these programmes, young people are learning valuable life skills, such as how to keep themselves safe from unwanted pregnancies and sexually transmitted infections. Human rights and the rights of women and girls are woven into these lessons, as well.
And in colleges and vocational schools, UNFPA is supporting youth-led initiatives, such as YPEER, in which young people reach out to one another with reliable information on sexual and reproductive health and maintaining healthy, respectful relationships.
High hopes for the future
Men are now being targeted with messages about sexual and reproductive health and ending sexual violence.
With the local NGO RENEW – which stands for Respect, Nurture, Educate, and Empower Women – UNFPA is providing sexual and reproductive health trainings in monastic institutions across the country. Like the nuns, the monks who participate in these trainings will help promote these issues in the broader community.
"We're looking forward to the day when every monk and every nun talks openly about health, sexuality, rights and lifestyle choices," said Yeshey Dorji, UNFPA's Assistant Representative in Bhutan. "With the huge respect and influence they wield, this will lead to healthier, happier, and better-informed individuals and communities across the entire country."
Looking to the future, Ani Lham has high hopes for women, girls and young people in her country. Once they are reached, they will carry these lessons forward, she said.
"If you teach a woman in your house, then she'll teach your whole family," she said.
– Karma Tshering, Dechen Chime and Tim Jenkins