Is  access to contraceptives a human right? If so, what are the consequences for governments and the way they provide health to their people? How does a human-rights approach affect the way international development agencies work with family planning? And does it ensure that people in need of contraceptives are involved and heard?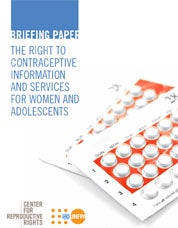 The answers to these important questions can be found in the new publication, The Right to Contraceptive Information and Services for Women and Adolescents , launched 23 March by UNFPA and the Center for Reproductive Rights.
"This is the first comprehensive effort to link the right to contraceptives to the human rights framework," said Luz Angela Melo, UNFPA's Human Rights Adviser, "The report is an important tool that can help us use human rights standards, and national constitutions and laws, to remove the obstacles adolescents and women face in accessing contraceptives."
Today more 215 million women around the world want to postpone their next pregnancy but are not using modern contraceptives, either because they don't have access to them or because their families object. This unmet need for family planning results in millions of unwanted pregnancies, unsafe abortions and maternal deaths.
The new report provides practical guidance for activists, scholars, UN agencies, non-governmental organizations, governments and other actors who work in the area of sexual and reproductive health so they can integrate a human rights perspective into programmes and policies on contraceptive information and services.
The report assesses the benefits of access to contraceptives, lays out human rights standards and principles and provides an overview of how to apply a human rights-based approach to the provision of contraceptive information and services.
"The paper is a reminder that access to family planning is founded on international human rights. It is about legal obligations for all states. But this is not only an analytical tool, it is also a practical to-do list on how to put the rights into practice," Luisa Cabal from the Center for Reproductive Rights said at the launch.
The development of the report was supported by UNFPA, the Center for Reproductive Rights and the law firm White & Case.