PAKSE, Lao PDR—Khanthava is sitting on the well-made hospital bed with a drip in her arm, waiting for her labour to begin at the regional hospital here in southern Lao PDR.
Her water broke five hours ago. But because there were no contractions, the labour was medically induced. Though a bit scared, the 25-year-old, first-time mother-to-be knows how lucky she is. Had she not lived relatively close to the well-equipped hospital, both she and her baby would have faced much higher risks.
In the nearby, mountainous Sekong province, the death of a woman in childbirth is a grim reality – as it often is in many other rural and remote parts of Laos. Many villages are cut off for months during the rainy season. Even in the dry season the nearest health centre is often a three-to-four-day trek away and might not be more than a shack staffed by a health worker with no midwifery skills for just couple of hours a day.
Instead of embarking on such ordeal, most women, quite understandably, choose to stay and give birth at home.
A plan to deliver qualified birth attendance
There's a hustle and a bustle going on two rooms down from the modern maternity ward where Khantahava is waiting for her newborn to arrive. Tables and chairs are being moved to accommodate all the people who have come to talk about the regional launch of a new and ambitious national development plan on skilled birth attendance.
The plan (see more details below) focuses on getting more midwives, proper emergency obstetric equipment and sufficient medicine for Lao mothers. It also aims to ensure that women, families and communities know how to make a birth safe and to be prepared to act if and when problems arise. Hosted by the Ministry of Health, some 65 people from provincial and district hospitals, local education institutions, NGOs and the Lao Women's Union have come to discuss how to implement the plan.
"We face a dramatic shortage of skilled birth attendants, particularly in small, nomadic ethnic villages."

--Dr. Ponmek Dalaloy
Maternal health improvements are badly needed in Lao PDR, which has one of the highest rates of maternal death in Southeast Asia, and where more than 700 women every year die in pregnancy or childbirth.
Only 86 trained midwives -- in a country about the size of the United Kingdom and with some 5.6 million people – and just a handful of hospitals are equipped to deal with difficult complications during childbirths. Only 18 per cent of all Lao births are attended by health personnel. And on an average day, two families lose a mother and nearly 20 babies are stillborn. Each week nearly 100 infants die – many for lack of the neonatal care that a skilled attendant could provide.
Minister of Health is a driving force
The Lao Minister of Health, Dr. Ponmek Dalaloy, understands the problems well. He has been a driving force behind the new 'Skilled Birth Attendance Development Plan', that was developed in close cooperation with UNFPA, the United Nations Population Fund, with input from WHO, the Japan International Cooperation Agency, donor countries and national organizations.
"We are facing a dramatic shortage of skilled birth attendants, particularly at local level in small, nomadic, ethnic villages," Dr. Dalaloy said at the national launch in November 2008. He emphasized the need for support to the $1.3 million plan and elaborated: "What we need is not only individuals, but a complete and competent professional team with appropriate installations and equipment. We need to strengthen our health system."
Economic and ethnic challenges
The minister, as well as the participants at the regional launch in Pakse, are fully aware of the challenges ahead. In Lao PDR less than 2 per cent of the GPD is used on health. And a birth in a facility – though free of charge, in principle – can cost a family up to one month's salary in expenses for transportation, accommodations, food and medicine.
The main challenge, however, is to give women confidence in the health system and make it culturally and socially acceptable, so they will seek help. This is important in a country with 49 different ethnic groups, 82 distinct languages, a myriad of dialects, and many differing views about medicine and healing. Success will require that ethnic groups are included in the whole roll-out of the plan, both in the development of skilled birth attendants and in the outreach that is planned in the communities.
Working in new ways
"We need to make sure that the health system is ready to deliver, but we also have to look at the demand, and what is needed to make women want to use the services. This requires that we work on many fronts, in new ways, with new partners," says Ms. Somchit Akkhavong, who is Deputy Director of the Department of Hygiene and Prevention in the Ministry of Health and leads the regional launch of the plan in Pakse.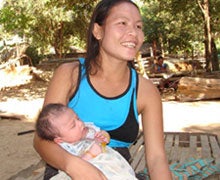 The Lao Women's Union, a massive organization with a committee in every single village in the country, can play a crucial role in making skilled birth attendance the rule and not the exception, as can other civil society groups.
"We already advocate for the health of women and children, and we will involve our village committees in the work to make women and communities aware of what is a safe birth, and how they can prepare for it – whether at home or in a facility," says Ms. Soulikhammone Phothisan Chief of the Human Resource Division of the Lao Women's Union in the Champsak province which is home to almost 1000 villages.
The provinces are ready to act
At the regional meeting, representatives from the five provinces present and discuss their plans for how to start the work. It will begin right away, because as one says: "For every week we postpone another 14 women die in childbirth in Laos, another 14 families loose a mother, and we are the ones who has to stop that."
In the meanwhile, in the maternity ward Khanthava, after five hours of labour, gave birth to a baby girl at 2.8 kilos. Both the baby and the mother are healthy and happy.
—Katja Iversen
The Lao PDR National Skilled Birth Attendance Development Plan
In an attempt to reduce the high number of maternal and newborn deaths, the Lao PDR Ministry of Health has launched an ambitious national plan to increase both the provision of, and demand for, quality maternity care. Developed with assistance from UNFPA, WHO, JICA, donor countries and national organizations, the plan aims to reduce the maternal mortality rate in Lao PDR from 405 deaths per 100,000 births to 260 per 100,000, thereby reaching the maternity mortality reduction target for Millennium Development Goal 5.
Launched in November 2008, the plan has five crucial components. It aims to:
Expand or refresh the midwifery skills of existing doctors, nurses and midwives. There is an immediate need for about 1000 health providers with basic skills to save the lives of mothers and their newborns.
Establish a system for education and training of midwives and skilled birth attendants. The plan calls for education plans and midwifery schools (none currently exist), so that the first 800 midwives can be educated in 2012.
Strengthen the deployment, retention and supervision of the skilled birth attendance workforce.
Improve the working environment for skilled birth attendants and ensure that all health facilities have the essential equipment and medications to make childbirths safe.
Strengthen the links between the communities and the health care system, so that more women can and want to give birth with skilled assistance. This includes development of safe birth plans for the individual women and involving communities in planning for emergency obstetric care when complications arise.
It has been a long journey to get the Plan developed and the UNFPA country office has been there every step of the way.
It started with a workshop for all stakeholders including the Ministry of Health to raise awareness of the issue of midwifery and skilled birth attendance. Here it was agreed to do an assessment of the situation of skilled birth attendants in the whole country. The assessment - facilitated by UNFPA - showed that there are only 86 trained midwives in Lao PDR, just a handful of hospitals equipped to deal with difficult complications during childbirths, and only 18 per cent of all births are attended by trained personnel. The result is that two families every day lose a mother. In addition, each year more than 6,400 babies are still-born and almost 5,200 die within the first week of birth.
This evidence of the dire situation was what the government and its development partners needed. Based on that, the Minister of Health ordered the development of the Skilled Birth Attendance Plan, which the Ministry has prepared in close cooperation with UNFPA, WHO, JICA and others.
Saving women's lives is achievable, according to Mieko Yabuta, UNFPA Representative in LAO PDR "It's no longer an issue of knowledge – we know how to save the lives of Lao women – it is now an issue of advocacy and political will." She is optimistic, and she compliments the government and the Ministry of Health for their leadership and commitment.
"There is a tremendous political opportunity to make progress right now, and we must use this very specific occasion to secure a breakthrough for women and mothers across the country – whether they live in a town or rural village," she says, and pledges UNFPA's continuous support to the ambitious plan.
"For UNFPA, the death of one mother or newborn is one too many. We are committed to reducing the death toll here in Lao PDR and ensuring the right of every woman to a wanted pregnancy and a safe birth," Ms. Yabuta added.
Getting the Skilled Birth Attendance plan, which is just part of an integrated package of the maternal, newborn and child health interventions planned by the Ministry of Health, off the ground will require an initial $1.3 million. The Ministry of Health intends to negotiate with the Ministry of Finance about allocating some of the expected revenues from a new hydroelectric power plant to support full implementation of the plan and to seek the remainder of needed funds from donor countries and international agencies.