The Mongolia Representative of the United Nations Population Fund (UNFPA), Linda Demers, has received an honorary doctorate degree in Economic Science from the National University of Mongolia, the nation's oldest and most prestigious. Ms. Demers accepted the award in the nation's capital, Ulaanbaatar, in late January in the presence of parliamentarians, the university's rector, Mr. Gantsog, and senior government officials.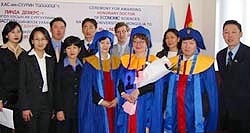 The university's Scientific Committee gave her the degree for contributing to "the training and retraining of national demographers and economists, to national research capacity-building and to the development of population and development-related research and studies," said Mr. Gantsog, the rector, in a citation.
The award made Ms. Demers one of only eight people and only the second woman to receive such a degree from the university in the last 40 years. She is also the first foreign woman to get the honour. Only last year, she received the highest honour of Mongolia's statistical system, when the National Statistical Office presented her with its "Best Statistician" award for helping to reform the nation's statistical system.
Accepting the honorary degree, Ms. Demers commended the work of the university's Population Teaching and Research Centre, especially for giving the Government the information necessary to make tough decisions to reduce poverty and on the country's development. The Centre, she added, was a success story of the UNFPA's assistance to Mongolia. It has also trained experts to conduct sound academic and policy research with the latest methods.
Contact Information:
Abubakar Dungus
Tel.: +1 (212) 297-5031
Email: dungus@unfpa.org