SONG KLONG, Saravan Province, Lao People's Democratic Republic—A medical officer from a travelling health team sits at a table outside a hut in this remote village and examines Ny Sirimatham and her infant son. He talks with Ny about different family planning options and then gives her a free supply of oral contraceptives, prescribing the so-called mini pill because she is breastfeeding.
Like two thirds of Lao women, Ny, 36 and the mother of seven children, has never practised family planning before; only one couple in six is currently using contraception. Use is especially low in rural areas where health services are quite limited, contributing to rapid population growth, persistent poverty and, for women and teenage girls, a frightful risk of dying in childbirth.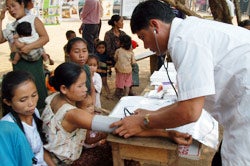 In Saravan, where only one woman in five gets prenatal care and very few have access to professional delivery assistance or emergency obstetric care, seven mothers die for every 1,000 births.
Ny and her husband Phon, 40, don't want to have any more children. But Ny says they were too poor to pay for contraceptives at the district clinic, which is 12 kilometres away and charges a modest fee.
Now they are benefitting from the arrival of the mobile clinic, which since last year has come to Song Klong once every three months as part of a government-run reproductive health project supported by UNFPA, the United Nations Population Fund.
The six-member teams of doctors, nurse/midwives and health educators reach 107 villages in the poorest parts of three south-eastern provinces: Attapeu, Sekong and Saravan, where roads are bad (often impassable in the rainy season) and much of the population belongs to non-Lao-speaking ethnic groups.
Working in cooperation with the the Lao Women's Union, UNICEF and others, the mobile clinic teams vaccinate children and provide a range of reproductive health services, information and counselling for adults and adolescents 15 and older—including family planning, prenatal care, treatment of sexually transmitted infections and education on HIV/AIDS prevention. Over two days, one team will provide services for everyone who needs them. The team will stay overnight in the village, showing health education videos in the evening.
The mobile teams are a key part of UNFPA's effort to strengthen reproductive and sexual health services provided through the primary health care network of Lao PDR, one of the world's poorest countries. Building on past programmes that have increased contraceptive use and made motherhood safer in much of the country in the past decade, the Fund's main focus is now on severely underserved rural areas where large families and teenage marriages are normal, maternal mortality is still high and there is a large unmet demand for family planning, especially among minority groups.
The challenge is great. "Population density in this country is low, so people often overlook its population problems," says Nobuko Horibe, UNFPA Representative in Lao PDR. "Few realize how difficult it is to reach people with services in remote rural areas and to overcome language barriers."
UNFPA is providing about $1 million per year to support the mobile clinics, train service providers (including training in counselling and emergency obstetric care) and village health volunteers, and provide equipment and supplies to health facilities.
Other parts of UNFPA's country assistance programme reinforce the rural health effort. These include: 
Helping the Ministry of Health to develop national standards for reproductive health service delivery at regional, district and village levels;
Providing supplies and logistics support to make family planning available in 700 health centres throughout the country;
Supporting community outreach activities and training village volunteers to promote gender equality and raise awareness of the problems and risks of early marriage and pregnancy, too-frequent pregnancy and unsafe sex;
Training schoolteachers to teach students about sexual and reproductive health, population issues, life skills and drug abuse prevention;
Expanding access to reproductive health information and services for adolescents and youth—this includes a rural project that reaches many of the same villages and complements the efforts of the mobile health teams.
In Attapeu, a mobile team sets out early one morning from the provincial hospital in two vehicles. They cross the river on a barge and drive 30 kilometres to the health centre in Phouvong to pick up district health staff members and supplies. The vehicles then travel another 15 kilometres on a rough, rocky road to Houay Kout, a village of the Lawae minority.
By the standards of the mobile clinics, this is an easy trip, especially in the dry season. Many villages take hours to reach. Some highland villages in Sekong are not even accessible by vehicle, so the teams must hike in.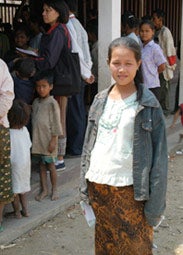 More than 100 women and small children gather around a small schoolhouse in Houay Kout. Many mothers, ranging in age from mid-teens to 40s, are nursing their babies. They wait as one team member weighs and vaccinates infants, and another counsels women about family planning. In the classroom, two health educators lead a group session on health and hygiene.
In another small room, a midwife gives a prenatal exam to Nang Orn Ta, 20. During two previous visits by the mobile team, she was immunized against tetanus, taught about nutrition and baby care, and counselled about family planning.
Pregnant for the first time, Nang says she plans to deliver at home with the help of Nang Ngout, a traditional birth attendant who has had very limited training. "The district health centre is quite far away, and I can't afford to go there to give birth," the young mother-to-be says.
If there are life-threatening complications, the birth attendant states, "we will carry her on our shoulders and walk to the health centre," an eight-hour trip. If surgery is required, the patient will have to be sent somehow—there is no ambulance—to the provincial hospital in Attapeu city, crossing a river by boat.
Nang says she wants to wait three years before she has another child. Self-assured and aware of her options, she names four family planning methods the teams offer—condoms, pills, intra-uterine devices and injectable contraceptives—and says she prefers the injections.
"Whatever I choose, my husband will support me," she adds.
—William A. Ryan