IMISHLI, Azerbaijan – Recent weeks have seen several high-profile cases of gender-based violence splashed across headlines. Millions of women around the world have demanded an end to these abuses – and, increasingly, people are calling for men to take action as well.
In the remote villages of Imishli District, in Azerbaijan, men are doing just that.
"We are here to pave a new road free of violence, and free of ignorance towards gender-based violence," said Vusal, 23, who participated in a UNFPA-supported initiative that brings men together to address violence, as well as the deep gender inequalities that fuel it.
Violence against women and girls is widespread, yet it is largely considered a private matter. According to a 2008 survey by UNFPA, nearly a quarter of Azerbaijani women reported experiencing some form of violence, yet fewer than 1 per cent sought help from public services.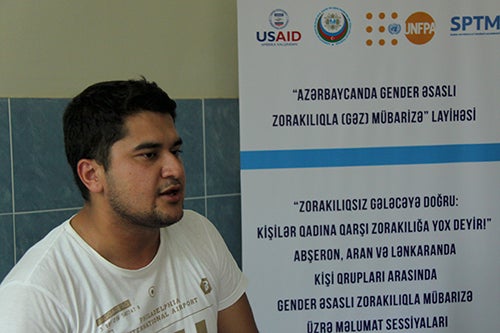 Javid Shahmaliyev, the head of the UNFPA-supported Centre for Social and Psychological Studies, facilitates an awareness-raising session. © UNFPA Azerbaijan
Stigma, insufficient legal protections and lack of services all mean violence is rarely even discussed, a situation Vusal described as "utterly challenging."
Survivors blamed for violence
The initiative – which was launched by UNFPA in 2016 with funding from the United States Agency for International Development – educates men how to end gender-based violence.
"One of the major impediments to adequately addressing the issue of domestic violence in Azerbaijan is the inclination of the husband, the family and the community to hold the woman responsible for almost all cases of violence that occur," said Javid Shahmaliyev, head the Centre for Social and Psychological Studies, which works with UNFPA to conduct these information sessions in Aran, Absheron and Lenkoran.
"Even when women are not blamed for the violence they endure, they are seen as the main force that can and should do something to alleviate the problem," he added. "Men are never seen as the problem, as everyone believes that men cannot be changed."
But these men have set out to disprove this idea.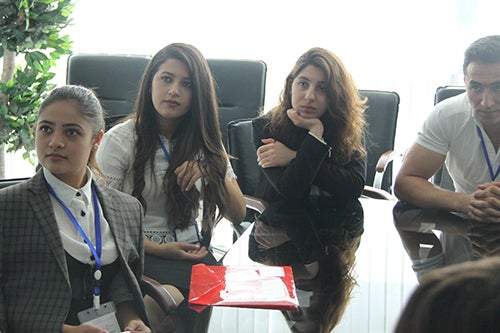 There are also sessions that include women participants. © UNFPA Azerbaijan
Learning to take action
The project brings together small groups of men to discuss gender-based violence over two days.
First, they explore how rigid ideas about gender roles can contribute to violence. For example, a 2006 survey showed that 49 per cent of women and 58 per cent of men in Azerbaijan believe violence can be justified if wives do not meet certain expectations.
They also discuss different kinds of violence – not just physical violence but also emotional and economic abuse.
Next, they talk about how to intervene if they know violence is taking place. The men are encouraged to speak up for survivors and to place accountability on perpetrators.
They also discuss how to assist survivors, such as by directing them to services or shelters.
Participants say these conversations have been eye-opening.
"Over the course of these information sessions about different forms of gender-based violence, I slowly become aware of the violence that exists within the families in our immediate vicinity," said Ziya, 28.
"Now I know what to do"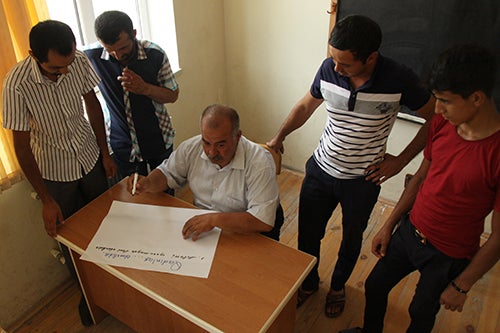 Community members learn how to stand up for survivors and to hold perpetrators accountable. They also learn how to direct survivors to services. © UNFPA Azerbaijan
In the last six months alone, over 600 men have been reached through these sessions.
There are also sessions that include women participants. And UNFPA is also working with the government to develop an effective system for referring survivors of violence to services, such as medical care, counselling and legal support. 
Things are changing for the better, Ziya said.
"Several years ago it was unacceptable to even talk about violence in our community so as not to complicate things. But now I know what to do when I see a man abusing his wife or restricting her freedom."
Kamaleddin, 59, agreed. He volunteered the use of his business, a canteen, as a venue for the information sessions.
"It makes me feel like maybe I can do something important for my community," he said, "because the thought that I can do nothing to eliminate gender-based violence would lead to despair."