IZIUM, Ukraine – Things started to fall apart for Mariana* when she was forced to flee fighting in the Donetsk region in 2016. She and her father camped on the doorsteps of social services centres until they managed to find shelter. Then, shortly afterward, her father was diagnosed with a severe tuberculosis infection.
"He was sent to a TB clinic," said psychologist Olga Shapoval. "Mariana went along with her father."
Ms. Shapoval works on a UNFPA mobile team, providing counselling and support to survivors of gender-based violence in Ukraine. Many of her clients are, like Mariana, displaced by the conflict.
Even after escaping the front lines, these women and girls can be extraordinarily vulnerable to exploitation and further violence.
This was the situation Marina found herself in.
Living in the clinic, constantly exposed to tuberculosis, was difficult for her. So she turned to her boyfriend – an older man.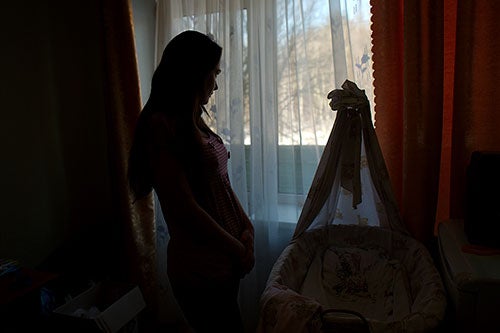 A young mother, who received assistance from a UNFPA mobile team in Sloviansk. © UNFPA/Maks Levin
"When she moved in with her partner, she was only 16 years old. One year later, she became pregnant and, at the age of 17, fell victim to several types of violence at once," said Ms. Shapoval, who counselled Marina and received her permission to share the story.
Away from front lines, but no respite from abuse
Mariana's boyfriend beat her, sexually abused her and threatened to throw her out on the streets if she disobeyed him.
But she was afraid to leave him. She was dependent on him for everything, from food to her hygiene needs.
And her life was unravelling outside the relationship, as well. She had been enrolled in school, but lost her scholarship when the pregnancy forced her to take a leave of absence.
Mariana was discovered by authorities when she went to receive antenatal care.
The maternity centre called the local UNFPA mobile team to report that a very young displaced woman was pregnant – and absolutely exhausted.
"We first saw each other in the maternity hospital," Ms. Shapoval said. "She was sitting next to the window and staring into space. The 17-year-old was cuddling her quite big belly. In the last month of pregnancy, she did not know whether to go back home" to her abusive boyfriend.
Social workers immediately began to assess her needs, as not only a survivor of violence but also as a minor and a displaced person. The UNFPA mobile team joined them to provide counselling and other support.
The road to recovery
"Gently, slowly and without any pressure, we learned almost everything that the girl had experienced," Ms. Shapoval said. "In her case, an important role was played by legal support. We helped the girl get the status of an internally displaced person and receive documents for the child."
The team also helped Mariana sign up for social assistance and connected her to a local organization, which provided an apartment and supplies for the new baby.
Now, Mariana plans to resume her studies while caring for the child.
She also vows to never become dependent on a man again.
Many thousands reached
Between the end of 2015 and the beginning of May 2017, over 16,000 survivors of gender-based violence in Ukraine were reached with UNFPA's mobile teams.
The violence included sexual assault, physical violence and forced marriage, as well as economic and psychological violence. A majority of these abuses were perpetrated by people known to the survivors.
UNFPA's humanitarian assistance for conflict-affected women and adolescents in eastern Ukraine has been supported by funding, received last year, from the United States Bureau of Population, Refugees and Migration, and by funds from the United Kingdom's Department for International Development, the German Development agency GIZ and UNAIDS.
The mobile team operations are conducted with UNFPA's partner Health Right Foundation in Ukraine.
– Olha Omelianchuk
* Name changed to protect privacy