YANGON, Myanmar – Every year, almost 50,000 teenage girls in Myanmar give birth, according to data from the 2014 census. Thiri* was one of them. She became pregnant when she was only 15 years old.
"My boyfriend and I were in love. We were so close and so sweet to each other. We were happy when we were together," she told UNFPA.
But the pregnancy turned her life upside down.
"I was devastated," she said. "I've always loved going to school. But when I got pregnant, I was forced to leave school."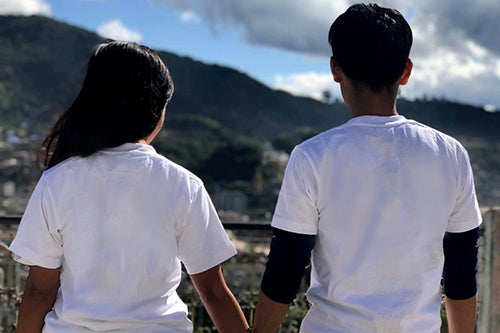 A young couple in Myanmar. Many young people report not having access to comprehensive sexuality education, which leaves them vulnerable to early pregnancy, child marriage and departure from school. © Zaw Lin
A marriage was hastily arranged. Thiri moved in with her parents-in-law and gave birth to a girl.
But her husband was able to stay in school. When he graduated, he moved to a bigger town to attend higher education.
Thiri rarely heard from him, and she bristled at the injustice of having given up her education while he attended university.
The marriage quickly fell apart.
Comprehensive sexuality education
Still, Thiri was fortunate in ways that many girls are not: Her mother stood up for her, no matter the community's disapproval. Thiri, with her daughter, moved back into her parents' home.
Today, Thiri thinks about the things she did not learn in school, which could have helped her avoid pregnancy.
"I never learned about these things in school or anywhere else. Before I got pregnant, I did not really understand the consequences of our love," she told UNFPA.
UNFPA advocates for all young people to have access to comprehensive sexuality education. Such education provides age-appropriate information about young people's bodies and health, and helps them protect themselves against sexually transmitted infections and unintended pregnancy. It also encourages healthy relationships through open communication and mutual respect.
"To make informed and safe choices about their bodies and their lives, young people need knowledge. Comprehensive sexuality education teaches children and young people the emotional, physical and social aspects of sexuality," said Janet Jackson, UNFPA's Representative in Myanmar.
UNFPA has recently released, with other United Nations agencies, an international guidance on sexuality education, placing this education within a broader framework of human rights and gender equality.
Throughout the Asia Pacific Region, UNFPA is working with governments and partners to embed comprehensive sexuality education into school curricula and out-of-school activities. In Myanmar, UNFPA is providing technical and financial support to the government's new youth policy, which calls for education to cover sexual and reproductive health.
"Now I don't have a good education. I can't get a decent job."
Early motherhood often forces girls out of school. © UNFPA Myanmar/Yenny Gamming
Today, Thiri is 18 and her daughter is almost 3. While Thiri loves her child, she has spent years mourning for the future she might have had.
"Now I don't have a good education. I can't get a decent job. For a long time, I didn't know how to go forward in my life."
But things are beginning to look better, she says.
She has joined a local youth group, and she says the activities, such as singing, have lifted her spirits. And she is planning to return to school.
"I've made the decision to study economic management, and I've been accepted to a distance learning course. My future feels brighter now. I know I will make it."
*Name changed to protect her privacy.