MONROVIA, Liberia — Twenty-one-year-old Aminata Keita remembers the exact moment when attackers broke into her home. The four men, armed with guns and knives, stormed the house at 3:35 on the morning of March 28, going from room to room gathering money and any other valuables they could find. After they were finished robbing the house, they took turns raping her and her 20-year-old niece, Makula.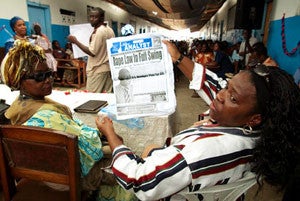 But Aminata decided to fight back. She and her niece went first to the hospital and then to the police. One of the attackers was subsequently caught and is in jail awaiting trial.
"Anytime I think about it, it makes me angry. The things they did to me were very wrong," she said. "I'm happy with the new law – it's a good thing.… Women can not be silent anymore. There are plenty of women who are willing to [go to court]. You can't be raping women and children."
Liberia is emerging from 14 years of a bloody civil war. A recent World Health Organization survey of six Liberian counties found that almost 75 per cent of respondents were raped during the conflict. The Association of Female Lawyers of Liberia (AFELL) helped draft recent legislation increasing the penalties for rape, including gang rape and assaults of children under the age of 18.
"Some (rapes) are happening, because people are poor. Some are just doing it. Until we get together, they won't stop," Aminata said. "One person cannot make them stop. But together, like the way we are doing in this meeting, that will make them stop."
see also 
International Symposium on Sexual Violence in Conflict and Beyond
Aminata was among about 500 men, women and children who braved the stifling midday heat to hear about the new rape law, ask questions and get answers from AFELL's legal experts. The walls of the makeshift hall were hung with posters."Why Do Men Rape?" asked one. "Protect the Children" and "Report Rape" proclaimed others.
AFELL member Patricia Clark used a bullhorn to speak to the crowded space, which stretched back almost two blocks, in the poor neighbourhood of Westpoint.
"The law says clearly, and everybody listen, especially the men. Listen closely, because you cannot say today or tomorrow that you didn't know," said Ms. Clark, whose words are met with applause, cheering and shouts of approval. "If you force a woman, you rape a woman, you will go to jail for ten years. If you rape a child, when they catch you, you will go to court. You will not get off. You will die in jail. They will bury you. They will put you in your grave."
Abla Williams, Vice President of AFELL, says that the new law is an important victory for survivors of sexual violence and a warning to potential perpetrators. In the past, assailants too often would simply buy off the parents of their victims. In addition, the legal process was long and arduous, and costs were too much of a burden for poor families.
"Rape is still a problem. Even though the war is over, there is still poverty. Parents, because they are poor, will accept money [from the assailant] for the rape of their child," Ms. Williams said. "We want to form a partnership with men to prevent rape from happening."
"Poverty is fueling gender-based violence. Poverty must be eradicated," agreed Rose Gakuba, the Liberian Representative of UNFPA, the United Nations Population Fund. "For 14 years families have suffered and lost everything. So if a girl is raped, they will conceal it for money."
UNFPA is partnering with AFELL on gender-based violence awareness and sensitization campaigns, like this one in Westpoint. Such work is key to more effectively prosecuting rape cases, Ms. Gakuba said.
The United Nations, too, has taken a strong stand against sexual exploitation after reports came out in the media that staff had engaged in abusive behavior. In June, Secretary-General Kofi Annan underscored the need to create and maintain an environment "conducive to the prevention of sexual exploitation and abuse." The UN has adopted a three-pronged strategy to address the problem: prevention, investigation and enforcement.
"It's an issue of power," Ms. Gakuba said. "With the zero tolerance policy in place, they [staff] know they can be fired. Sexual abuse and exploitation will not be tolerated, because it is misconduct."
The newly elected Liberian President, Ellen Johnson-Sirleaf, the first female president of an African nation, has made the fight against sexual violence a priority of her administration, including by naming a woman as the first female chief of the police force.
"During the years of our civil war, they [Liberian women] bore the brunt of inhumanity and terror. They were conscripted into war, gang-raped at will, forced into domestic slavery," President Johnson-Sirleaf said during her inaugural address in January. "It is the women who laboured and advocated for peace throughout our region."
"My administration shall thus endeavour to give Liberian women prominence in all affairs of our country," she continued. "My administration shall empower Liberian women in all areas of our national life. We will support and increase the writ of laws that restore their dignity and deal drastically with crimes that dehumanize them. We will enforce without fear or favour the law against rape recently passed."
AFELL President Lois Bruthus said she supports the President's efforts 100 per cent. She said six or seven cases are being directed to the organization every day now that citizens realize rape is a crime, which should be reported to the police and prosecuted.
"Rape was going on before the war. There was a conspiracy of silence. No one talked about it – it was taboo. You were stigmatized by it so people kept silent," she said. "During the crisis the problem was exacerbated and used as a weapon of war against women and children."
Philip Bropleh, 37, the father of two girls, ages six and 13, said he attended the meeting in Westpoint to learn about the rape law so he can help protect his daughters.
"Rape is not a good thing. Rape is a complete violation of someone's rights," said Mr. Bropleh. "I'm a father, and I'm in favour of these tough laws that are in place from ten years to life imprisonment. I'm in complete support of that."
Edward Qurqur, 52, came to the gathering to seek help for his daughter, Yassa. Several months earlier, he and his wife went to the local market leaving the 16-year-old girl alone in the house. While they were away, a neighbour entered their home and raped her.
"After nine months, she still has that trauma," Mr. Qurqur said. "She still cries. I feel so bad."
Mr. Qurqur went to the police to report the attack, but his neighbourhood committee urged him to accept restitution from his daughter's attacker rather than have the man prosecuted. But he regrets the decision and wishes the case had gone to trial to help his daughter through the healing process.
"Now that I know the law, I would go to court," Mr. Qurqur said. "She has changed so much and has stopped going to school. She's still trying to cope with the trauma." 
— Angela Walker
Excerpts from the statement of Liberian President, Ellen Johnson-Sirleaf to the International Symposium on Sexual Violence in Conflict and Beyond , 21 June 2006
"Liberia is on the path to national recovery after some 14 years of a brutal civil war that left more than half of our women as survivors of gender-based violence.
"In studies conducted in many of the counties of Liberia in 2004, a large percentage of women and girls reported that they were victims of various forms of violence and abuse. International organization reports show that a large percentage of these women were raped.
"As many of you know, a rape law was passed in our country last year. My administration will enforce without fear or favour this law, will support and increase the writ of laws that restore the dignity of women and girls, ensure that they receive real protection from sexual violence and abuse in their homes and communities, and that survivors of sexual violence receive qualitative reproductive health services and necessary care to address the horrifying violence they have endured."