GOMA, Democratic Republic of Congo—Forty year-old Angelique reveals a gunshot wound in her back to women in the Keyshero Medical centre, while her six-year-old daughter reaches up to touch it.
Angelique (her name has been changed) and her family were attacked in their village in November 2007 when men dressed in police uniforms broke into their house at night, looted it, and forced her family into the forest. With brute force they held down Angelique and her 12-year-old daughter as they raped them and then shot each in the back. "They chased us … I don't know where my husband is now. I haven't seen him since that day," said Angelique.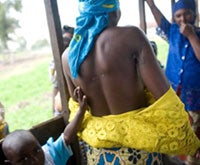 Anguish, fear, and torment weigh on the hearts of many women and girls in a country infamous for widespread sexual brutality. With a recent flare-up of fighting in the eastern and northern provinces, which has affected the lives of over 1 million civilians since August, women and girls have even more reason to live in fear.
Rape as a weapon of war
The conflict in the Democratic Republic of Congo (DRC)—sometimes referred to as the 'African World War'—has devastated the country since its onset in 1998. The world's deadliest conflict since World War II, it has killed 5.4 million people and displaced a million more. Despite the signing of peace accords in 2003 and again in 2008, fighting has been ongoing throughout the east, and the prevalence of rape in this region has been described as the worst in the world.
Much of the violence is unspeakably brutal. Many sexual violence survivors have received debilitating damage to their reproductive organs, resulting in multiple fistulas and incontinence.Women and girls have been left with