BAGHDAD, Iraq – The single largest humanitarian aid delivery in eastern Mosul was completed today. It was the first time in more than two weeks security conditions permitted humanitarian agencies to reach the area.
UNFPA, the World Food Programme (WFP) and UNICEF together trucked in food, dignity kits, water purification tablets, jerry cans and other critical supplies for more than 42,000 people living in eastern Mosul's suburbs.
The ongoing conflict has been devastating for civilians in the area. Some 85,000 people have been displaced from Mosul and surrounding locations since the military offensive began on 17 October. And with temperatures dropping, the dangers are mounting.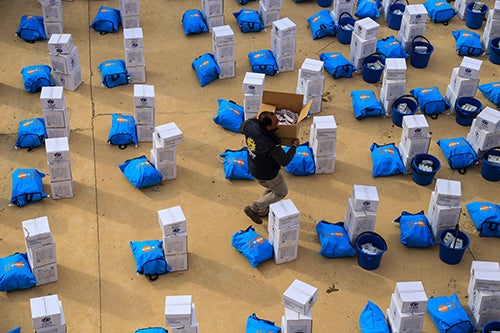 UNFPA distributed dignity kits reaching more than 9,000 women and girls. © UNICEF Iraq/2016/Khuzaie
"Access and security are the biggest concerns facing the entire humanitarian community trying to assist families affected by the conflict," said Sally Haydock, Country Director and WFP Representative for in Iraq.
Urgent needs for women and girls
UNFPA's dignity kits contain hygiene supplies, including soap, clothing items and menstrual supplies. 
Women and girls are in urgent need of health services, with many having gone without health care for the duration of Mosul's occupation by the Islamic State of Iraq and the Levant (ISIL, also known as ISIS or Daesh).
"UNFPA is working around the clock to provide immediate relief to women and girls affected by the current conflict whenever security allows," said Nestor Owomuhangi, UNFPA's Deputy Representative in Iraq.
A safe distribution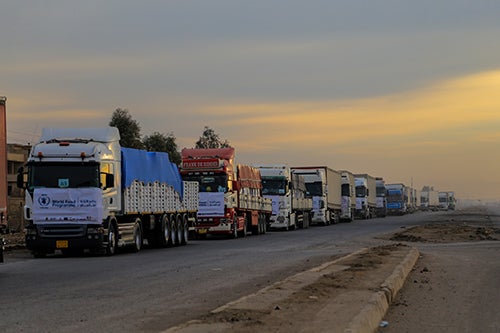 The distribution itself took eight hours to complete. © UNICEF Iraq/2016/Khuzaie
Included in the delivery were a month's supply of water purification tablets, high energy biscuits, jerry cans, baby hygiene kits, all provided by UNICEF.
WFP also provided enough ready-to-eat food to meet the immediate needs of people in eastern Mosul for the next six days.
It took eight hours to safely gather families and distribute the food and humanitarian supplies.