JAKARTA, Indonesia — With about a quarter of a billion people, Indonesia is the world's fourth most populous country. Throughout the month of May, some 700,000 enumerators will fan out across 90,000 villages in 33 provinces to give a more precise figure to the estimate of the country's population.
Data collected this month will be used as the basis for demographic projections for the decade of 2010-2020, and used as a baseline for all government ministries and institutions in developing future programmes and targets.
The data can also make an important contribution to Indonesia's development in many fields, according to Rusman Heriawan, head of Indonesia's bureau of statistics. "This rich data can be used for development programmes for education, health, employment, and poverty alleviation," he said, and invited all international development agencies to maximize utilization of the data. "Data from the population census can be processed by each development organization into valuable information to contribute to development in Indonesia in a variety of fields," he said.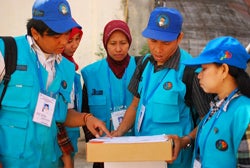 This year's population census will be more comprehensive and cover more variables compared to the last census in 2000, which was hampered by conflicts in several regions. For instance, this year questions about disabilities, energy sources, drinking water, languages and telecommunications access were included to add utility to the exercise. The 2010 census is also more granular, providing data at the level of hamlets (dukuh), while the population census in 2000 only aggregated information down to the village level.
To prepare for the much larger 2010 population census, the Indonesian national statistics office has worked with UNFPA since 2008 in developing the overall design of the census as well as for data processing and analysis. "I have high confidence that the 2010 population census in Indonesia will run smoothly and provide valuable data for development activities in the country," said Zahidul Huque, the UNFPA representative in Indonesia.
He mentioned that one new and important addition to this year's census is the availability of maternal mortality by district. Reducing maternal mortality is one of the targets for the Millenium Development Goals , and Indonesia is expected to have difficulties in achieving the 75 per cent reduction that MDG 5 calls for. "Availability of data on maternal mortality at the district level will help Indonesia and its partners to allocate resources appropriately," Huque added.
This year a number of countries are conducting population censuses as part of the 2010 World Population and Housing Census Programme, which aims to ensure that all UN member states conduct a population census at least once between the period of 2005-2014 and disseminate the results. UNFPA has initiated a Special Initiative on the Census to make sure that all countries have the technical assistance they need to complete a successful census, and to help them mobilize resources for this purpose.