Imams in Senegal's Tambacounda and Kolda regions have expressed support for the work of the United Nation Population Fund (UNFPA), especially for its $11.5 million country programme for 2002-06, which includes $8 million for reproductive health, the Senegalese newspaper, Le Soleil reported recently.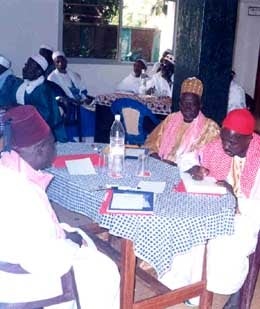 After meeting in January to discuss maternal deaths, family planning, female genital mutilation, adolescent reproductive health and parental responsibility, 53 imams from the two regions promised to help those carrying out the UNFPA programme to develop strategies and to educate the public. They also vowed to provide the necessary support to ensure the success of the programme's reproductive health component.
The imams also made recommendations, which would be implemented by the UNFPA and the Senegalese Health Ministry, according to the Fund's Representative, Niangoran Essan, and the Chief of the Senegalese Reproductive Health service, Adama Ndoye. The religious leaders called for training on issues related to reproductive health for the region's imams.
Mr. Essan said that the imams' participation in the programme would give the UNFPA a greater grasp of the cultural environment in which it works and help it continue to orient its actions, especially those related to information, education and communication.
Contact Information:
Abubakar Dungus
Tel.: +1 (212) 297-5031
Email: dungus@unfpa.org