GOBABIS, Namibia – Each morning, single mother Elizabeth Kazapua rises at 4:30 to begin her hour-long trek to work at Epako Clinic in Gobabis, Namibia.
There, at the site of a ground-breaking pilot project, she greets and directs visitors, even recognizing some by name. She makes sure that pregnant, seriously ill and elderly visitors are treated first.
"I love it here. Every shift I feel motivated," Ms. Kazapua said as she directed a young woman to the pharmacy.
Ms. Kazapua could easily be mistaken for a nurse – yet she is actually a security guard, one who goes above and beyond her role to ensure that patients are safe and operations are orderly.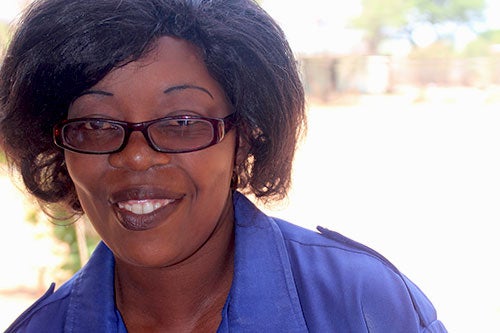 Elizabeth Kazapua says she was motivated by the changes she witnessed at Epako Clinic. © UNFPA Namibia/Emma Mbekele
And she is not alone.
All of the clinic staff are committed to providing sensitive and efficient care, adapting their behaviour as part of a programme designed to increase access to sexual and reproductive health care, including HIV diagnosis and treatment.
But conditions at the clinic were not always this way.
Destigmatizing care
For years, the clinic separated out the care provided to HIV patients. This was the case at many health facilities in Namibia – a practice arising from the influx of donor funding for HIV services that followed the outbreak of the epidemic in the 1980s. HIV care was implemented quickly, and provided apart from other health services.
Yet this ended up compromising the confidentiality of HIV-positive patients, who could be easily identified by their visits to HIV-specific clinics and exam rooms. As a result, many people living with the virus were reluctant to seek care.
Today, the HIV epidemic in Namibia remains a serious concern. Among adults, aged 15-49, HIV prevalence is estimated at 13.3 per cent, according to UNAIDS (or 14 per cent, according to a 2013 national survey).
And there are challenges in providing sexual and reproductive health care, as well. Maternal death rates are quite high, with women facing a 1 in 100 lifetime risk of dying from causes related to pregnancy. By comparison, women in Sweden have a 1 in 12,900 risk of dying from maternal causes.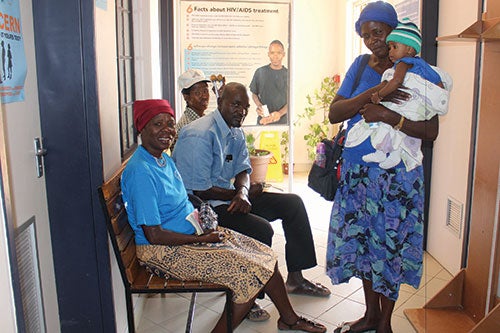 Stigma, patient satisfaction, health worker productivity and wait times have all improved. © UNFPA Namibia/Emma Mbekele
To address these challenges, a major project has been launched to integrate HIV into other sexual and reproductive health care, increasing the number of people served.
Those seeking antenatal care, family planning and other reproductive health services are reached with HIV prevention information and testing, while people seeking HIV information, testing and treatment are reached with other reproductive health care.
The project, a partnership between UNFPA and the Ministry of Health and Social Services, with funding from the European Union and the Swedish International Development Cooperation Agency, is being implemented in seven facilities across five regions of the country.
Success leads to scale-up
Today, Epako Clinic is a model for other health facilities.
The clinic and other project sites have adopted a practice known as 'one nurse, one patient, one room', reflecting the quality and confidentiality of care.
Despite the one-on-one attention visitors can expect, waiting time has been reduced. One measure showed a decline from about five hours to three hours across the project sites. "Even if the queue is long, people don't need to wait that long," Ms. Kazapua says.
There have also been significant improvements in nurse productivity, and in communication between health providers and patients. Patients are now directed to nurses who can speak their language, and they see the same health staff during each visit, promoting good rapport and follow-up.
"Further evidence from a client satisfaction survey suggests that HIV-related stigma and discrimination have reduced," Bernhard Haufiku, the Namibian Minister of Health and Social Services, told UNFPA. "In addition, young people are accessing services easily, and it's evident in the increased uptake of first[-time] family planning services, [which have] increased by an overall 14.7 per cent."
The results have been so promising, the government has pledged to scale up the model to 73 health facilities in 2017.
Ms. Kazapua says the positive results have also given her something else – job satisfaction.
"I am also glad patients are no longer alienated by what they suffer from. This integration process makes my job easier," she said, smiling.
– Emma Mbekele