BUENOS AIRES — "The HIV and AIDS epidemic in Latin America and the Caribbean increasingly has a woman's face," Marcela Suazo, Director of UNFPA's Divison for Latin America and the Caribbean told participants at the Latin American and Caribbean Forum for HIV/AIDS and STIs in a plenary meeting today.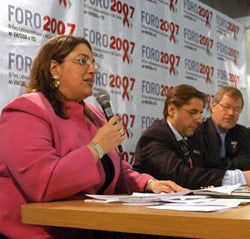 Around 3,000 participants from 20 countries gathered in Buenos Aires this week to discuss different aspects of the HIV/AIDS epidemic in the region.
Of the 40 million people currently living with HIV and AIDS globally, 1.9 million live in Latin America and the Caribbean. Last year alone, 167,000 people in the region were infected. The percentage of women infected with the HIV virus has risen by ten per cent over the past three years (2003-2006).
Suazo listed poverty, gender inequality, violence, stigma, discrimination and gender roles among the main causes of the feminization of the epidemic in the region.
"We are facing a change in the characteristics of the epidemic, so therefore we have to re-direct our prevention efforts to meet these challenges," she said.
She listed strengthening human rights and gender equality, ending gender-based violence and including HIV policies in national strategies to fight poverty as key elements in the fight against feminization of HIV. 
—Trygve Olfarnes