COX'S BAZAR, Bangladesh – With monsoon rains unleashing floods and landslides in Bangladesh, UNFPA and partner agencies are urgently working to secure Rohingya refugee camps and settlements in Cox's Bazar District. 
"The heavy rains and their impact are already compounding the suffering of these refugees, even as they try to rebuild their lives," UNFPA Executive Director Dr. Kanem said during her visit to Cox's Bazar today. She is part of a high-level delegation, including United Nations Secretary-General Antonio Guterres, World Bank President Jim Yong Kim and UN High Commissioner for Refugees Filippo Grandi, observing the humanitarian response.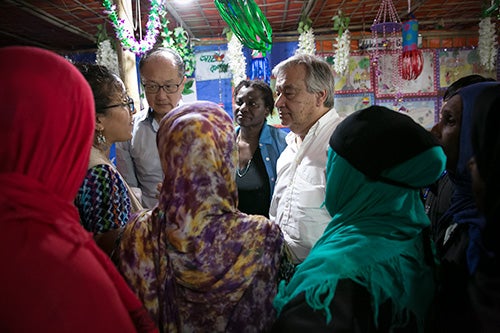 Almost 700,000 Rohingya refugees have poured into the district in the last 10 months, following the outbreak of extreme violence in Myanmar's Rakhine State, adding to an estimated 300,000 refugees who had arrived in previous years. 
The vast majority are crowded into settlements set upon bare slopes, in areas at high risk of flooding and mudslides, and vulnerable to water-borne diseases. More than 140 landslides have been reported in the vicinity since the monsoon season began in earnest last month.
Over 29,000 people have already been affected by the rains. Dozens have been injured, and at least one person has been killed. 
"The safety of the Rohingya refugees during this monsoon season is priority one," said UN Secretary-General Antonio Guterres after visiting refugee services, including UNFPA facilities, amid a downpour.
"As many as 200,000 need to be relocated. We cannot allow the monsoons to wash away the hopes of the Rohingya refugees I met today."
Rains threaten access to care
As the rains intensify, UNFPA is working with partners, including the UN Refugee Agency, as well as with the refugee and host communities, to mitigate monsoon-related risks and to reinforce health centres and safe spaces. 
For instance, refugee and host community women have formed community watch groups that are identifying pregnant women and other vulnerable women and girls, so they can be transferred to more secure settlements or facilities with temporary accommodation. 
UNFPA's women-friendly spaces – shelters where women can gather for community and psychosocial support, information and referrals to health and other care – have also been assessed and strengthened. Still, some of these spaces are primarily constructed of bamboo and plastic sheeting, posing challenges in the wet and windy conditions. 
UNFPA's health facilities have also been reinforced, but the rains are taking a toll. Midwives and case workers must often travel along waterlogged roads to reach clients. 
There are also fears that the rains will discourage women from seeking vital maternal health care and other services. Even before the monsoon began, only 22 per cent of new deliveries were taking place in health facilities. During the recent rains, UNFPA's health facilities and women-friendly spaces saw a decline of more than 60 per cent in service use.
As a precaution, UNFPA has been distributing clean delivery kits to pregnant women, in case they are unable to reach a health facility when it is time to deliver. These kits contain sterile supplies – including a plastic sheet, razor blade, gloves and towels – to minimize infection risks during childbirth. More than 12,000 kits have been distributed in the past nine months.
Digging in
Partners and officials are working around the clock to meet the needs of camp and settlement residents. 
"It was encouraging to learn today that the current infrastructure will be strengthened by the Bangladesh government so that semi-permanent structures will be constructed in view of longer term sustainability," said Dr. Kanem.
Just before the delegation's visit, the World Bank announced it would provide grants of up to $480 million to UN agencies and partners to strengthen humanitarian efforts. 
Dr. Kanem applauded these efforts, adding, "We pledge to continue to do all we can to provide life-saving services for women and girls within the refugee population as well as the host communities who have been so generous in welcoming the Rohingya people."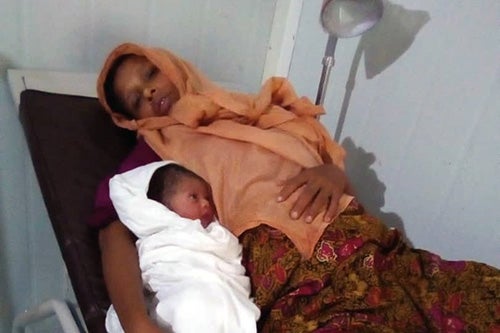 A dramatic arrival
Humanitarian responders were also recognized during the visit. Their efforts have been unceasing since the monsoon arrived.
Syeda relied on their care when she went into labour amid lashing rains two weeks ago. Health workers managed to escort her to a health clinic on an emergency 'tom tom' – a motorbike with seats. 
At the clinic, UNFPA midwives Jannat and Akhi delivered Syeda's baby, a healthy girl weighing 3.2 kg. 
After the harrowing ride to the clinic and the safe delivery, clinic staff asked how Syeda felt. 
"Very happy," she replied.