THIÈS, Senegal – It is considered bad luck in parts of Senegal to say precisely how many people live in a household. Counting aloud, it is believed, might invite misfortune to a member of the family.
Here in Thiès, Ourousse Diop shares her home with her large, extended family. Roughly a dozen people stream in and out of the rooms. They collect around a radio, then disperse as they tend to children and chores. But exactly how many they are is unclear.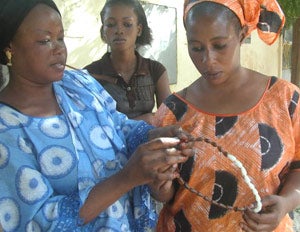 For Ourousse, however, there was a magic number when planning her own family: three.
"I decided to use family planning after having three children very quickly," she explains. And it was a choice that led to another significant number. Ourousse, herself was the first woman in her family to use family planning.
She, like a growing number of women in Thiès and around Senegal, chose to take charge of her reproductive health with the help of something that looks like a necklace. That decision may keep her from ever being counted among the millions of women globally who are seriously injured or die during childbirth.
Finding the right method
After her three quick, successive pregnancies -- the first when Ourousse was just 18 -- she and her husband decided to make a change. But she claims the contraceptive pill she first took gave her migraines. Unsatisfied and open to alternatives, Ourousse listened with interest when a neighbour introduced her to CycleBeads.
CycleBeads were developed by researchers at Georgetown University to assist women who wish to use natural methods of family planning, and to improve on its reliability. A portable, durable, and renewable calendar, the ring contains 32 coloured beads that represent each day in a woman's monthly reproductive cycle. For a woman with a regular menstrual cycle that falls between 26 and 32 days in length, CycleBeads can identify when she is most likely to conceive. During that time, she and her partner either abstain from sex or use another form of protection.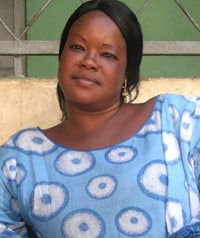 Ourousse marks the current day of her cycle by moving a small rubber band from one bead to the next. Counting starts with the red bead on the first day of menstruation. Day 8 begins the period of fertility, indicated by twelve consecutive white beads, and the remaining brown beads signify the days conception is unlikely.
Beads can be a lifesaver
Sub-Saharan Africa has some of the highest rates of maternal and infant mortality in the world. Over her lifetime, a woman living in Europe has a one in 2,400 chance of dying in pregnancy or childbirth. By contrast, a woman living in sub-Saharan Africa has a lifetime maternal death risk of one in 16. In Senegal, the lifetime risk is one in 22 – lower than the regional average, but still more than 100 times the risk in developed countries.
Despite the great need, couples often encounter roadblocks to better reproductive health. Shortages of resources—like reproductive health clinics, skilled birth attendants, and low-cost contraception— and religious and cultural beliefs put women at risk for early and frequent pregnancies and inadequate obstetric care.
Alain Prual, a maternal health expert for UNFPA, the United Nations Population Fund, explains that one reason West African birth rates are high is because child mortality rates are also high.
"Families want to be sure their children reach adulthood," Prual says. "Many of these countries lack social services, so parents want to know that during retirement, they will have children who can care for them. Sterility would be considered a crisis." Regrettably, he says, there is also a common misconception that family planning itself leads to infertility.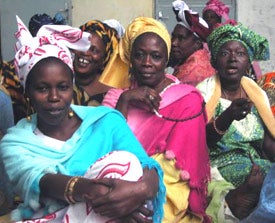 This is why CycleBeads are particularly suited to West Africa, where the influence of religion is high and contraceptive prevalence is low. Though the beads do not protect against HIV or other sexually transmitted infections, a major appeal is that they are entirely natural and without any side effects.
 
CycleBeads offer an additional contraceptive option for women who have religious or health concerns about other methods, or for whom cost or supplies may be an issue. For this reason the beads may expand the number of women who choose to manage their fertility.
Delivering the beads
Ourousse received her own set of CycleBeads through a recent distribution program run by Tostan, a West African NGO supported by UNFPA. Local community members were trained in their use and given advocacy tools, like posters in local languages. Tostan could not keep up with demand -- community facilitators soon ran out of the original 1,000 sets of beads available.
But in spite of their popularity, there were some objections. Dame Gueye, co-coordinator of the CycleBeads program at Tostan, explains that some husbands were resistant to the periodic abstinence or condom use necessary with CycleBeads. Almost exclusively, they were those who work in major cities during the week and return to their villages on the weekends, he says.
"Some men say, 'Why would I use a condom with you when you are my wife?'" Gueye explains. " Unfortunately, there are men who don't make women's health a priority."
Men's full support and cooperation is key
Though a woman may use other forms of birth control, such as oral contraceptives, without her partner's knowledge, CycleBeads require a partner's full support and cooperation. "It is crucial to work with everyone—not just women—to improve maternal health," Prual says.
Ourousse's own husband works in the Senegalese capital Dakar during the week. "It is difficult if I am on the white beads during the weekend, when my husband is home," she says. Nevertheless, he fully supports of her use of CycleBeads.
Contrary to the old superstition, counting certainly did not bring bad luck to Ourousse. She and her husband joyfully welcomed a fourth child when she was ready, empowering her to put her family's wellbeing first. "I can better teach my children, because I have my health," she says. "I plan to teach my daughter about [CycleBeads], when she's old enough."
– Kathleen S. White