GABU, Guinea-Bissau --- Dressed in jeans and a t-shirt, one of Portugal's best-known actresses and television personalities laid the first brick for the construction of a maternity surgical unit in this dusty town in eastern Guinea-Bissau.
Local authorities, government and UN officials, traditional and religious leaders, young people and the general public cheered as Catarina Furtado spread mortar on the foundation of the building that will soon provide life-saving services to newborns and their mothers -- who die giving life at an alarming rate in Guinea-Bissau, one of the world's poorest and least developed countries.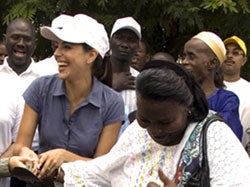 Construction of the surgical unit is the culmination of a project Miss Furtado, who serves as a Goodwill Ambassador for UNFPA, the United Nations Population Fund, began a year and a half ago. In December 2006 she helped raise more than €253,000 during a 12-hour televised dance marathon. The money was donated to UNFPA for use in a Portuguese-speaking country.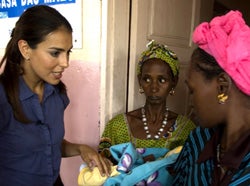 After laying the first brick, the Goodwill Ambassador thanked the public and the authorities for their warm reception and noted the importance of the project for the reduction of maternal mortality in the country. Citing the UNFPA slogan "Because everyone counts", she appealed for wide and effective participation and commitment to the project's success. The groundbreaking ceremony included traditional dances, theatre and music as well as official speeches.
Miss Furtado arrived at Bissau on 19 July for a one-week special visit to launch and publicize the broader initiative of improving emergency obstetric care in the regions of Oio and Gabu. The project is supported by the Government of Portugal through IPAD, its development agency and Radio Portuguese Television. A production team from the television show, "Até O Fim do Mundo" (To the Ends of the Earth) and radio crews accompanied Miss Furtado, so that they can bring wider media attention to the issue of maternal and newborn health in Guinea-Bissau.
The official ceremony at Gabu was directed by the Minister for Public Health of the Republic of Guinea-Bissau,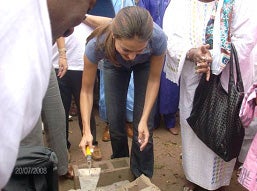 Eugenia Saldanha and the Resident Representativeof UNFPA, Mr. GuydeAraujo, in the presence of, the Resident Coordinator of the UN System, Mrs. Giuseppina Mazza; the WHO Resident Representative Mr. Daniel Kertesz; UNICEF's Director of the Operations; IPAD representative Mrs. Ana Correia; the governor of the Gabu region and the Administrator of the Sector of Mansoa.
Before the event, the delegation toured the facilities of the Regional Hospital of Gabu. Afterwards, the UNFPA Goodwill Ambassador had an opportunity to meet with some of the mothers who will benefit from the new installation.