THAI BINH, Viet Nam – Representing different generations and occupations, Vinh, Hanh, Sinh and Toan form an unlikely, nervous group in the heat of a small waiting area at a health clinic in Viet Nam's Red River Delta region. What unites them – and distinguishes them from many of their peers – is that they have all come to this non-government-run clinic with their wives. They are paying a fee – and staying involved – out of a commitment to the reproductive health of their partners.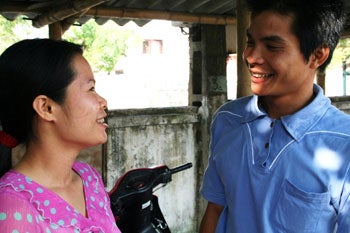 Sinh, a slim, moustachioed man, drove 10 kilometres on his motorbike to bring his wife to the clinic, which until last year was supported by UNFPA, the United Nations Population Fund, and has since become self-sustaining.
"(My wife) is four months pregnant with our third child," says Sinh, 47, with a twinkle in his eye. "She had an IUD [intrauterine device], but her health was very bad and they took it out … After the IUD was removed, we used the traditional method of counting days."
The ideal family size in Viet Nam, a rapidly developing country of 85 million people, is four: mother, father, son and daughter. Before the pregnancy, Sinh's family met this ideal. He has an 18-year-old daughter and a 14-year-old son. "Still, we feel quite happy (about the coming baby). But because of my wife's age – she is 40 – we have to come here quite regularly," he says.
Finding the right method
In the future, Sinh is willing to consider whatever contraceptive method is suggested by his wife's doctor. But if that recommendation is condoms, Sinh is not sure he will comply.
" I'm worried about the health of my wife and my baby. I am waiting for the day the baby comes out."

--Hanh
The intrauterine device is by far the most common method of family planning in Viet Nam, where 67 per cent of married couples use modern contraceptives. Condoms carry a stigma of promiscuity and displeasure – connotations UNFPA and the government are working to eradicate as sex before or outside of marriage become more common and the number of HIV infections increases.
Health workers say this message is easier to convey to younger generations, a statement confirmed by discussions with this group of men.
Twenty-seven-year-old Toan has been married to his high school sweetheart for two months. For this couple, like for many of their counterparts around the world, careers are now the top priority. Children are part of the picture, but later.
"I want to be involved, not only in bringing up my children, but my grandchildren as well, later on," Toan says with a big smile, adding that the responsibility for family planning rests on both husband and wife. He is not embarrassed to say that in his household, condoms are the primary form of contraception.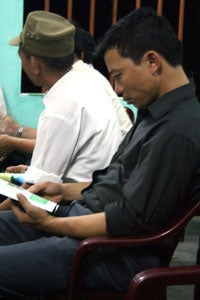 In comparison to his father's generation of men, who were young during the war in Viet Nam, Toan says his generation is benefitting from a more open society, a stronger economy and better access to sexual health information. "But I think both generations of men worry about the health of their wives and their family."
Men want to know
Many men want more information and wish to take on more responsibility for reproductive health, but lack channels of communication and activities that target them specifically, according to Dr. Nguyen Thi Thanh Mai, head doctor at this clinic.
"I think we should have clubs for men so that we can have their ideas, their knowledge, and also so that they can receive information from health and other sectors," she says.
Hanh, 25, an expectant first-time father, is living proof of this thirst for knowledge. Hanh wants to be a supportive husband, but is uncertain how he can best help. "I know some things, but still quite little, about the symptoms of pregnancy-related complications. I'm worried about the health of my wife and my baby. I am waiting for the day the baby comes out."
Reproductive health and gender equality
Dr. Mai does her best to involve men in maternal health. About half the women who come to this clinic come with their husbands, and 30-40 per cent of the centre's telephone counselling clients are men. While many men are still shy when it comes to talking about reproductive health, these figures indicate that male involvement has risen in recent years. Staff at the clinic encourage the husbands of women who come with symptoms of sexually transmitted infections to accompany their wives to undertake tests, treatment and counselling. Men, whose families put pressure on their daughters-in-law to have sons, are also invited for counselling.
"We explain that giving birth to a son or a daughter is not the wife's 'fault'. We explain that sex is determined by the man's sperm. Then they understand. But it would be good to have health education for the community so that more men would have information on this."
Dr. Mai, who is also a national trainer of health counsellors, tries to spread the message that reproductive health begins with gender equality, and that men play a crucial role in this.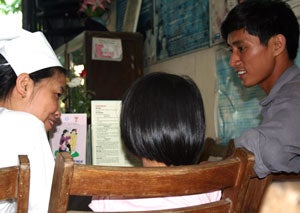 The Viet Nam Family Planning Association, a national non-governmental organization that runs the clinic where Dr. Mai works, has supported the creation of a Club for the Advancement of Women which provides a forum for women, and open-minded men, to share their experiences and learn about issues ranging from domestic violence and family planning to micro-financing and preventing the spread of avian influenza.
Countering domestic violence
While UNFPA support to the Club has ended, the original idea has spawned 10 others. And at least in the Vu Le Commune of Thai Binh's Kien Xuong District, the club's activities and messages seem to have hit home with the male leaders – an important starting point for wider changes in attitudes and behaviour.
"Before the club activities, there was domestic violence here. But in the club they discuss it, they share information and education material, it's discussed on the radio … and incidences of domestic violence have decreased," says Tap, who chairs the commune's People's Committee. "If there is domestic violence, as community leaders, we must prevent it immediately to protect the wife and the children … As husbands, we must take care of our wives."
But while most here now understand the injustice and damage that physical violence wreaks, work remains to be done to combat sexual and psychological abuse and to counter the traditional preference for sons and discrimination of girls. And not all communes in Viet Nam have as progressive a leadership or as informed a community as this one.
"The biggest risk for health in general is lack of information. Women are at most risk when men lack information and knowledge, because this leads to behaviour such as son preference and violence," says Dr. Mai, indicating it will take time before men and women across Viet Nam are equal partners with equal reproductive rights and responsibilities. 
– Laura Vinha