Alfred Biolek, prominent German television personality and UNFPA Goodwill Ambassador, presented a giant invoice to the State Secretary of the German Ministry for Development and Economic Cooperation, Erich Stather. The event was held to draw attention to the sum still owed by the German Government as part of its funding commitment to population and reproductive health programmes.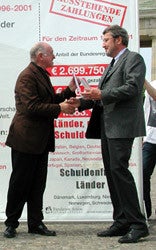 Similar events took place in four other European capitals as part of a European campaign that urges Western governments to meet their financial commitments to promote universal reproductive health by 2015. The campaign, named 'Called to Account – European Action on Countdown 2015', is a joint effort by several European non-governmental organizations (NGOs), led by the Italian Association for Women in Development (AIDOS), the German Foundation for World Population (DSW), Interact Worldwide, Marie Stopes International (MSI) and the World Population Foundation (WPF). The 'bill event' is one of the most important tools of the campaign.
The ceremony took place in front of Berlin's historic Brandenburg Gate and was – thanks to Mr. Biolek – covered by several television stations, radio and print media. Mr. Stather's reaction to the bill's presentation was positive. He stated that the reminder was justified, a point that was highlighted in subsequent media reports.
-- Camilla Chausse, UNFPA New York