TBILISI, Georgia — Shock, dismay, fear and concern surfaced when conflict struck Georgia on 7 August. For many watching from afar, the complexities of the political crisis – and what it would mean in the global context –were unclear.
For Georgians living in major conflict zones, the Tskhinvali and Gori regions of Shida Kartli, there was little time to think. The immediate imperative was to save themselves and their families. Under the threat of bombings and bloodshed, individuals were forced to leave their homes and belongings without knowing where their next meal would come from, or when and how they'd be able to change into clean clothes, take a shower or brush their teeth.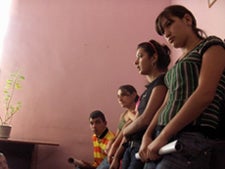 Some 128,000 Georgians were displaced. Hundreds were counted among the missing and the dead. Behind each number is a personal struggle to cope with the new realities of their disrupted lives.
Difficult decisions
At the onset of the crisis, houses and personal belongings were not all that were left behind. Many adults reported leaving elderly family members because they were too frail to walk from villages to city centres safely.
"We thought that if our elderly remained behind they would be okay, and that there would be someone at home to watch over the property," explained Maia, an internally displaced woman from Tirznisi dwelling in a tent camp in Rustavi near Tbilisi. "We never imagined that anyone would attack or harm our elderly mothers and fathers."
Maia is in touch with her parents by cell phone when she can get a connection. On the phone, her parents tell her that they hide in the orchard where it is safer so that they can sleep at night.
An elderly displaced woman, Mari, who lived with her brother's family in a village in the Liakhvi Gorge, now resides in a temporary shelter in Gori. It took her three days to walk from her village to the shelter, and when she arrived her legs and feet were swollen and blistered. "I am old, but I do not want to die," she declared.
Her brother stayed behind and watched his house being looted and burned from a hiding place in his orchard. "We are all alive," Mari pointed out. "But we have lost everything."
No one is spared
Seeping to the surface are stories of the violence that people endured and the insecurity and uncertainty that remains. And the perpetrators do not discriminate as all have been reportedly affected: women and men, girls and boys, and the young and elderly Nana, a young woman from Kareleti who now lives in a tent camp in Rustavi, thought her brother-in-law was dead when he recently went missing. "Someone told us that they saw him being kidnapped," Nana explained. "I heard that there were ten men kidnapped in Karaleti during the bombings, and eight more recently," she added.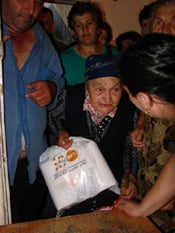 Those being kidnapped have allegedly been held hostage in exchange for valuable items, such as motor vehicles.
In this region, sexual violence is a taboo subject and few will discuss it publicly, but some survivors have sought care through UNFPA, United Nations Population Fund, and UNIFEM. Others have shared harrowing experiences with family members or friends of being kidnapped, assaulted and raped.
Voicing concerns
For young people caught up in the crossfire of the conflict typical pastimes, such as reading magazines, watching TV and surfing the web, have become things of the past. Yet they long to participate in recreational activities if only for the chance to focus on something light-hearted, positive, and fun. Some of the youth have kept busy by volunteering to work alongside UNFPA and other agencies, packaging and delivering essential non-food items to those in need.
Perhaps, the youth serve so they can focus on the act of giving instead of thinking about all that has been taken away. UNFPA, UNIFEM, UNDP, and local NGOs have joined together to assess their needs by talking with them first hand. Many openly voiced their concerns: Will we be going to school next year? Where are our family members? Will my life always be filled with so much tension, seriousness, and responsibility?
Adults, like Giorgi from Karaletti, and many others, are worried over the probability of losing their yearly income –and being unable to provide their families with food – if they can't return home in time to harvest their crops. If Giorgi and other farmers cannot repay or refinance the loans that they borrowed against their homes prior to the crisis they could lose everything.
Pregnant mothers are concerned over how they will raise a child in such an unstable environment, and if they will have access to emergency obstetric care if needed.
In the wake of the reported violence and exploitation, many people are anxious over their family's physical safety and their own.
Easy access
Some 25,000 individuals from and around the conflict zone that may not be able to return home until winter. Many are dwelling for the time being in temporary shelters. Nearly 68,000 people that have attempted to return home to their villages.
In these types of scenarios mobile health services are not just convenient, but vital to saving lives. Therefore, UNFPA/Georgia has deployed four mobile medical health teams to travel throughout various locations in Georgia, with one team attending to the needs of 2,200 displaced in a tent city in Gori.
"Our strategy is to focus on getting health care to these people, and to ensure international guidelines on gender-based violence, including sexual violence, are followed," explained Tamar Khomasuridze, the head of UNFPA's country office in Georgia. Such healthcare and guidelines include providing treatment for injuries resulting from forced intercourse, and ensuring that the identity of survivors are kept confidential, and that their psychosocial needs are cared for.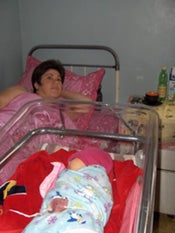 On top of these services, the mobile teams will provide pregnant women living in shelters or passing through with pregnancy related medical care, including assistance with the safe delivery of their babies. So far, UNFPA's mobile teams have assisted over 1,706 women in more than 31 displaced dwellings across Georgia.
Dreaming of peace
Keeping individual's safe is a concern on everyone's mind. In a fight against violence, the United Nations is coordinating assistance, under a UN Joint Project of UNFPA, UNICEF, UNDP, UNIFEM and the office of the Resident Coordinator (with UNFPA as a managing agent), along with UNHCR and non-governmental organizations such as World Vision, IRC and CARE.
The programme will link to human rights groups already established in the country in order to build on their strength and experience. Through this initiative, resources on gender-based violence will be translated into local language, and UN and government staff will be trained on how to mainstream related guidelines into existing and planned multi-level programming, both to provide response to survivors, as well as to ensure that prevention mechanisms are in place. A gender-based violence hotline is also being established so that survivors can obtain psychosocial counselling and health guidelines by making a simple phone call.
Georgia's displaced are keen to recall a time when making a phone call was for catching up with old friends. Now, many are far from home and have been separated from, or completely lost, their family members. Dreaming of happier times, Maia recalled, "It is hard to comprehend that just several weeks ago we lived in peace. We lived together side by side, and often our families were mixed. We can only hope to one day return home and live in peace again."
--reported by Maha Muna from Tbilisi and Shannon Egan from New York