TBILISI, Georgia – A new National Youth Policy adopted by the Government of Georgia is expected to make youth a development priority for the country. The policy recognizes – and commits to meeting – young people's needs for education, sexual and reproductive health services, employment, and participation in decision-making.
The policy embraces recommendations by UNFPA, the UN Population Fund, on providing age-appropriate information about gender equality, sexual and reproductive health and rights, HIV prevention, and family planning. The policy will also make this information available through informal channels, such as through peer education programmes.
Lela Bakradze, UNFPA's Assistant Representative in Georgia, welcomed the policy, which was formally adopted on 28 March 2014.
"The policy fully reflects the Government's commitment to ensuring that young people have access to youth-friendly sexual and reproductive health services and information," Ms. Bakradze said.
The needs of young people
Young people – and especially young women – in Georgia face a variety of challenges.
According to the 2013 State of the World Population report, Georgia's adolescent birth rate is higher than average for Eastern Europe and the country's maternal mortality ratio is more than twice the regional average.
Young women, often those still in school, have a "low level of knowledge" about modern methods of contraceptives, according to a 2010 reproductive health survey.
Circumstances are even more difficult in rural areas, where there are fewer opportunities. Many rural youth end up leaving their homes and moving to the capital in search of jobs.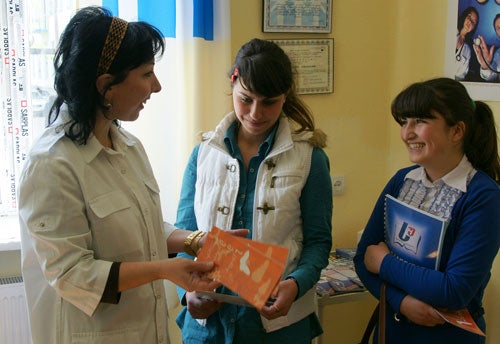 Girls receive information at a youth-friendly reproductive health centre in Gori, Georgia, in 2011.Photo credit: UNFPA Georgia
"It is not easy to live in a small town of Sagarejo, where most of the youth are moving to the capital, searching [for] better life opportunities," said 18-year-old Nutsa Basilashvili, from eastern Georgia.
Forward momentum
But she says the new youth policy, especially its informal education component, is a step in the right direction.
"The information that we get through… informal education is of paramount significance. I can say, on my part, that most of the information I know about reproductive health and rights came from my peers and friends. Thus, we should not underestimate informal education," she said.
The policy also commits to strengthen job skills among youth by supporting vocational programmes through both formal and informal education.
Nutsa also emphasized that she is looking forward to seeing young people play a greater role in decision-making.
Young people actually played a key role in developing the policy: UNFPA held a policy dialogue among parliamentarians and youth leaders, bringing the perspectives of young people directly to lawmakers.
Implementation
UNFPA, along with the UN Children's Fund (UNICEF), worked closely with the Ministry of Sport and Youth Affairs during the design of the new policy. UNFPA, for example, supplied ministry officials with research on young people's sexual and reproductive health needs.
UNFPA will continue to provide technical assistance as the ministry finalizes an action plan to implement the policy.
"I hope new approaches [in the policy] will meet my expectations of [acknowledging] youth as equal members of society, where, instead of hurdles, the adults will support our development," Nutsa said.