UNITED NATIONS, New York – "Culture should not push us aside, but put us at the centre," said Betty Naisenya Lolgisoi, a Kenyan activist, at a panel on eliminating practices that are harmful to women and girls, held last week at United Nations Headquarters in New York. These dangerous and discriminatory practices, including female genital mutilation (FGM), prenatal sex selection and child marriage, arise from deep-seated gender inequalities, and they perpetuate the mistreatment of women and girls.
The event, hosted by UNFPA and the governments of Niger and Norway, brought together dignitaries, researchers, activists and officials to focus on ways to end these harmful practices. There is no mystery in accomplishing this, the panellists emphasized.
The steps towards eliminating these practices are well known – the most important and effective of which is the promotion of gender equality.
Abandoning FGM
Betty made this point vividly when she spoke about her own experience rejecting FGM.
FGM is a medically unnecessary and often excruciating practice that can cause chronic pain, infertility, complications in childbirth and a host of other problems. But in her community in Kenya's Baringo Country, "FGM was a normal thing," she said, and it often preceded child marriage.
Betty's mother learned about the dangers of FGM at an awareness-raising programme run by World Vision, with support from UNFPA and the UN Children's Fund. She encouraged Betty to consider an alternative rite of passage.
Betty had seen other girls suffer from FGM, and was relieved to have her mother's support in rejecting it. "It was, it is, and it will forever continue to be wrong," she said.
Still, "it was not easy saying no" to FGM, she said. Her family faced rejection, exclusion and ridicule from the community.
But she was undeterred. Betty joined the World Vision programme and learned about her rights. She went on to earn a university degree, and is now an advocate and role model for other girls.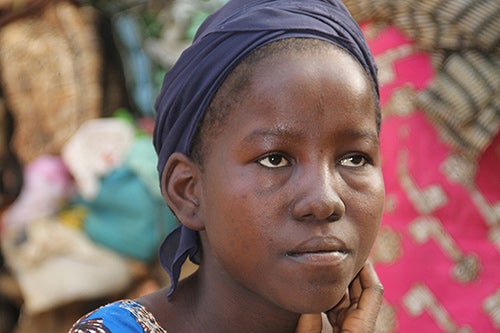 Adama Hamadou Alzouma, 15, attends an Action for Adolescent Girls mentoring session in southern Niger.© UNFPA/Tagaza Djibo
"I went back to tell girls, 'I made it'," she said. "When I look back to see those girls who were forced to do it [undergo FGM], and get married at a young age… these girls now look at me with admiration."
Empowering girls to demand their rights
Knowledge of one's rights can also help girls refuse child marriage. This was a central message of Niger's Minister for Women's Promotion and Child Protection, Maikibi Kadidiatou Dandobi, who offered evidence from the Action for Adolescent Girls Programme.
"In Niger, 30 per cent of girls are married before age 15, and 77 per cent are married before they turn 18," said Ms. Dandobi. "Early marriage has disastrous consequences for girls," she added. Many end up giving birth before their bodies are mature, increasing their risk of injury and death.
The Action for Adolescent Girls programme, supported by UNFPA, gives girls lessons in literacy, financial literacy, reproductive health and human rights. The girls also receive health services, and a mentor speaks with their parents about their welfare.
An evaluation showed that, at the programme's conclusion, girls were better able to protect themselves from unwanted pregnancy and sexually transmitted infections, and they had developed valuable life skills. "Before the programme, only 38 per cent of girls knew the importance of a savings plan; after the programme, 92 percent understood," Ms. Dandobi explained.
And crucially, girls were better informed of their rights. "Ninety-three per cent of girls think it is their responsibility to choose their husband," Ms. Dandobi said. "And parents have changed their perceptions of their daughters."
Tackling sex selection
Advancing girls' rights is also key to eliminating prenatal sex selection, said research professor Monica Das Gupta. Gender-biased sex selection has led to a huge disparity between the number of boys and girls born in select countries in Asia and the Caucasus.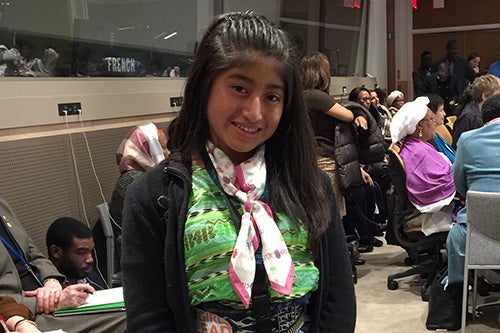 "We want our voices, as girls, to be heard," said Emelin, a 15-year-old activist from Guatemala, at the panel. "And we want to put an end to the harmful cultural practices and norms that affect so many girls." © UNFPA/Lin Gao
Legal bans on sex selection do not seem to be effective, and are often harmful to girls and the mothers, she noted. On the other hand, "broad measures for gender equity, social changes, political equity – these help make boys and girls more equally valuable to society and parents."
When accompanied by social protections for the elderly and positive media messaging about the value of girls, these efforts can help restore the balance between boys' and girls' birth rates.
The efforts to eliminate FGM, child marriage and sex selection share one underlying message: That women and girls are no less valuable, no less capable, and no less deserving of human rights than men and boys.
And those who stand up to claim their rights – like Betty – offer a powerful example to their communities, and to the world.
"Let us always be defiant," said UNFPA Deputy Executive Director Kate Gilmore, "and let us find the Betty within."