Officially at peace since January 2002, the West African country of Sierra Leone is struggling to put a decade of unspeakable brutality behind it and start healing. The wounds sustained by the nation of approximately 5.4 million people tell a story often heard in conflict-ridden sub-Saharan Africa; a story of mass killings, rape, abduction, and diseases running rampant.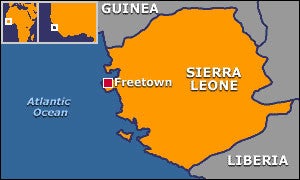 But few conflicts, even in Africa, have been so deeply traumatizing as Sierra Leone's, with women and girls being systematically targeted and the arms and legs of suspected enemies amputated by machete in the thousands. Now, as the country limps toward peace and reconciliation, a major obstacle of just such efforts was recently detected in the bloodstreams of 4.9 per cent of Sierra Leoneans of reproductive age: the HIV virus. The survey, carried out by the US Centre for Disease Control (CDC) in March/April 2002, effectively identified the country as being on the brink of an epidemic, which is defined by a country crossing the five-per cent line of HIV prevalence.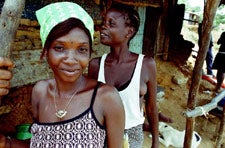 "Thousands of women and girls were abducted, kept in captivity, raped and abused by the warring factions," says Dr. Mamadou P. Diallo, UNFPA's representative in Sierra Leone. "As a result of the war, two out of every five Sierra Leoneans were displaced and the health system destroyed. The only thing left standing in Sierra Leone after the war is hope."
HIV/AIDS spreads much faster in areas of violent conflict because many levels of security are breached simultaneously by the conditions that follow in war's wake. Post-conflict situations also pose significant pitfalls due to large numbers of combatants demobilizing, many with no other livelihood that the soldier's, and the introduction of peacekeeping forces into local populations - Sierra Leone has the world's largest peacekeeping force in UN history, UNAMSIL, estimated at 17,500 troops.
"Communities are uprooted by conflict and people loose the immediate security as guaranteed by family and friends. At the same time, they lose food security, health services as well as their livelihoods. When you lose those, you lack the most essential means of protection against infection with HIV. Especially destitute women and girls are at risk because many resort to commercial sex work as a survival strategy or become victims of sexual exploitation or trafficking," Dr. Diallo explains.
According to Dr. Diallo, the country has long witnessed a precipitous increase in promiscuous sexual behaviour, in the number of commercial sex workers (CSWs) and of other risky behaviours among young people especially. Young people who feel they are left with few life options espouse such behaviours because "they no longer believe in their own survival or a chance of a positive future." He warns that the young generations needed to build a new future can easily be lost to the virus if measures are not put in place to protect their health and support positive, income-generating activities.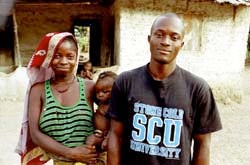 Exacerbating the condition and inspiring fears of a widening epidemic, a mass exodus of skilled professionals during the war has left Sierra Leone with a very limited number of health workers. But, Dr. Diallo notes, some optimism is warranted because "the grass roots in the country still believe they can win the fight against HIV/AIDS locally", village by village, district by district, if provided with the information and means to do so.
"There is a tremendous resilience among ordinary people, they have limited faith in others taking action on their behalf but they strongly believe they can beat the virus in their own communities if they have some measure of means and knowledge available. And that is exactly what the United Nations Population Fund (UNFPA) is working to achieve with partners such as WHO, UNAIDS and UNIFEM, UNCHR as well as local non-governmental organizations (NGOs)
In an effort to:
Prevent HIV/AIDS among abducted and raped women who work in the commercial sex industry,
Provide HIV/AIDS information and condoms to youths affected by the war (ex-combattants, internally displaced adolescents) and provide them with life skills and HIV/AIDS information and
Promote the use of condoms among peacekeepers and uniformed services,
Improve access to reproductive health information and services focussing on family planning, prevention and management of sexually transmitted infections (STIs), reproductive tract infections (RTIs) and HIV/AIDS,
Strengthen negotiating skills among commercial sex workers (CSWs) for condom use and safe sex practices with clients,
Sensitise influencers on support for and protection of CSWs,


Develop peer counselling skills among CSWs
UNFPA and its partners have set up:
A "drop-in" centre in the capital, Freetown, where family planning and HIV/AIDS information and education is available,
Six referral clinics for diagnosis and management of STIs and RTIs as well as other reproductive health conditions in need of treatment,
Information and education materials for use in community sensitisation and peer-counselling activities,
A vocational training facility where commercial sex workers can develop other skills such as the local trades of sewing, soap-making, hair dressing and tie-dying to help them find other means of survival.
However, the programmes are limited to Freetown and while the Government of Sierra Leone has expressed eagerness to expand these efforts, national resources and international support are woefully inadequate to sustain expansion beyond a very limited scope.
The 2002 UN appeal for Sierra Leone, revised at the Mid-year Review in June, requests donors to support relief activities in the amount of US $58,834,657 with only 23.3 per cent of the appeal covered at the time of the review.
The UNFPA component of the appeal is US $1,137,500 with 0 per cent covered at the time of the Mid-year Review.
To learn more about UNFPA activities in Sierra Leone and funding opportunities, please contact: UNFPA Humanitarian Coordinator, Pamela DeLargy or UNFPA Representative to Sierra Leone, Dr. Mamadou P. Diallo.