HANOI, Viet Nam — Hoai Anh is adamant about making the right choices in life, particularly when it comes to relationships and the right to have reproductive health information and services tailored to the special needs of young people.
"You can say no to sex before marriage, but if you want to be intimate then take precautions," she tells a group of adolescents attending a special discussion session on sexuality at the Youth House in Hanoi, Viet Nam's capital city. "Think about the consequences of your actions. If you have unprotected sex you can get an STI [sexually transmitted infection] or HIV," she explains to her audience. "You should always use a condom. And men should also share responsibility with women for their reproductive health."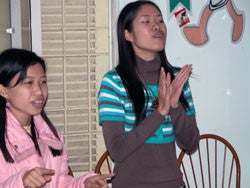 Frank talk about sexuality, especially among young people, has long been taboo in Viet Nam. "Some of my girlfriends were sexually active but knew nothing of the risks of unprotected sex," says Anh, a 21-year-old student of psychology at the National University in Hanoi. "I got involved in the Youth House because I wanted to know more about reproductive health and family planning and to educate my peers at the university about these important, life-shaping issues."
"Some of my girlfriends were sexually active but knew nothing of the risks of unprotected sex."

--Anh, a 21-year-old student of psychology
Faced with the frightening prospect of an AIDS epidemic in the country, especially among youth, the Government is paying more attention to the reproductive health needs of young people. Viet Nam's population is youthful: about 60 per cent of the country's total population is under the age of 25.
Nearly 12 per cent of Vietnamese adolescents (ages 10 to 19) are sexually active, but over one third take no precautions to avoid unwanted pregnancies or sexually transmitted infections, according to studies carried out by the Ministry of Education and Training. As a result, some 300,000 young women under 20 become pregnant every year, and HIV infection rates among youth are rising.

The Youth House is one of many projects supported by the European Union as part of the comprehensive Reproductive Health Initiative for Youth in Asia.
The Youth House was established in 2000 under a project implemented by UNFPA, the United Nations Population Fund, through the Reproductive Health Initiative for Youth in Asia (RHIYA). Funded by the European Union and implemented by UNFPA in collaboration with over 80 local and international partners, RHIYA targets disadvantaged and vulnerable adolescents and youth in seven South and South-East Asian countries. Different projects focus on reaching different populations of young people: those in and out of school, married and unmarried, factory workers, rural migrants, street youth and sex workers, among others.
Youth House is run by the Youth Union of Viet Nam, one of the country's 'mass organizations' with extensive grassroots membership in all 64 provinces. Anh visits the Youth House several times a week to talk with her peers. "At first, many young people are shy to talk openly about sexuality, but in small groups they begin to open up," she says. "I also do counselling at the university."
The Youth House offers many attractions, including sports, drama, outreach and advocacy, and a youth-friendly reproductive health clinic, which also includes counselling services. "Currently, our clinic is run by the Youth Union, but we get technical support for reproductive health services from the Viet Nam Family Planning Association, an affiliate of the International Planned Parenthood Federation," says Dinh Hong Minh, the facility's ebullient director. "The clinic gets about 25 clients per day, with most of them coming in for one-on-one counselling on various reproductive and sexual health issues."
The clinic provides a complete array of reproductive health services to both married and unmarried adolescents and young people. Counselling services are free for all, but clients pay small fees for contraceptives and other reproductive health services. Condoms are distributed free of charge. And under a new Government policy, adolescents from poor families pay nothing at all for services.
At a cafe set up next to the main complex, several members of a popular youth interactive theatre group, known as the Hanoi Reproductive Health Theatre Troupe, perform a skit on the need to use condoms during sexual encounters. After the drama, one of the troupe's members, using a cucumber as a prop, demonstrates how to use a condom. Though there are embarrassed giggles in the audience, all eyes are fixed on the demonstration.
"We perform several times a week all over Hanoi and suburbs," says 20-year-old Dang Minh Thu, the Theatre Troupe's moderator. "We are the only interactive theatre troupe in the country dedicated to reproductive and sexual health issues."
Fast Fact
About 60 per cent of the Viet Nam's population is under the age of 25, and about one third is between ages 15 and 25.
"The model of combining youth-friendly services and communication activities was established as a pilot project, but now it is being scaled up," says Mrs. Minh. "We hope to replicate this model in other provinces." Multiple-use youth centres are now poised to make a significant and lasting contribution to Viet Nam's fight against the rising prevalence of HIV. By the beginning of 2006, UNFPA had helped set up 22 youth-friendly areas in existing commune health stations.
"UNFPA's assistance to Viet Nam has been catalytic in terms of helping us raise awareness of these health issues, such as the threat of AIDS, among youth and adolescents," says Dao Ngoc Dung, Standing Secretary of the Viet Nam Youth Union. "Furthermore, projects like the Youth House have shown how important it is to have policies that allow health care providers to link services to outreach and information campaigns so that our youth can lead healthy, productive lives."
— Don Hinrichsen