MUHUTA, Burundi – "We are here homeless, without food because our fields were destroyed, no cover for the night, nothing… God has forgotten us," said Vincent Hakizimana, a resident in Muhuta, a commune in western Burundi, after torrential rains triggered flooding and landslides at the end of March.
The disaster destroyed over 300 houses as well as schools and a health facility, according to reports from the International Federation of the Red Cross. Vital infrastructure has also been damaged, with boulders weighing up to 2 tonnes blocking roads, interrupting transport. Some 3,000 people are estimated to be affected.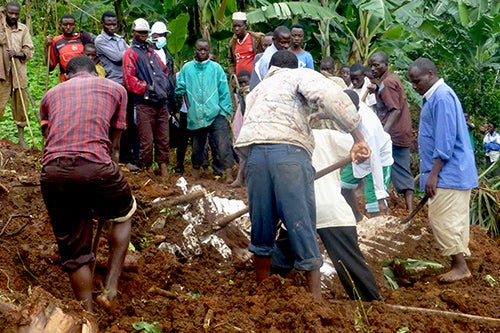 Residents search for people buried under the deadly landslides, which were triggered by torrential rains. © UNFPA/Janvier Ndizeye
Following the disaster, which occurred on 29 March, UNFPA responded with an emergency assessment and the distribution of hundreds of dignity kits containing essential hygiene items for women and girls.
"It was horrible"
"Everything collapsed around 6:30 p.m.," said Mary Cubwa. "We were in the house when we heard something hit against it. We became fearful, and very quickly water entered the house. We could hardly get out. No one knew what to do or in which direction to run."
Her family survived, but their house was destroyed. 
"It was horrible and terrible," Ms. Cubwa told UNFPA.
The entire area is now covered with stones and mud, according to aid agency reports.
Assessing damage and responding
An assessment by UNFPA revealed that, among the survivors, 20 women were pregnant and 50 were breastfeeding. All had lost their homes.
On 1 April, UNFPA distributed 400 dignity kits, which are designed to meet the specific hygiene needs of women and girls of reproductive age. These needs are too often overlooked in disaster situations.
"We were really in need," said one woman receiving a dignity kit.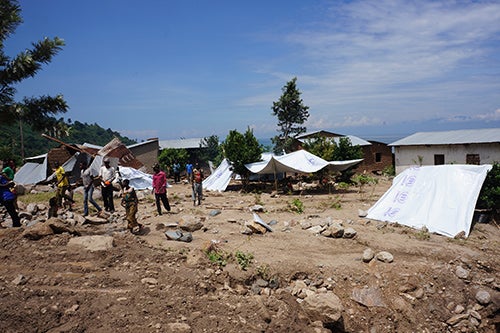 Homes have been destroyed in Rutunga. © UNFPA/Janvier Ndizeye
Further assistance is also being planned: UNFPA is currently preparing the delivery of additional dignity kits. 
Meanwhile, residents say they fear the continued rains will cause further damage.
"We have fear that landslides will continue tomorrow, or after tomorrow," Louise Bucumi told UNFPA.
The rainy season is expected to end around mid-May 2015.
–Janvier Ndizeye