DHAKA, Bangladesh — When her labour pains started, Shahin Akhtar, age 12, didn't know what was happening. A neighbour had to explain. Her mother-in-law sent for a traditional, untrained birth attendant, who tried for two days without success to deliver the baby. By the time the young mother was taken to the hospital, her undeveloped body had been terribly damaged.
"At first I was in a lot of pain, then I had convulsions and lost consciousness," she recalls. "When I woke up, I asked my aunt what had happened. She told me the baby was dead. After seven days, urine started to leak out of me."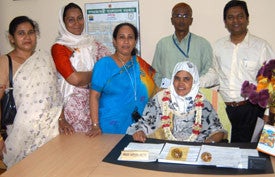 Undelivered, the stillborn foetus had cut off her circulation, leaving fistulae—holes in her bladder and rectum that cause chronic incontinence—and turning Shahin's teen years into a long, lonely nightmare.
"People in the village who used to love me said, 'Go away. You are smelly.'"
She was cast out of her home, a common fate among the tens of thousands of girls and women in Bangladesh who suffer from obstetric fistula.
"I had to go live at my grandmother's house. I was very sad and alone there"—for the next nine years.
Shahin, motherless at age 4, was married at 10. When her husband and in-laws rejected her, her stepmother refused to let her return to her father's house. It was several years before anyone tried to help her get treatment for her degrading condition.
Now 21, Shahin is finally awaiting surgery at the Dhaka Medical College Hospital, in a national centre that trains doctors to repair fistula.
Obstetric fistula, like maternal death, occurs often in Bangladesh because of widespread early childbearing and the lack of skilled birth assistance and emergency obstetric care. The mean age at marriage is 18, but many girls are married at the start of puberty. Among poorer women, 95 per cent of deliveries are without a trained midwife.
Doctors at the Dhaka facility have operated on more than 500 women since the centre was started in 2003. Some procedures are relatively simple, others more complex. Women often spend several months in the centre awaiting surgery or recuperating. The most serious cases require multiple operations.
Many patients have stories similar to Shahin's, heart-wrenching tales of child marriage, unattended delivery and delays in addressing obstructed labour, leading to stillbirth, fistula and abandonment. Some will be cured and face a brighter future; others will always bear the scars of childbirth too early without skilled assistance.
"We have created the world's first structured training facility for fistula," says Dr. Sayeba Akter, the hospital's chief of obstetrics and gynaecology. She set up the centre after studying at the Addis Ababa Fistula Hospital in Ethiopia. The Campaign to End Fistula, a global project of UNFPA, the United Nations Population Fund, has provided equipment and supported the training programme.
Experienced obstetrician-gynaecologists, urologists and anaesthesiologists from six medical colleges throughout Bangladesh come to Dhaka for one month of in-depth study, covering surgery and case management.
Work to build a new centre will start soon, funded by the Islamic Development Bank. The expanded facility will have 60 patient beds and trainees from 13 colleges.
That will mean hope for more women like Shahin.
"Most people told me, 'You will never be cured.' When they said that, I would cry all day," she remembers. "But a few said I could be healed. That made me very happy." Although her father said it would be a waste of money, her sister eventually took her to a doctor who referred her to the Dhaka centre.
Dr. Akter has told Shahin her prospects for a full recovery are not good. "Her bladder has been nearly destroyed." Several operations will be needed to give her a degree of control over her excretory functions.
Shahin remains hopeful. "I still want to go for it. I trust in God." But reality dampens her optimism. Asked about her plans if treatment is successful, she says she wants to find a job and to learn to read, "so I can pray".
"I've had so much pain, I don't want to marry again," she says flatly. But pressed, she tearfully confesses how much she envies her married sisters. "Having children is my dream. I always think about it.
"But how can I?" she asks. In nine years her husband "has never asked about me, never given me a penny. I don't want to go back to him."
— William A. Ryan