WASHINGTON, D.C.—"Living with obstetric fistula is a life full of stigma," said 32-year-old Sarah Omega of Kenya at a press conference on Capitol Hill this week. She suffered from this debilitating injury of childbearing for twelve years before she was treated surgically.
While in Washington, she advocated on behalf of the millions of women who die each year in childbirth or suffer from related disabilities. Her testimony highlighted the resources needed to improve maternal health and encouraged US government support for a resolution aimed at reducing maternal mortality, both at home and abroad.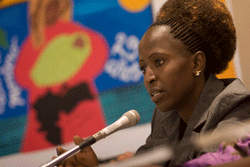 Ms. Omega spoke to government representatives and other dignitaries about her personal experience with fistula. "It is a condition that has left many homes broken. It denies you the freedom to intermingle with others. You live a lonely life, and you are rejected. The worst thing about obstetric fistula is that you become a social outcast," she said.
Sarah had spoken before several US Congresswomen in October 2007 at Women Deliver , a global health conference organized to encourage actions to reduce pregnancy-related deaths and disabilities, such as obstetric fistula. Struck by Sarah's story, Congresswoman Lois Capps introduced a resolution on maternal mortality to the US House of Representatives. The Congresswoman also invited Sarah to Washington to make her appeal in person.
"It denies you the freedom to intermingle with others. You live a lonely life, and you are rejected. The worst thing about obstetric fistula is that you become a social outcast. "

--Sarah Omega
With support from UNFPA, the United Nations Population Fund, and the United Nations Foundation, Sarah was joined on the Capitol by Caroline Ditina, another fistula survivor and advocate from the Democratic Republic of Congo. Both women spoke eloquently at a series of events, including a press conference and a Congressional Briefing about their personal experiences living with fistula.
The resolution introduced by Congresswoman Lois Capps, which guarantees a US commitment to reducing maternal mortality, was supported by every Democratic woman Member of Congress. The day after Sarah and Caroline's visit, the US House of Representatives passed the resolution.
The survivors' testimony was complemented by statements from Dr. Jennifer Othigo of Kenya and Dr. Dolorès Nembunzu of DRC, both obstetric gynaecologists, who provided first-hand accounts of the resources needed to prevent maternal mortality and morbidities. Representatives from UNFPA, the UN Foundation, USAID and One by One – a US-based NGO and partner in the Campaign to End Fistula – also emphasized the need for an increased commitment to maternal health.
Sarah and Caroline underscored the dangers women face when access to skilled emergency obstetric care is not available. "The nurse's aids were pushing on my stomach and my chest to get the baby out and they put something in my mouth so that I could not scream," said Caroline, who developed fistula after her third pregnancy and spent years searching for a cure.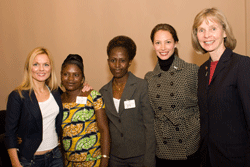 Similarly, Sarah spent 18 hours in labour at one hospital before being referred to another health facility where she underwent a Caesarean section. She ultimately delivered a stillborn baby boy and her prolonged labour resulted in a fistula. Without access to information about the condition or available treatment options, she spent the better part of her life as a young person living in isolation. "Life lost its meaning completely," she said.
Both Caroline and Sarah have recently undergone successful repair surgeries. Following the surgeries, they became national and global advocates, working to raise awareness for fistula prevention and treatment in their communities and urging politicians as well as governments to take action. "This is my appeal, let us all join together to make maternal health a priority, to increase advocacy and to empower women—there is a light at the end of the tunnel," said Sarah, to a packed-house at last Tuesday's press conference.
UNFPA Goodwill Ambassador, Geri Halliwell, was also in Washington on Tuesday to highlight the plight of women that suffer death or disability due to childbirth.
Maternal health is at the core of the UNFPA mission. The Fund supports activities to prevent maternal death and disability in about 90 countries through technical and financial assistance for reproductive health programmes.
UNFPA-supported progammes emphasize women's rights and capacity building in maternal care, including training and retention of midwives and doctors, family planning and general strengthening of health systems. Since 2003, UNFPA has spearheaded the global Campaign to End Fistula, which is working in more than 45 countries to prevent and treat fistula, and to help rehabilitate and empower women after treatment.
-- Julie Weber