BANGKOK, Thailand—Jenjira Boonlom lies wearily on her bed in the post-partum ward of the Bangkhen district hospital, still weak from her Caesarean operation a week ago. Despite the pain, she feels blissful, appreciating Vorayuth, her husband, and his dedication to her and to their little Dream, the one-week-old baby girl on his lap.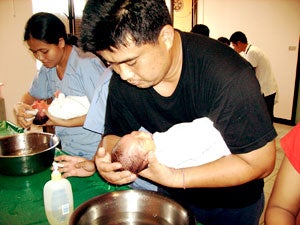 Since she got pregnant, Jenjira says, Vorayuth has helped with household chores and visited the hospital with her as often as he could. "And this hospital requires a lot of participation from the husband – a lot more than any other hospital I've ever heard about," she points out, eyes sparkling.
Hospital staff make a special effort to engage male partners in promoting a healthy pregnancy and delivery, and to give them the skills to share responsibility for infant care, under a project supported by UNFPA, the United Nations Population Fund.
Learning new skills
"Neither of us ever had a child before," says Vorayuth, who attended a series of parental classes over the past several months. "Everything, big or small, is new for us. So it's very important to be well prepared before having a baby.
"At the beginning, it sounds complicated and really demanding. Husbands must come with their wives to the first class and least three more times. We have a list of classes to attend. But I would like to tell other fathers that the whole experience is worth it!
"Fortunately, both my wife and my baby are healthy," he adds, glancing at them. "I think part of this luck is because we learned a lot from the trainings here. The doctors and nurses have always been supportive."
"Every moment of being a parent is exciting. I feel great to actually be a father now."

--Kitchai Khankaew
Another corner of the ward resonates with the cries of infants as staff members teach parents how to bathe their newborns. Nurse Chanida Phoothong coaches Kitchai Khankaew, a new father in his twenties who seems a bit afraid of holding his baby.
"She is so tiny. Although I tried to hold her gently, she wailed all the time I was shampooing her. I tried to remember everything the nurse said: how I should position my hands and fingers; what I am supposed to do with the cord. In class before she was born, we tried this several times with a doll. But a real baby is much softer. Her crying keeps me alert.
"Every moment of being a parent is exciting," says Kitchai, his voice quivering. "I feel great to actually be a father now."
With little assistance, Kitchai sponges his daughter dry, cleans her navel, wraps her in a soft cotton cloth and puts her into the wheeling crib. Then the young father and his baby head back to the post-delivery ward where his wife is resting.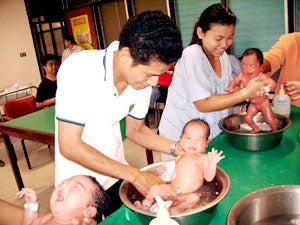 Another father is sweating. "This is the first time I bathed an infant even though it is our second child," Yuthanakorn Kongkhwan says. "I usually work in Uthaithani province, so my wife did almost everything alone when we had our first. But this time, I have tried to manage more time to be with them and to help her.
"In parenting class we learned that to clean the baby correctly you have to work on their eyes first, so the cloth must be absolutely clean. When you scratch their belly buttons, they cry. The problem is, they cry the entire time. So you don't know if you're rubbing too hard or if they are just crying as usual.
"Most men leave baby care to their wives. I did too in my first child's case, because I was not sure I could do it correctly. This is kind of help is very good for many fathers," said Yuthanakorn.
Promoting positive partnerships
Bangkhen district hospital strives to make men active health partners with their wives before, during and after birth. Nurse Tongjit Kanchanomai explains: "Involving males in this programme, in a sense, means the staff has twice as many clients to serve. But promoting positive family care partnerships can also ease our work and make the Thai population healthier.
"For example, consulting on family planning becomes less difficult," she says. "There are fewer underweight infants as partners help take care of nutrition needs. Most important, men can help keep their wives and children HIV-negative and free from other sexually transmitted diseases."
In 2005 and 2006, some 5,000 couples were assisted under the UNFPA-supported project in six Thai hospitals – one each in Chiang Mai, Khon Kaen, Nakorn Sawan, Ubon Ratchathani, Ratchaburi and Bangkok provinces. The project aims to explore the most cost-effective methods of preventing HIV infections among pregnant women and their partners and reducing the risk of mother-to-child transmission, with the goal of encouraging other health care providers to replicate and scale up the best approaches.
Couples who come to the hospitals for antenatal care are given information on ways to prevent infection and offered voluntary counselling and testing services. In addition to promoting safer behaviour, the project actively encourages men to become more involved in safeguarding the health of their partners and babies. Hoped-for results include a reduction in the costs of hospital stays and better child development. 
—Thitiporn Winijmongkolsin