NAM KHEM, Phang-nga Province, Thailand—When the tsunami waters raged through this fishing town, home to thousands of migrant families from Myanmar, Nu Nu Aye raced to the office of World Vision, where she volunteered as a community health educator. The young woman found the key on a hook on the wall, somehow slogged through the chest-high water to the stairs and climbed to the roof. From there, she watched the flood smash fishing trawlers into houses and carry her neighbours away.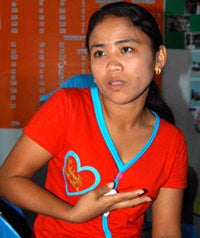 She was lucky she wasn't at home. Among her immediate neighbours, two of four mothers were drowned—the others were seriously hurt—along with all four of the children.
Another health volunteer, Thet Naing Oo, noticed the water in Nam Khem's harbour had receded. Then he saw people running from the beach. He grabbed his 2-year-old son and ran several kilometres to the main road, where they got a ride. Like hundreds of other migrants, they found their way to the mountains, where they hid for five days. He was later reunited with his wife, who survived by climbing a tamarind tree.
Swe Swe Myint was on her way to visit her parents when the waves struck the beach resort at Khao Lak. Her parents were among more than 1,000 migrants working on a large construction site there. Their plywood barracks were swept away, leaving only sand. Her mother perished and her father and brother were badly injured. Unable to work, they returned to Myanmar as soon as they could. Swe Swe wants to go home, too.
No one can really say how many migrants perished in Thailand on 26 December, but hundreds died in Nam Khem and Khao Lak. Tens of thousands of men and women worked in the tsunami-hit region along Thailand's Andaman Sea coast, on fishing boats and piers, and in construction, tourism and rubber plantations. Some were legally registered, but many were not. Many of those who lost homes or jobs fled to Myanmar or went into hiding, fearing arrest.
Phang-nga Province was hit hardest. The World Vision Foundation of Thailand, a Christian non-governmental organization, was one of the few groups offering support services in poor migrant communities. It quickly helped repatriate many tsunami survivors who wanted to return to Myanmar and provided medical care, water, tents and survival kits for those who remained, with support from a variety of international donors including UNFPA, the United Nations Population Fund. Since then, World Vision has built a number of temporary shelters, each housing several hundred people, for displaced Thais and migrants in communities where the damage was greatest.
World Vision is also building hundreds of new houses in Phang-nga, including some at a Royal Thai Navy base. It is helping fishermen replace their boats and nets and is working with local authorities to establish new water supply systems in places where wells were contaminated.
UNFPA and World Vision are now making plans to provide reproductive health and education services in the ramshackle migrant settlements scattered around Phang-nga and neighbouring Phuket.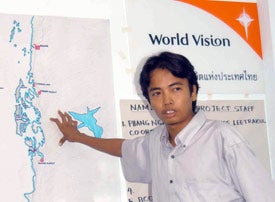 This work will build on their recent successful collaboration in Ranong, the biggest gateway for migrant workers coming to Thailand from Myanmar. World Vision operates a health centre and several mobile clinics in Ranong, where the migrants can get family planning, pre- and post-natal services, and health care for children. Dozens of community volunteers, including adolescents, have been trained to provide information about health and family planning. The UNFPA-backed project also educates sex workers and their fishermen clients about preventing HIV and other sexually transmitted infections.
Aung Pyae Phyo, a slight, soft-spoken young man from Myanmar, is a project staff member at World Vision's Kuraburi office. The office, set up as part of a project to combat HIV/AIDS and tuberculosis, has become a hub of tsunami relief work. Dr. Phyo treated and counselled many survivors, including three women who suffered miscarriages after the tragedy and two who gave birth in the first week, and a number of orphans who lost parents at the Khao Lak construction site.
Most of the migrants who remain in Thailand "don't consider themselves victims" and cannot dwell on what happened to them because of the daily demands of survival, Dr. Phyo says. "They have no time for emotions; they have to work for food."
Nam Khem is now largely cleared of debris, leaving a vast, eerie open space. Construction crews (including migrants) are putting up many new buildings. International aid has been committed to rebuild the town's pier and fishing fleet. Former United States Presidents Bill Clinton and George H.W. Bush and the King and Queen of Sweden have visited in recent days, encouraging hopes of economic recovery in this damaged corner of an otherwise prosperous region. Along the luxurious Khao Lak beachfront, the pace of rebuilding is even swifter.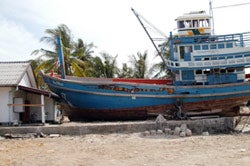 But at the shelter World Vision built just outside Nam Khem, the future looks less certain for 300-plus unemployed migrant fishermen and a few dozen women and small children, living in long rows of single rooms built of plywood. World Vision Foundation of Thailand Deputy Director Chitra Thumborisuth worries that the lack of work and the camp's sex imbalance could put the women at heightened risk of contracting HIV.
To address such concerns, as volunteer builders continue to improve the temporary housing facilities, UNFPA and World Vision are working to adapt the training materials and techniques used in other migrant communities to promote good reproductive health and gender equality for survivors of the tsunami.
—William A. Ryan