BANGLADESH — Grinning with nervousness and excitement, a group of teenagers stands up and asks rapid-fire questions: What's your name? How old are you? Are you married? How old were you when you were married? How and where did you learn about sex? Smiling in return, the Members of Parliament respond in kind: What are you learning that is useful? When do you want to get married? How do you stop an early marriage from happening? What do your friends and family members think about what you're doing? What impact has this programme had on your life?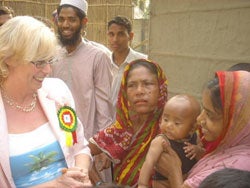 The discussion took place during a recent visit of Members of Parliament from Belgium, Germany, Portugal and the United Kingdom to Bangladesh, one of the most densely populated countries in the world, with almost 142 million people living in 147,570 km2. By the year 2050, the population of the country is projected to increase to 242 million. As a result of continuing high fertility rates, especially in poor rural areas, the country's population is young. A full 40 per cent of the entire population is under the age of 24, while one quarter are adolescents between the ages of 10 and 19. Teenage marriage is highly prevalent.
To address these and other concerns, the European Union (EU) and UNFPA, the United Nations Population Fund, joined forces to fund the Reproductive Health Initiative for Youth in Asia (RHIYA) in seven South and Southeast Asian countries: Bangladesh, Cambodia, Lao People's Democratic Republic, Nepal, Pakistan, Sri Lanka and Viet Nam.
In 2003, RHIYA came to life in Bangladesh to raise awareness among young people of sexual and reproductive health care, changes in puberty, child marriage, early pregnancy, sexually transmitted infections, HIV/AIDS and other health-related matters that remain taboo subjects in family households and society at large. RHIYA reaches out to young people by: 
Creating an enabling environment for the provision of sexual and reproductive health information, including support from community gatekeepers, parents and guardians;

Equipping young people with the appropriate knowledge, information and life skills to addresstheir sexual and reproductive health needs and concerns;

Increasing the availability of quality, culturally and gender sensitive sexual and reproductive health education, counselling and clinical services; and

Building the capacity of partner NGOs to provide youth friendly quality clinical sexual and reproductive health services and counselling.
Since 2003, the 24 youth clubs created by RHIYA in Bangladesh have witnessed a steadily growing number of young people enthusiastically joining discussions and events, many of whom become "peer educators" and help further increase the spread of knowledge on these subjects.
In February, a delegation of four Members of Parliament from Europe – Lyn Brown (UK), Magda De Meyer (Belgium), Roel Deseyn (Belgium) and Ana Manso (Portugal) – plus Alexander Graf Lambsdorff, a Member of the European Parliament from Germany, visited RHIYA programme sites in Bangladesh, including: 
Banashree, a slum in the Northeastern part of the capital Dhaka, where the overall lack of services for young people results in few options for this particularly vulnerable population to improve their living conditions. Here, Concerned Women for Development, a women's volunteer NGO, helps to improve the sexual and reproductive health of about 34,000 young slum inhabitants, both boys and girls. During their visit to Banashree, the parliamentarians were able to witness the effect that RHIYA has on the local community. While interacting with parents and guardians, they learned how the Youth Forum – a group of 20 young people each assigned to 50 local families – has spread the message through rallies and community dramas, and received the community's support for the programme. A chat with the young peer leaders themselves, held at a Youth Resource Centre, helped the delegation to learn more about how they contribute to improving their peer's sexual and reproductive health through referrals and the promotion of family planning methods for young married couples.

Sylhet, the fourth largest city in the country, which is located in the wealthy tea estate region of Northeast Bangladesh. Their one-day trip to Sylhet provided the parliamentarians with an insight into the sensitive approach taken by the Bangladesh Red Crescent Society to adequately address the sexual and reproductive health needs of over 6,000 young people in this predominantly conservative region. Following a visit to the affiliated Maternity Hospital that provides youth-friendly clinical and counselling services, the delegation attended a refresher training on sexual and reproductive health in two Youth Resource Centres. Taking into account cultural sensitivity, separate training sessions were held for boys and girls. This helped the success of the programme in enlisting the overall acceptance and support of the community, as the following meeting with religious leaders demonstrated. A visit to Lakatura Tea Estate revealed that despite its overall wealth and economic growth, parts of Sylhet's population live and work under the poorest conditions. Through peer leaders, the delegation saw RHIYA's direct interaction with the community and its reaching out to the most vulnerable and disadvantaged young people.

Tongi, a manufacturing area in the northern outskirts of Dhaka, where access to even basic education and health services, let alone sexual and reproductive heath knowledge, is scarcely available.

In this environment, Marie Stopes Clinic Society (MSCS) helps to fill the gap for 11,000 young people, who represent the most underserved members of the slum community. Their visit to Tongi took the parliamentarians to one of the five local schools that MSCS works with to provide basic education to students of class VII to class X. Here, they attended a session on gender held by a young community health worker as part of weekly classes on HIV/AIDS, gender, puberty and other sexual-related information. During their visit to Tongi, the parliamentarians could also see the importance of creating an enabling environment for adolescent sexual and reproductive health issues, reflected by the good rapport MSCS has developed with the local community. In the context of the extremely poor living conditions in this area, educating the parents and winning their support is key to changing behaviour.

Mymensingh, a city in the North of Bangladesh, where poor infrastructure is hindering economic growth and contributing to a lack of basic services, including health care. MSCS helps to improve the sexual and reproductive health of 5,700 young people, who suffer most from the poor setting. The visit of the parliamentarian delegation to Mymensingh coincided with a youth fair, the first ever organised by young people in the city. Here, parliamentarians could watch drama presentations performed by the young people to educate community members about sexual and reproductive health issues. Booths served not only to present the work of RHIYA partners and other youth serving organisations, but also provided an opportunity for the young people, particularly girls, to sell colourful skirts, shirts and bed sheets they had produced during the livelihood training at the project's Resource Centre. The trip to Mymensingh concluded with a visit to the Resource Centre, where the parliamentarians could see a youth-friendly service delivery point offering low-cost clinical and counselling services as well as contraceptives. Because of the attention paid to the quality of care, the community is increasingly using these clinical services.
"I think that this joint programme by UNFPA and the EU shows that where true partnerships are run as a team, we can really make a difference. This I will take back to Brussels."

--Mr. Alexander Lambsdorff, MEP, Germany
On their visits to the programme sites, a strong emphasis was placed on interaction with the population; the delegation talked to many young people from the community, who are involved in the programme, to receive broad feedback. It was during one of these meetings that Lyn Brown described how impressed she was with the development of the healthcare sector in Bangladesh and with the RHIYA project itself: "I will tell my government to continue to fund the project".
During the 6-day journey, the parliamentarians met with government officials, including the Finance Minister Saifur Rahman, the Minister for Health and Family Welfare, Dr Khandaker Mosharraf Hossain, the Speaker of the Bangladeshi Parliament, Mr. Jamir Udddin Sircar, and the State Minister for Youth and Sports, Fazlur Rahman. They also met with the first counsellor of the European Commission Anthony Goodwin to discuss matters of cooperation. The Bangladeshi Government highly appreciates the RHIYA-Initiatives, one of the many reasons that made the European legislators confirm that they would persuade their respective governments to enhance assistance for developing the health sector of Bangladesh.  
--Thierry Lucas 
Study tour organised by Thierry Lucas, UNFPA
Co-organisers: Karen Hoehn, DSW and Neil Datta, IEPFPD
Preparatory work done by Galanne Deressa, UNFPA and Alexandra Mueller, DSW
Big thanks to UNFPA office in Bangladesh and Suneeta Mukherjee.