LUNDA NORTE, Angola – Towards the end of Yvonne Mboi's pregnancy, she recalled, "I realized I was too big. I was afraid." These concerns loomed large after her harrowing flight from conflict in the Democratic Republic of the Congo.
But when she finally gave birth, Ms. Mboi was surprised, and relieved, to discover her size made perfect sense: she delivered two healthy twin girls.
The 20-year-old had been in the early stages of pregnancy last May when she, her husband and their young daughter escaped the chaos in their country's Kasai region.
They were among more than 35,000 people to flee to Angola's Lunda Norte Province. The rapid influx of refugees increased pressure on public services, including the health system.
"Refugees receive the same treatment and services as the Angolan patients receive, but we need support and medical supplies to be able to provide the necessary assistance," said José Gimi Nhunga, director of the Provincial Department of Health.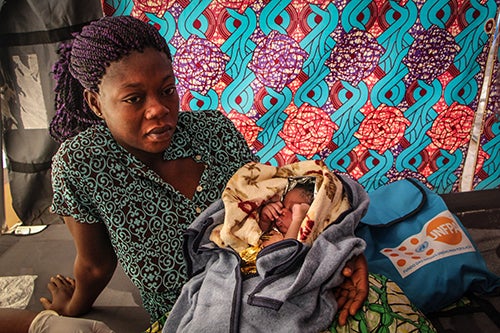 Georgine, 24, rests with her newborn son. She received a UNFPA-provided baby kit from the clinic in the refugee settlement. © UNFPA/Tiril Skarstein
UNFPA is partnering with provincial health authorities to strengthen the health system, both by training health workers and by providing medical supplies to the province's hospitals.
Ms. Mboi was fortunate to receive care in a hospital that had received medical supplies through this joint effort.
Double happiness
In late January, Ms. Mboi was brought from the refugee settlement where she now lives to the Dundo Maternal and Child Hospital.
She was referred for Caesarean section; the hospital provides specialized treatment for pregnancy-related complications.
Medical staff successfully performed the procedure, using the UNFPA-provided medical supplies.
"I am very happy to now have two healthy twins," Ms. Mboi said after the delivery. She was resting in a hospital bed, a newborn baby in each arm.
Having twins is a double happiness. But caring for twin infants in a refugee settlement brings twice as many challenges. The new mother is worried about being able to feed both babies, and about getting the clothes, diapers and other supplies they need.
Help for new mothers
To help refugee mothers like Ms. Mboi, UNFPA has provided baby kits to clinics run by partner Médicos del Mundo in the two refugee settlements in Lunda Norte.
The kits are not only helpful to new mums – they also draw women to the clinics for essential maternal health care.
"The baby kits – which include some baby clothes, a blanket, cloth diapers and hygiene articles – are to provide women with an extra incentive to go for prenatal and post-natal consultations at the clinics," explained UNFPA's Representative in Angola, Florbela Fernandes.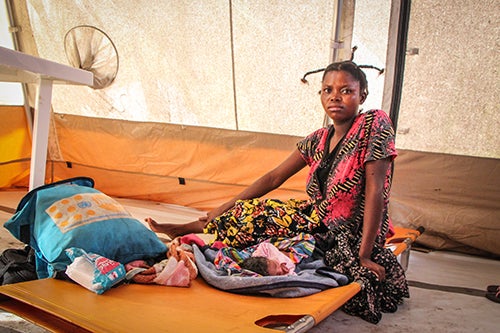 Sango Sarivo's baby daugher is two hours old. The girl was born at a clinic in the Lovua settlement for Congolese refugees. © UNFPA/Tiril Skarstein
The incentive works well, confirmed 21-year-old Sango Sarivo, who gave birth to her third child, a healthy daughter, at one of the clinics.
"The birth went very well. I am happy with the support," she said, smiling at her newest family member. 
Continued support needed
At the maternal and child hospital in Dundo, nurse Natalia Albano called for continued support.
"We receive many refugee women. Almost all pregnant women who have any complications are sent here to Dundo, and we need the necessary medical supplies to be able to do our job," Ms. Albano explained.
But amid these worries, there was also joy.  At the hospital, three mothers – two Angolans, one Congolese – were waiting to bring their newborns back home.
For Ms. Mboi and her newborn daughters, "home," for now, is a tent in their refugee settlement. She looks forward to finding something more permanent.
"My dream is to see my children grow up and study here in Angola," Ms. Mboi said. "I want them to be safe."