TIGRAY REGION, Ethiopia – Mitslal Giday has been working as a community mobilizer in the Tigray Region of northern Ethiopia for the past 20 years – and the last two have been some of the most exciting of her career, she says.
Two years ago, Mrs. Mitslal, leader of a volunteer network known as the Women's Development Group, helped roll out the Maternal Death Surveillance and Response (MDSR) initiative, which undertakes community-level efforts to prevent maternal deaths. The programme is coordinated guided by the Regional Health Bureau, which UNFPA is a member of.
Mrs. Mitslal advises pregnant women in the women's group to attend at least four antenatal check-ups and to give birth at a health centre, under the care of a skilled birth attendant.
When a woman is in labour, Mrs. Mitslal summons an ambulance, and if one is not available, she arranges for a 'traditional ambulance' – the community's term for a stretcher – to transport the pregnant woman to a health facility.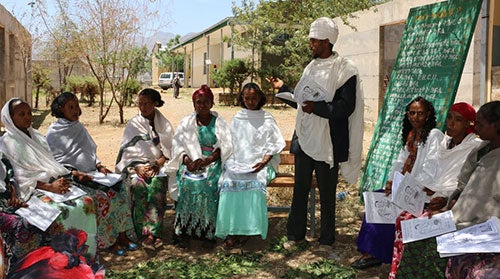 A priest speaks with pregnant women about the benefits of delivering in a health facility. Photo credit: UNFPA/Abraham Gelaw
Mrs. Mitslal works closely with Beruho Gebrezgi, a health extension worker, to promote safe motherhood. Together, they create a list of local pregnant women for the Hewone health post and the nearby health centre, which helps to closely monitor the provision of maternal health services.
Community-level data-gathering
When a woman does, tragically, die at home from a complication of pregnancy or childbirth, Ms. Mitslal and Ms. Beruho meet with her family and write a detailed account of the circumstances surrounding her death.
Health professionals at the Adi Godum Health Centre, which oversees the Hewone health post, are also dispatched to the scene to file a report of their own. The accounts are compared, signed and reported to the District Health Office.
Through this and other data-gathering processes, the MDSR initiative is generating local, real-time information on maternal mortality, improving officials' understanding of the issue and informing future preventative efforts.
A steering committee at each level evaluates the system. "This has ensured the quality of and authenticity of the data gathered," said Fisseha Ashebir of the Tigray Health Bureau.
Creating a culturally sensitive environment
Maternal death is on the decline.
In 2011, 217 women died per 100,000 live births in the Tigray Region. By contrast, in the last nine months of the current Ethiopian fiscal year, there were 89 deaths per 100,000 live births. And in some districts of the region, like the Hintalo Wajirat District, no maternal deaths have been registered this fiscal year, according to Tsegaye Tadesse, head of the District Health Office.
Contributing to this progress is the fact that pregnant women are increasingly delivering at health facilities.
To further encourage pregnant women to deliver under skilled care, health centres are providing more culturally sensitive environments. For example, women are allowed to eat porridge with relatives after giving birth, part of a local tradition. At health centres, makeshift kitchens with cooking utensils have become a common sight, and community members are contributing grain and other supplies in support of the initiative.
Skilled attendance at birth has reached 56 per cent – a few points shy of the 62 per cent national target for 2015 set by Ethiopia's Health Sector Development Programme.
Challenges remain
Although there has been improvement, health facilities continue to require better medical equipment, reliable supplies and skilled professionals.
Maternal deaths continue to be undercounted and misclassified, and data are sometimes not readily available for reference. An attempt to digitize the information was undermined by persistent network problems.
Still, the tireless efforts of people like Mrs. Mitslal have shown that the tide of maternal deaths can be reversed – and that communities are the best place to start.
"The greatest success of the initiative lies in the strong ownership of the matter by the community," emphasized Mr. Fisseha.
– Abraham Gelaw