LOFA, Liberia — Dr. Geetor Saydee's legs were tired, his brow drenched in sweat. He'd been walking for several hours through the dusty streets of Lofa, a county in Liberia's northern region, to assess the status of the public healthcare system in the wake of the country's 14-year civil war. But he trudged on, knowing how much was at stake.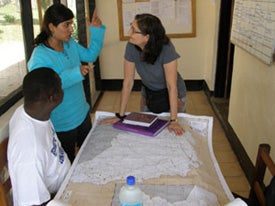 Lofa was a focal point during the war, a place where ritual murder, systematic rape and torture were commonplace. Though the war ended in 2003, clean water and sanitation are still scarce and nearly all basic services, including health facilities, were destroyed and remain in shambles. The country's Human Development Report recently concluded that as a result of the conflict, only 5 per cent of the country's health facilities are still standing. In 2003, fewer than 20 government doctors (out of 400 who were trained before the war) remained in the country.
"It was important to evaluate the reproductive health situations of the women here. What we found was that they have a very low social and economic status, which makes them vulnerable to a variety of things," said Dr. Saydee, a national consultant for UNFPA, the United Nations Population Fund. Early pregnancy, sexual violence and HIV transmission are among the issues he cited.
In fact, the data he and others collected suggested that "the single most important intervention needed is improved access to and availability of reproductive health services."
A community effort
The survey was initiated in early 2007, when UNFPA collaborated with the government of Liberia, the US Centres for Disease Control and Prevention (CDC), John Snow, Inc. and USAID to assess post-war reproductive health and recommend improvements. One result was the Women's Reproductive Health in Liberia; the Lofa County Reproductive Health Survey.
"Local NGOs know the culture, which helps them address sensitive reproductive health issues."
--Meriwether Beatty
At the beginning of the survey process, the 14-member survey team travelled across rutted roads and thick forests to reach the Lofa districts of Voinjama, Foya, Zorzor and Salayea to explain to village leaders the purpose and procedures of the survey, and to obtain their permission to conduct it. Making sure the communities knew what was going on and trusted the process was critical to the survey's success.
"The local population was very helpful and cooperative throughout the entire process. They provided accommodation for the survey team and directions to the next selected towns and villages. The local population also assisted in the education and sensitization of the survey," said Basia Tomczyk, a CDC epidemiologist.
Difficult conditions
However, even with the support from the communities, the team faced many obstacles while attempting to collect the data during January and February. Specific communities were identified to make sure that the data were statistically sound, but many of the vicinities proved too difficult to reach; the CDC had to recalculate sample frames in order to ensure data reliability.
"The biggest challenges were bad roads and inaccessible areas. We spent a lot of time walking. If the villages were too far to reach by foot, we'd have to turn around and find another option. After this survey was conducted, I realized that in order to gather good and genuine data, one has to surpass many challenges," Priya Marwah of UNFPA's Humanitarian Response Unit recalls.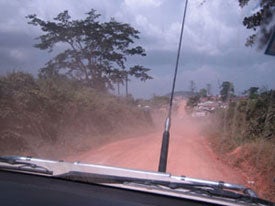 It had been nearly ten years since a population-based survey had been produced in Liberia. The lack of information meant that calculating sample frames was difficult since some of the villages and roads listed no longer existed. These obstacles are not uncommon when collecting important data in countries transitioning from the emergency phase of a conflict.
The participants of the survey included some 907 women of reproductive age living in 36 locales, which included both urban and rural areas. They were interviewed by women, many of them locally recruited, who had been trained by the CDC on the survey methodologies and who also spoke the local dialect. Survey team members filled out a questionnaire form for each participant, since many of them did not know how to write. Participants were asked about maternal health practices, knowledge and use of contraception, experiences with sexual violence during and after the recent conflict, and knowledge, attitudes and behaviours related to HIV.
Shocking results
The results of the survey were shocking: 96 per cent had lost shelter due to the war, 90.8 per cent had lost their livelihoods, and 72.8 per cent had lost a family member. More than half of all women in Lofa County were victims of at least one incident of sexual violence during the 1999-2003 conflict.
While 90 per cent of these women were physically abused at least once, almost half of the women reported more than four instances in which they were required to have sex for favours. The data also revealed that 61.5 per cent of women experienced violence at the hands of an intimate partner at some point in their lives.
The women fared slightly better in terms of getting obstetric care, mainly because some were able to obtain services from health facilities and doctors in neighbouring countries. But the survey showed huge gaps in care: more than 75 per cent women of women who had recently given birth had experienced complications during pregnancy, and approximately one fifth of them did not seek medical help. Almost half of all recent births (47.5 per cent) occurred at home, without the assistance of a skilled medical attendant.
Other reproductive health indicators showed lack of contraceptive use and lack of skilled medical professionals to assist during delivery.
Forgotten and vulnerable
Ironically, access to reproductive health care often declines after a ceasefire because, once peace is forged, humanitarian agencies often stop providing emergency assistance. Yet in post-conflict settings, broken-down infrastructures and a lack of resources often mean that displaced populations are left to try to reconstruct their communities without the necessary supplies and equipment.
"The survey goal," according the report, "is to highlight the critical need to continue funding and building programmes during a time when traditional humanitarian aid has ceased and development has not yet begun, leaving the population without essential public health services."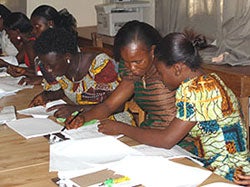 Because this was the first population-based survey conducted in Liberia since 1999, its findings are critical to moving forward. "The data collected will provide adequate information that can be used in planning and implementing the unmet reproductive health needs, and in assisting the vulnerable population toward viability and sustainability," Ms. Marwah explained.
This is very important in Lofa, where only 14.5 per cent of respondents showed comprehensive knowledge of prevention and transmission of HIV/AIDS. Safe patterns of sexual behaviour are even less common, according to the survey.
Sharing data to support NGOs
In many crisis-affected regions, local non-governmental organizations (NGOs) provide the only reproductive health services in a community. It is NGOs which are likely to remain long after international relief organizations have left. Therefore, building the capacity of local partners is a crucial step in ensuring sustainable and quality reproductive health services to vulnerable populations.
"Local NGOs are well-suited to provide reproductive health services because they are intimately aware of the needs and priorities of the communities. They also know the culture, which helps them address sensitive reproductive health issues in a way that more effectively engages community members. Local organizations are often at a disadvantage in their ability to solicit funding. Yet it is these organizations which have the most promise of enduring sustainability," said Meriwether Beatty of John Snow, Inc., a public health research and consulting firm.
The Lofa County initiative linked population-based data directly to JSI's Reproductive Health Response in Conflict Capacity Building Programme, which supports and encourages national and local NGOs offering reproductive health services to — or planning to offer reproductive health interventions for — populations affected by conflict.
"For JSI's Capacity Building Program, this was a unique opportunity for our Liberian NGO partners to interact with the research team and to enhance the use of quality data to inform and guide their programmes. The research and implementation teams exchanged perspectives and shared information throughout each stage of the research," said Molly Fitzgerald, JSI's Capacity Building Advisor.
For example, even at the data collection stage, JSI met with interviewers to discuss reproductive health from a programmatic standpoint. The research team met later with NGO implementers to "translate" survey findings. Gaps identified through the survey were addressed by ensuring that small grants were available for implementation activities.
Good data can save lives
Three of the four NGOs to receive grants, MERCI, PARACOM and ChildrenSmile, are currently working to address the unmet family planning needs identified in the survey. About a third of married women expressed a need for services, although the contraceptive prevalence rate was reported as 6.8 per cent. The fourth NGO, PMU, is working with the community on obstetric care, so that fewer women die from childbirth-related causes.
"In addition to filling gaps in eproductive health services in a particular area, these NGOs often fill gaps in geographic coverage. For example, ChildrenSmile operates in a remote region of Liberia. It is one of the only reproductive health service providers in the area, and it works closely with county health officials, women's associations, teachers and hospital administrators. They have taken a leadership role in this community, and they have shared the information and resources we gave them," Mr. Beatty explained.
Although these NGOs are providing desperately needed reproductive health services to communities in Liberia, there are still large populations of women throughout the world dealing with post-conflict issues and the consequences that result from unmet reproductive health needs. Good data is necessary in order to assess what is needed for planning, funding and implementing community-based programmes for humanitarian response and post-crisis settings.
—Reported from New York by Shannon Egan