Although all individuals have the right to reproductive health, exercising this right can be problematic. In Ecuador, user's committees have been formed to make sure both clients and providers understand the groundbreaking Free Maternity Law. The committees also monitor compliance with the laws many provisions.
* * *
ECUADOR—Ecuador's Parliament passed a landmark piece of legislation in 1998. Known as the Free Maternity Law, it guarantees free maternal health care to pregnant women and their newborns, access to family planning for women of reproductive age and health care for children up to five years of age. Yet, seven years after its passage, the law has not been fully implemented throughout the country. In some provinces, even medical staff in health centres and hospitals have not heard of it.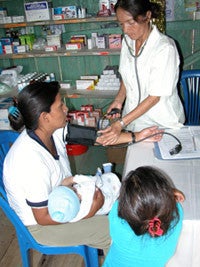 "The law has some 43 different provisions, covering all aspects of pregnancy and post-delivery medical needs," said Soledad Puente, Executive Director of the National Council on Women (CONAMU), a government agency. "The law applies to all women of reproductive age, from 15-49. It also provides for free contraceptives and family planning counseling, among other services."
In order to ensure that the law is applied, CONAMU, with assistance from UNFPA, has established Users Committees (known as Comite Usuarias) throughout the country. These Committees consist of seven to ten members, both women and men, elected by their communities. Their main function is to monitor the application of the law in their counties and to bring all public health facilities into compliance.
"But we do more than just monitor the implementation of the law," said Andrea Quijije, President of the Users Committee in the canton of Sucre, in Manabi Province. "We are pro-active in that we inform women of their rights under the law and also educate medical staff on its implications for reproductive health care."
The Users Committee in Sucre, like others around the country, performs another important task. "We also take depositions from women who have been ill-treated by the medical authorities, or have not received the appropriate level of care," said Andrea. "Once we review the complaints and have established their veracity, we hand them in to the local medical authorities for action."
In some cases, doctors have been disciplined and others warned that their actions are being closely monitored by the Committees. "We've had several complaints about individual doctors who seem to have a history of maltreatment of women patents," Andrea explained. "We make it clear to them that their attitudes are unacceptable and that if they want to continue practicing medicine in public hospitals they had better start giving women the treatment and services they are entitled to get under this law."
Before, women who did not receive proper treatment from individual doctors or hospitals had little legal recourse. "Now, thanks to the Free Maternity Law we have the legal right to not only monitor for compliance, but also to take action against those facilities that do not measure up," Andrea concluded. "This law has given us a big stick to advance women's reproductive rights."
-Don Hinrichsen