PAPUA NEW GUINEA – When Athaliah Bagoi was only ten years old she thought her mother was going to die."My mother delivered my third brother, and she started bleeding two weeks after delivery. She was nearly dead," Bagoi explains. "They carried her on a stretcher, and it really made me scared. She lost a lot of blood -- she was so weak. One of my aunties had to breastfeed my two-week-old brother."
The family contacted a plane that transported the girl's mother from their remote village in Papua New Guinea to the capital Port Moresby, where she was treated and eventually got better. The experience left an indelible impression on the young girl. She knew that day that she wanted to grow up to save other women's lives.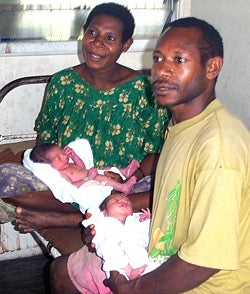 She realized her dream. But after nine years working as a nurse, she decided to devote herself full time to being a midwife. "I saw it was important to be a midwife, because there were so many women who were having complications," she says.  "I wanted to help other women."
Joining forces worldwide
As Treasurer of the Papua New Guinea Midwifery Society, Ms. Bagoi recently traveled to Uganda for the first Global Forum on Human Resources for Health convened by the Global Health Alliance.  According to the alliance, a total of 4.25 million health workers are needed in 57 critical countries to meet dire staffing shortages,of midwives, nurses and doctors.  "I'm part of this forum, because I want the midwives' voices to be heard," says Ms. Bagoi.
"A woman can bleed to death in front of a male midwife, because she doesn't want to be seen by a man. Women do not come to antenatal clinic, because they don't want to be seen by a male officer. "

--Athaliah Bagoi
The island nation of Papua New Guinea is situated east of Indonesia, between the Coral Sea and the South Pacific Ocean. The situation there is similar to that of many developing countries, Bagoi says, with health workers migrating from rural to urban centres for better working conditions. Although the bulk of the country's 6.1 million inhabitants live in rural areas, some health workers feel isolated.  Poor working and living conditions make it hard to for many rural communities to attract and keep qualified personnel.
UNFPA, the United Nations Population Fund, is working with governments and other concerned partners to address this gap. Shortages of health workers, particularly midwives, can adversely affect maternal health. Countries must not only scale up the number of maternal health staff but also make sure that they have the necessary skills and support to address obstetric complications that can otherwise lead to the death of a mother and her child.
"A shortage of health workers with obstetric skills jeopardizes both childbearing women and their babies," says Vincent Fauveau, a senior maternal health adviser for UNFPA.  "Maternal health caregivers must be trained to adequately respond to maternal and newborn birth complications when they occur."
Linking sexual and reproductive health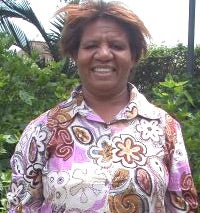 In Papua New Guinea, only 38 per cent of deliveries are attended by skilled attendants – a decline from over 50 per cent a decade ago. The maternal mortality ratio is an estimated 370 deaths per 100,000 live births nationally. That figure rises to 650 deaths per 100,000 in the rugged Highlands region. In addition, 30 per cent of maternal deaths occur among teen-age mothers.
"Despite efforts to improve the performance of the health sector, it suffers from inadequate infrastructure, equipment, trained personnel and referral systems," said Duah Owusu-Sarfo, UNFPA Representative in Papua New Guinea. "Access to reproductive health services is low and possibly declining."
Bagoi has worked as a trainer in reproductive health, including identifying obstetric complications, and HIV/AIDS prevention and treatment at both the village and district level. But she says that too often nurse/midwives don't receive any additional training or update their skills once they leave school.
Sexual and reproductive health should be linked to meet the population's health needs, she insists, and she recently accepted a new position with the Papua New Sexual Health Society to do just that. 
Tackling sexual and reproductive health taboos
"Papua New Guinea has more than 800 languages and diverse cultures, so there are cultural taboos." Bagoi says. "For example, in one culture a woman can bleed to death in front of a male midwife, because she doesn't want to be seen by a man. Women do not come to antenatal clinic, because they don't want to be seen by a male officer. When there are male officers they don't come for delivery."
Sexually transmitted infections, including HIV, are a growing concern, Owusu-Sarfo says. The adult HIV prevalence rate is between 1 and 3  per cent of the population, but growing at a rate of 33 per cent a year. Unusually, the prevalence rate among the rural population is higher than the urban rate.  "Women and young people are the most at risk," the representative added.
"The majority know how to protect themselves, but people have attitudinal problems. Behaviour has not changed," Ms. Bagoi says. "It's important to have (sexual and reproductive health) linked to prevent mother-to-child transmission and STIs."
The silence surrounding sexual and reproductive health
Papua New Guinea has one of the highest fertility rates in the region. And yet contraceptive prevalence is only 20 per cent, despite high levels of awareness. Young girls are not allowed by their families to seek family planning and teenage pregnancy is common. Although the government promotes a woman's right to her own reproductive health needs, Ms. Bagoi says, most men want to have as many kids as possible.
Abortion is illegal, and a woman faced with an unwanted pregnancy may resort to traditional methods using herbs, a dangerous practice that can result in septic shock. 
Ms. Bagoi recalls the case of a 16-year-old girl who came to the hospital, "very septic, very sick. She was resuscitated by doctors and nurses. But it was too late and she died," she sadly recounts. "She had had an abortion using local methods almost a week before. She was attending primary school, got pregnant and couldn't tell her parents about it. Relatives brought her in. They didn't know she aborted. They just thought she was sick."
"With reproductive and sexual health, there is all silence," Ms. Bagoi continued. "Most children can't talk to their parents, and their parents can't talk to them. Especially in the rural areas, talking about sexual health is taboo."
– reported from Uganda by Angela Walker