Some 700 thousand girls a year are estimated to be 'missing' in India as a result of illegal sex determination and consequent elimination.
What is behind this drive to have boy children – which is expected to have sweeping demographic consequences in the years ahead for India ?
This question is probed in a television program, No Country for Young Girls? airing this week on BBC. Funded in part by UNFPA, the United Nations Population Fund, this program, and others in the nine -part Life on the Edge series, examines the tough personal choices facing ordinary people as nations struggle to fulfil the Millennium Development Goals.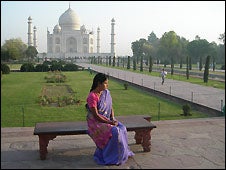 "Films about developing countries often portray people as victims faced by terrible obstacles. In this series we show they're also people trying to make tough decisions that may change lives," says Series Editor, Steve Bradshaw. "Each film is about ordinary people having to make extraordinary choices – tough economic, political and moral dilemmas. It's never clear to them what the right answer is, and yet the cumulative effect will affect whether the MDGs are achieved. 'Life on the Edge' shows development is about personal choices as well as academic theses."
No Country for Young Girls? portrays a young Indian woman who has to choose between staying with a husband who doesn't want girl children, or to make it on her own. It is dilemmas like hers, and the cultural forces that create them, that are leaving India (as well as China, and parts of Viet Nam and Nepal) with skewed sex ratios. UNFPA has been working in India for several years and at many levels to address this issue.
The entire 'Life on the Edge series, produced by TVE, films the stories of individual men and women as they strive to understand the forces that confront them – and how they can make the best decisions.
No Country for Young Girls? will air several times beginning Tuesday, August 19th on BBC World News. For details of transmissions in your region, check the BBC World News website.