RECIFE, Brazil — "I get no respect from my friends for staying home with Gabriel," says José Silas as he lounges on the sofa with his eight-month-old son, Gabriel. In their tiny concrete home in the balmy Brazilian city of Recife, a football [soccer] game is playing on TV, flickering a greenish light on the sofa where Gabriel is squirming around naked.
The 19-year-old father stays at home, while his wife Elise (24), works as a waitress in a nearby bar. The young family lives in Várzea, one of Recife's modest neighbourhoods, far from the ritzier ocean front, which is dominated by high-rise hotels and apartment buildings.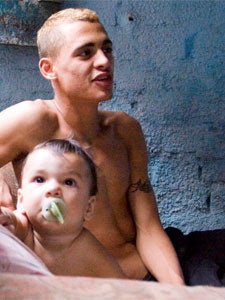 José is part of a new generation of Brazilians, who, despite some adverse reactions from family and friends, have a different perspective on what it means to be a man and a father.
His role as a primary care-giver, however, is not entirely voluntary. José lost his job in a beverage distribution company several months ago, and he has been having trouble finding a new job. "The tattoos on my arms and legs make people think I'm a gang member," he says. He believes this keeps him from finding work. Still, the couple plans to have more children. "But not until I find a job," says José.
Once in a while, friends from Papai will drop by. Sometimes they just chat, but they also discuss topics like HIV prevention and gender roles. Papai (daddy in Portuguese), is a Recife-based organization that promotes gender equality, HIV prevention and responsible parenthood.
Most stay-at-home dads, José contends, do so because they are unemployed. What sets these young males involved with Papai apart from others is that they choose to take responsibility for their children and their families.
"Brazil is just now starting to have a youth policy, and it's too early to say if it will have a real impact," said Mario Nascimento, Programme Director of Instituto Promundo, an NGO based in Rio de Janeiro, Brazil, that supports projects related to gender roles, domestic violence and HIV prevention. Reducing violence is the number one priority for youth, he says, followed by improved education and greater job opportunities.
Papai's general coordinator, George Lyra, explains that his organization seeks to change traditional perceptions of gender roles. Papai reaches out to youth in Recife and its metropolitan area through workshops, distribution of materials, presentations at schools and theatre performances.
UNFPA, the United Nations Population Fund, supports Papai's research efforts on gender roles. The research enables the organization to more effectively promote gender equality, responsible parenthood and messages about HIV prevention.
"We believe that focusing on the role of young males is an important factor for improving the lives of girls and women," said Alanna Armitage, UNFPA representative for Brazil. 
— Trygve Olfarnes