MEXICO CITY, Mexico — It's not a musical – it's real life. But suddenly, seemingly out of nowhere, dozens of young people on busy street corner break into song and dance.
In unison, hips are moving, heads bobbing, feet hopping, arms waving, voices singing: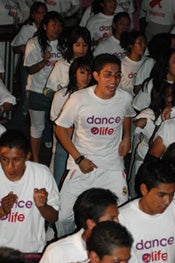 People have a right to a life of
Love and health and harmony
Together we create a future
World of possibility
HIV and AIDS we can beat it
Take responsibility
'Dance mobs' – both on city streets and within the confines of the XVII International AIDS Conference – are just one of many tactics the organizers of Dance4Life are using to empower young people to push back the AIDS epidemic.
The international dance initiative, which UNFPA, the United Nations Population Fund, helped jump-start in Mexico, works on many levels – through performances, workshops, peer education and other activities -- to spread awareness of HIV and how to prevent it, to encourage young people to take responsibility for themselves, and to end discrimination against those living with the virus.
Because young people everywhere love to move their bodies, Dance4Life is able to inform and empower in a way that is engaging, communal and cool. Song, movement and rhythm speak to young people in language that brochures and posters just can't match
At the centre of the storm
Youth are at the very centre of the AIDS epidemic: More than 45 per cent of new infections are among people younger than 25, and some 10 million young people are living with HIV. Many more have watched family members and other loved ones sicken and die from AIDS-related illnesses.
Young people are also central to efforts to push back the epidemic. But many are not being reached through traditional channels. The just-released UNAIDS report on the epidemic reveals that less than half of young people (40 per cent of males and 38 per cent of females) are well-informed about HIV and how to avoid it.
Effective HIV prevention and education efforts "must be grounded in the socio-cultural reality of how youth live their lives today," says UNFPA Executive Director Thoraya Obaid. "And of course, the best way to ensure success is to involve youth every step of the way." That's one of the reasons UNFPA is a major supporter of Dance4Life, the Mexico YouthForce and a wide range of conference activities.
Communicating on many levels
Dance4Life involves young people on many levels. In addition to reaching them through song and dance, it offers Skills4Life, an in-depth programme dealing with HIV prevention, sexuality, drug abuse, and their rights. Participants learn how to apply negotiation, communication and decision-making skills in their daily lives.
The programme also offers committed young people a chance to be more deeply involved, and to become full-fledged 'Agents of Change.' The group is aiming for one million Agents of Change throughout the world by World AIDS Day 2014.
UNFPA supports prevention programmes in many countries in Latin America and the Caribbean geared specifically toward youth. UN delegates at the International AIDS Conference will call for increased focus on prevention, particularly in Latin America and the Caribbean, where treatment and care has improved significantly, but where prevention is still lagging.
Ministers of health and education from Latin America and the Caribbean gathered in the Mexican capital on the eve of the International AIDS Conference to discuss ways to introduce high-quality education programmes focusing on sexual and reproductive health and HIV prevention in the curricula of their countries' education systems. At that meeting, UNFPA Executive Director Thoraya Ahmed Obaid noted that education about HIV can serve as a 'social vaccine' to reverse the spread of the virus. The declaration was accepted by acclamation by all the ministers present and an inter-sectorial committee will be created to follow up with the commitments made.