NEW YORK — The definitive story behind the 1994 International Conference on Population and Development (ICPD) and how it has changed the world over the course of the last 15 years is detailed in the newly released book, Creating a New Consensus on Population.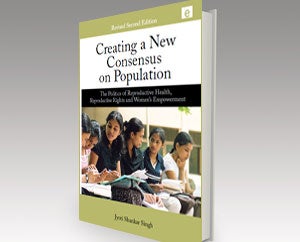 Written by Mr. Jyoti Shankar Singh, Permanent Observer to the United Nations for Partners in Population and Development and former ICPD Executive Coordinator, the book examines how the international community has addressed issues of population, reproductive health and rights and women's empowerment.
Mr. Singh was deeply involved in organizing the ICPD, and he wrote an earlier edition of the book based on his experiences in 1998. This revised and updated version was issued in commemoration of the 15th anniversary of ICPD.
Women today have a much stronger role in society than in 1994, Mr. Singh stated in a recent interview with UNFPA, and both the ICPD and the Fourth World Conference for Women, which took place the following year in Beijing, deserve credit for getting the ball rolling. But there is still unfinished business, he noted.
"Things have changed," he said. "Much more legislation is now in place in many countries, giving women equal rights. There has been more discussion on violence against women. Female genital mutilation has become an internationally known phenomenon against which both governments and NGOs are expanding their activities. On issues relating to equal rights within countries, many laws have been changed.
"But equality is not yet in place. Social traditions and social taboos are still in place, limiting the rights of women to full participation in population and development activities, so we have to continue working in that direction."
A limited number of copies of Mr. Singh's book are available free of charge for researchers and other interested parties. To request a copy, please contact Mr. Jayesh Gulrajani, at gulrajani@unfpa.org, phone: +1 212 297 2714.