OSH and JALAL-ABAD, Kyrgyzstan — To the left and to the right, you see houses completely burned to the ground, 26 in all, without roof or walls – each a hollow, empty shell that once was a home.
Multiply this by three blocks, and again by hundreds of communities in and around Osh and Jalal-Abad, and only then does one begin to comprehend the magnitude of the disaster and destruction. Then you notice a couple of houses amid the rubble still standing, completely untouched, and it becomes clear that some were spared, for a reason. The violence here has pitted neighbour against neighbour.
"It started at midnight when I awoke to the smell of fire and blasts and gunshots and opened my window to the horror that would continue for four days and nights," says Dilora, a resident of Jalal-abad. Her chiseled features are dramatic, with high cheekbones and deep-set eyes. She looks down and tears come to her eyes. "My first thoughts were to pick up my children and wake up the neighbours and flee. But to where? The chaos was surrounding me."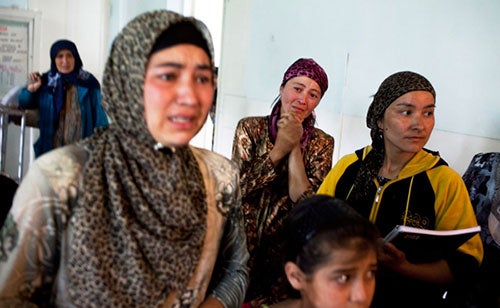 Women who fled the fighting and took refuge in an Uzbek house in Osh tell stories of burnt homes and family members murdered and raped. Photo: © William Daniels / Panos Pictures
Fear and distrust persist
The events that began on the night of Friday, 11 June – and continued over three days – still replay in people's minds. The memories fuel a deeply entrenched fear and distrust between ethnic Kyrgyz and Uzbek, both citizens of Kyrgyzstan, one of the poorest countries of the former Soviet Union. Rumors circulate that the fighting will erupt again soon, and nobody seems to be able to do anything to inspire reconciliation. Neither community was immune. Each blames the other.
Over 300,000 people were displaced as a result of the fighting. While around 100,000 people have returned from refuge in Uzbekistan, tens of thousands remain homeless, some living in the carcasses that were their homes, others gathering for safety in schools and in tucked-away tent communities.
Distributing needed supplies
UNFPA was one of the first agencies to respond to this crisis. Because of the Fund's long-standing activities in Kyrgyzstan, it was able to quickly mobilize local partners to distribute family hygiene kits to displaced families. The kits included soap, slippers, detergent, toothpaste, toothbrush, slippers, detergent and other essential hygiene and clothing items.
"I ran out of my house with only the cloths I had on, and only one scarf," said Mirgul, another resident. "My children were sleeping and they only have the shorts they were wearing to bed that night. At least we are staying clean and the scarf allows me to go out for short trips to buy milk, fruits and to line up for the humanitarian assistance that has been provided." Other UN agencies have distributed mattresses, food, water containers and cooking pots, along with other essential humanitarian emergency supplies.
UNFPA plans to distribute another round of relief supplies. Communities are asking for a change of clothing for women who only have the one long dress and scarf they are wearing when they fled their homes, and for T-shirts and shorts for children. In most centres, there is a makeshift shower area, but it provides only brief respite from the heat that rises to 37 degrees Celsius during the day.
Keeping young women out of sight
With daily reports of attacks on the most vulnerable, families hide young women and adolescent girls. They are absent from the crowds gathering outside in the sunlight at the centres where displaced Uzbeks have taken shelter. Kyrgyz families report that they have moved their children and youth to the villages surrounding their towns and cities, hoping they will be safer there in case of another surge of violence. "My children, ages 11, 14 and 17, don't want to come back home – they are too scared," says Gulnara. Separated from their children, parents worry about the added burden that they have placed on their elderly parents.
Some already talk of leaving the area or even the country, and going to Uzbekistan, Kazakhstan, the Russian Federation, Turkey – or even farther away. "How can we live with them again?" asks Gulbakhrol, standing in the burned skeleton that was her home. She puts her hands to her head and looks around at what is left of 20 years of work, including her business that was also burned to the ground and the family car that was stolen.
Looking for ways to forge reconciliation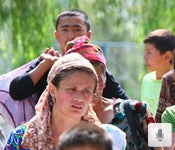 "How can we live with them again?" is heard on both sides of the conflict, with distrust and anger still at the boiling point. But in a few places, in mixed communities, there are glimmers of hope. "We need more Imams," suggests Mamat. Uzbeks and Kyrgzy share a common religion, Sunni Islam. In Tash Bulak, a village outside Jalal-Abad, the  Aksakaldar Sotu, or Court of Elders, from the Uzbek and Kyrgyz communities are talking, while the mosque's Imam is providing solace to the families of the kidnapped and hostages. Here potentially lies the seeds for resolution, and UNFPA is planning to work with local NGOs with connections at the community level and with faith-based groups to ensure survivors of violence are found and assisted, and to promote reconciliation where and when possible.
Working closely with UNIFEM, UNFPA is also supporting the Crisis Centres located in Osh and Jalal-Abad to provide assistance to survivors of sexual violence. The unconfirmed number of cases of sexual violence varies from 45 to 300. At the height of the conflict, three crisis centres in Osh and one in Jalal-Abad received calls from families of young women who had been attacked and sexually assaulted. They were able to direct them to health facilities and to provide them with a shelter where they could stay during their convalescence and recovery. In this safe space, staff of the crisis centre offer mental health first aid and psychological support to survivors.
Harassment hinders health care
While medical professionals who are undertaking an interagency rapid assessment of health issues have concluded that there is no medical emergency at this point, it is clear that the insecurity and protection issues are affecting access to care. "There were five home-based births last month," says Dr. Khadarbek. "We normally have only one every year." His clinic is open and fully functioning, but the nearby Uzbek community is reluctant to use it because of fear and distrust of the prominently Kyrgyz medical staff there.
Medical NGOs are supporting small, spontaneously set-up clinics, but these are not sustainable over the long term as they do not have the medicines and supplies needed to treat chronic illnesses, or to care for patients in critical situations. Only one pharmacy is left in all of Osh; the others were burned to the ground. The AIDS Centre reports that patients were cut off from antiviral medication for two weeks, including pregnant women who are part of a programme to prevent mother-to-child transmission. "People are simply not willing to go to hospitals," according to humanitarian worker in Osh. "Both Uzbeks and Kyrgyz ask us to accompany them to health facilities because they are harassed and humiliated, and sometimes turned back, when they go to clinics and hospitals alone." 
— Maha Muna
Flash Appeal Launched
A UN system-wide flash appeal for $73 million was launched on 18 June to provide assistance over the next six months to more than 1 million people affected by violence and displacement in the Kyrgyzstan. Of that total, UNFPA has requested $2.1 million to provide reproductive health supplies and equipment to individuals, communities and hospitals and hygiene items to families in affected areas. Funds will also be used to respond to gender-based violence in the area and to coordinate of prevention activities among humanitarian organizations working on the issue. Funds will also be used for integrating faith-based organizations in the community reconciliation process, including creating safe spaces for discussions of gender-based violence, reproductive health and other issues.