LUSAKA, Zambia – "Today, stigma and discrimination against people living with HIV and key populations remain widespread," said UNFPA Executive Director Dr. Babatunde Osotimehin, in his statement commemorating World AIDS Day. "We must ensure that anyone at risk of HIV and other sexually transmitted infections has access to condoms."
CONDOMIZE!, an innovative, UNFPA-supported campaign is helping to do just that. The programme improves condom access for vulnerable and at-risk populations, and in the process it reduces the stigma associated with condom use. The campaign is currently being implemented in five African countries.
Peter Chibesa Bwale, an HIV counsellor in Zambia, knows something about stigma. Since he was 14, he has been completely blind – a disability that often leads to marginalization in his country. Yet he says the condition can be an advantage in his work.
"Most people feel very comfortable to be counselled by a blind person because I can't see them," he said. It makes them feel anonymous as he discusses the risks of unprotected sex, hands out supplies of condoms, and explains that using a condom can preserve their health and save their lives.
Mr. Bwale is one of about 50 Zambians who were trained in condom promotion last year through CONDOMIZE!. To date, CONDOMIZE! Zambia has held 11 public education events in five of the country's 10 provinces. By 10 October 2014, when the most recent event took place, some 322,000 male condoms and 44,000 female condoms had been distributed by the programme. About 50 per cent of Zambia's national supply of condoms is procured by UNFPA.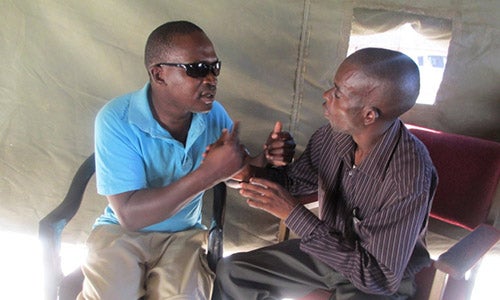 Peter Chibesa Bwale speaks to teenagers about condom use at a CONDOMIZE! Zambia event in October 2014. ©Zambia Ministry of Community Development and Mother and Child Health
Empowering people with disabilities to protect themselves
Mr. Bwale, 34, is a lecturer at the Zambia Library Cultural Centre for the Visually Impaired, where he assists and counsels people who have lost their sight. And as a CONDOMIZE! volunteer, Mr. Bwale also helps people with disabilities understand the importance of condom use.
According to Human Rights Watch, there are some 2 million people living with disabilities in Zambia – nearly 14 per cent of the total population. Most of them live in poverty and have little access to information about the risks of unprotected sex.
"Disability, poverty, disease – they are not very far from each other," Mr. Bwale said. "Most people with disabilities do not have a job. They are on the streets, begging... If someone offers them something in exchange for sex, they will not even think of using a condom."
He added, "I explain that sex is a right that people should enjoy. But how do they have it? Is it safe? Is it appropriate? Are they protected? Since my training, I've been able to deliver that message so people understand what is good for them and make decisions with an informed mind. I receive very good feedback. People start using condoms and they appreciate them."
Fighting persistent discrimination
Mr. Bwale is passionate about helping people with disabilities protect themselves. He is now preparing for an event commemorating the International Day of Persons with Disabilities, on 3 December.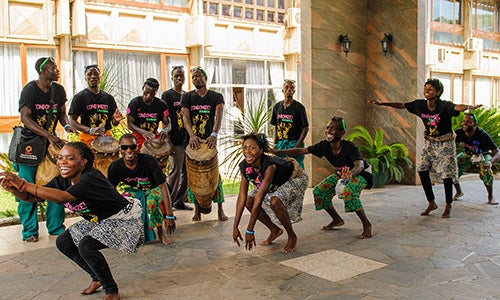 CONDOMIZE! dancers provide entertainment at an HIV Prevention Convention in Lusaka, Zambia. ©The CONDOMIZE! Campaign
"I was just writing a letter to the Ministry so that they can help us display our CONDOMIZE! products at this venue," he said. "I'm hoping to catch a number of blind people and other persons with disabilities there, so they can get to know about condoms."
He knows from personal experience that people living with disabilities face frequent discrimination, especially when it comes to issues of sexual and reproductive health.
"People are surprised if I go to a clinic with someone to get condoms. They will ask the other person, 'What's the problem with him? Why is he getting a condom?' That is not OK! I don't use my eyes to have sex. People don't understand that my body is still active. It's only the sight that is not there."
These incidents only strengthen his resolve to promote the welfare of people living with disabilities.
"I should go to the clinic and be respected and get the information that I need," Mr. Bwale said. "We people with disabilities, our human rights should not be different from the rights of other people."