SINDHUPALCHOWK, Nepal/UNITED NATIONS, New York – Conditions remain precarious for survivors of Nepal's 25 April earthquake. Violent aftershocks continue to rock the country. The largest, on 12 May, added further deaths and casualties to the already staggering toll of the disaster.
Monsoon season is expected to start in only a few weeks, and will likely worsen conditions for survivors, many of whom feel unsafe indoors due to the ongoing seismological activity. The monsoon rains are also expected to worsen landslides, which have been triggered by the persistent aftershocks, and to reduce access to affected villages.
"This has affected the poorest and most marginalized – those already living in difficult conditions," said Giulia Vallese, UNFPA's Representative in Nepal.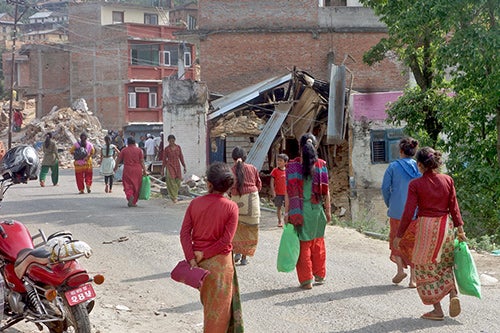 Women carry home dignity kits in Sindhupalchowk District. The area was badly damaged by the 25 April earthquake. © UNFPA/Rajat Ray
UNFPA working to reach survivors in the most-affected communities, providing reproductive health kits to support antenatal care, safe childbirth and other life-saving maternal health services, and distributing dignity kits, which contain essential hygiene supplies. Safe spaces for women and girls are also being created, part of efforts to protect against gender-based violence.
Tens of thousands of women and girls at risk
As of 15 May, the death toll of the disaster stood at 8,316, with more than 17,866 injured, according to the UN Office for the Coordination of Humanitarian Affairs. An estimated 8 million people were affected by the earthquake, including some 126,000 pregnant women and girls.
"The most vulnerable are the women and the girls, particularly pregnant women because they are in need of support," said Ms. Vallese.
In consultation with the government, the UN response is focusing on the 14 worst-affected districts, where 5.6 million people are affected, including 1.4 million women of reproductive age. Of these, almost 93,000 women are pregnant.
UNFPA estimates around 10,300 women in these 14 districts will give birth each month, with 1,500 women likely to experience complications requiring a Caesarean section. UNFPA and partners are providing drugs, equipment and supplies to support their sexual and reproductive health needs.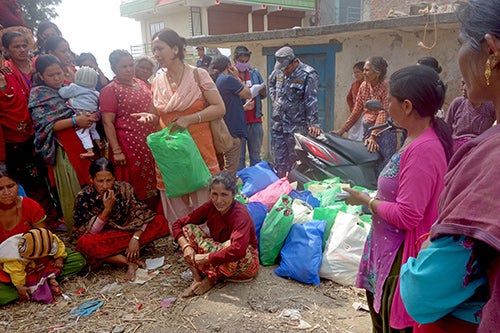 Women gather to receive dignity kits, which contain essential hygiene items for women and girls of reproductive age. © UNFPA/Rajat Ray
Women and girls survivors also require protection. "The ones who are not protected are at risk of gender-based violence, of trafficking, of child marriage," said Ms. Vallese.
With partners, UNFPA is providing medical care and counselling for survivors of gender-based violence, and is creating dozens of safe spaces for women. These spaces will offer counselling, recreational activities, and information on women's health and rights.
UNFPA is also distributing dignity kits, which contain items often overlooked in an emergency response, including sanitary napkins, underclothes, soap, a toothbrush and toothpaste. The kits also contain culture-specific items, including a shawl, and even a tiny flashlight to help women and girls safely navigate after dark.
Local heroes
In Sangchok area of Sindhupalchowk District, Sita Paudel, a paralegal, has been working hard to assist the women and girls of her community.
She gathered a group of 70 pregnant and breastfeeding women and girls, whose houses had been damaged or destroyed by the earthquake, and brought them to a distribution of UNFPA dignity kits.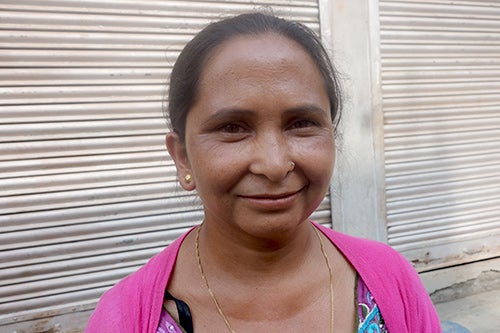 Sita Paudel has been working hard to assist the women and girls of her community. © UNFPA/Rajat Ray
"Personal hygiene and personal safety together help restore a sense of dignity," Ms. Paudel told UNFPA, "and at this terrible time this, perhaps, is what a woman or young girl values the most."
Still, the needs in her community remain enormous.
"We urgently need to go deeper into the Sangchok Village Development Committee, which consists of nine villages. I have been carrying tarpaulins to remote villages, and I know how bad the situation is for women out there – especially those whose entire families have been wiped out," Ms. Paudel said.
"It will be a while," she emphasized, "before life here comes back to normal."