AMMAN, Jordan — Six years ago Sana and her sister were wedded on the same day to two brothers. This in not an uncommon practice in Jordanian traditional societies, where weddings solidify family bonds and where women are also expected to bear and have children within the first year of marriage.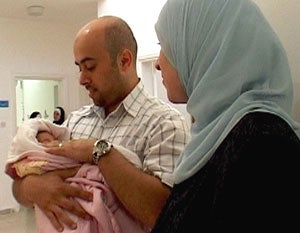 Her sister's first pregnancy was right on schedule. But over the next five years Sana endured three consecutive miscarriages, but no live births.
Sana felt shame and stigma. She was constantly being compared to her sister by her relatives. And she endured emotional and physical abuse from her husband, Khaled, who blamed her for not bearing him a child."I was absolutely miserable," said Sana. "I could not face my in-laws or my family. I even became jealous of my own sister."
For five long years, Sana suffered. She became depressed, and her health began to fail. One day her mother-in-law, with whom she was living, approached her saying, "Ya benti [my daughter], I am worried about you. I know of this family clinic, let us go try. Maybe they can help you."
Comprehensive services analyze the causes of infertility and miscarriage
Sana agreed to go to Institute for Family Health (IFH), a community health clinic supported by UNFPA, the United Nations Population Fund. The clinic provides comprehensive health services, including infertility treatment, family planning and other reproductive health services, as well as psychological and legal counselling to more than 120,000 people.
"Usually it is women who are blamed despite the fact that half of the cases are due to male health problems."
After months of thorough medical exams and tests and psychological counselling, it was discovered that Sana had a treatable blood disease causing her the repeated miscarriages. Four months into her treatment, she got pregnant again. With close monitoring, she delivered a healthy baby boy, named Kareem meaning 'generous'.
"I named my baby Kareem, as life turned out to be generous to me after all," said Sana. "Thank God for the good doctor and the people at the institute, without them I do not know what would have happened to me."
The marriage of Sana and Khalid was completely transformed. Now a proud father and a loving and caring partner, Khalid believes that without the counselling provided by IFH, he couldn't have understood his wife's medical condition and overcome his abusive behavior.
Women are often blamed 
Another young Jordanian woman, Ala, suffered the loss of three newborns in quick succession. After the death of her third baby, Ala, who was still just 24 years old, nearly lost hope. "I thought this is the will of God and I just have to accept it," she said. "At least I have my husband on my side who keeps my spirit up."
But her husband wanted to understand the cause of their problems. Under the supervision of Dr.Tahtamouni, the director of IFH as well as an obstetrician and gynaecologist, both Ala and Walid underwent extensive tests. To their surprise the results revealed that Walid had a genetic condition that was causing the problem. "I felt terrible at first, but it was important that my condition is treated, because my wife and I love children," he said.
After completing his treatment at the centre, Walid convinced his wife that it was time to try again. Sure enough, Ala got pregnant for the fourth time and, with close monitoring by the doctor and the midwife, gave birth to a healthy baby girl.
Ten to thirteen per cent of couples in Jordan face infertility problems, according to Dr. Tahtamouni. "Usually it is women who are blamed and held responsible for the problem, despite the fact that half of the cases are due to male health problems," she added, noting that most infertility cases are treatable.
IFH midwives have also received several special trainings, which are conducted by the Ministry of Health and supported by UNFPA, that allow them to provide more comprehensive services. These training programmes are being intensified in rural areas, where there are few female obstetricians and gynaecologists.
A model that is being replicated elsewhere
The success of IFH offering comprehensive health services, counselling and community outreach programmes, turned it into a model centre that is being duplicated in other governorates in Jordan. It is also sought out by other health ministries in neighbouring countries and elsewhere in the region.
In 2006, IFH conducted 48 awareness outreach campaigns targeting young men and women, to increase their awareness on reproductive health, gender-based violence, family planning, and HIV/AIDS. "More and more men are coming to the centre to receive some of the services and counselling. Now we have a full-time male social worker to advise them," said Dr. Tahtamouni.
Through UNFPA regional cooperation and best practices approach, IFH is being recognized as the 'Jordan model', a centre of excellence providing capacity building for medical staff from Syria, Egypt and the Gulf countries.  
— Henrietta Aswad