CHOUF, Lebanon – When Raneem Abras, 16, fled the devastation in Aleppo, Syria, three years ago, her family found safety in Lebanon's Chouf Mountains. But some dangers have followed them – in the form of marriage proposals.
Poverty and insecurity have pushed many Syrian refugee families in Lebanon to marry off their daughters. A recent study has revealed that 23 per cent of Syrian refugee women in Lebanon were married before reaching age 18. 
Fortunately, Raneem's parents are staunchly opposed to child marriage.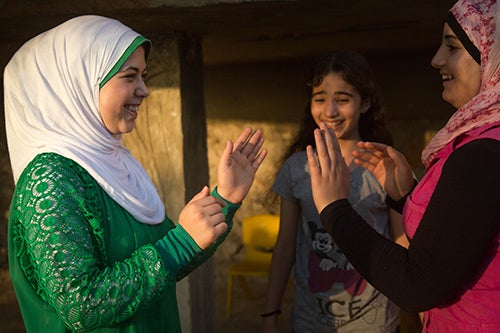 "After every session I attend, I wish I could go around educating everyone I know," Raneem said. © UNFPA Lebanon/Sima Diab
"Several people approached me to ask about Raneem," Um Abdo, Raneem's mother, told UNFPA. "But my husband and I told them off."
Youth leader standing against child marriage
Um Abdo had herself been engaged at only 12 years old. She objected, and fought her parents to end the engagement. Eventually, they relented.
Even so, there were consequences. 
"When I broke off my engagement at age 16, people considered me divorced! It was awful," she said. "I swore I would not do that to my daughter."
Raneem's father, Abo Abdo, has also seen the costs of child marriage in his own family. "Three of my eight sisters got divorced," he said. "They all got married young and had no say. I will never do this to my daughters."
With her parent's encouragement, Raneem has become a youth leader in her community since arriving in Lebanon, encouraging other children to stand up for themselves against child marriage.
Reaching her peers
About a year ago, Raneem began attending a youth programme supported by UNFPA and INTERSOS.
The group uses peer-to-peer education to raise awareness about the harms of practices like child marriage. They also help one another combat gender-based violence, spread accurate information about reproductive health, and help one another access services.
"After every session I attend, I wish I could go around educating everyone I know," Raneem said.
Through the programme, Raneem learned that early marriage is often followed by an adolescent pregnancy, which puts girls' health at risk. "These long discussions about marriage and having babies were particularly useful" in discouraging her peers from considering early marriage, she said.
"I managed to convince two of my friends who were going to get married young to wait," she said.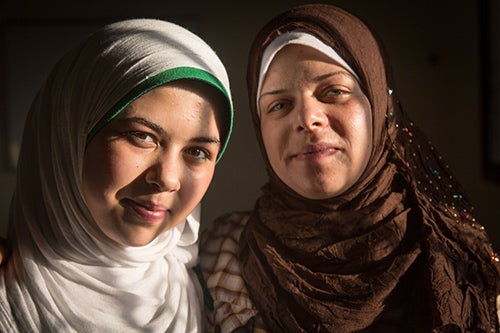 Raneem's parents are very supportive of her efforts. They have seen first-hand how destructive child marriage can be. © UNFPA Lebanon/Sima Diab
"I tell my friends that getting married early will deprive them of their childhood."
"One big family"
"You should see Raneem explaining to them the consequences of early marriage on a woman's health," Um Abdo said proudly.
"Here, we have become one big family," Raneem said of the community in Chouf. "I know most of these young people because I reach out to them to explain to them what I myself have learned."
To date, the youth peers programme has reached 1,700 young men and women in Mount Lebanon.