RAMALLAH, Palestinian Occupied Territory — After three hours of driving from one checkpoint to another to get to the Ramallah hospital, Fatima's labour pains were becoming unbearable. By the time the taxi reached Aljabá checkpoint, cars were lined up for 150 metres. Realizing the gravity of the situation, the driver urged Fatima and her mother to proceed on foot. "Khayta (sister)," he said, "Please walk to pass the checkpoint or you won't make it to the hospital."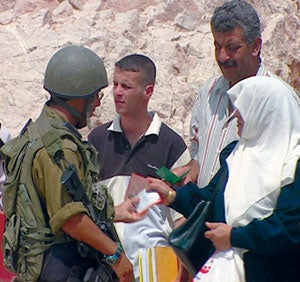 After taking a few steps, Fatima (not her real name) felt the baby dropping in her pants. Clutching her mother's wrist and leaning on her shoulder, Fatima cried out "Yammah (mother), I think the baby is out. Please get help."
Panicking, her mother asked Fatima to lie down and started screaming for help. She covered her daughter with her coat to protect her dignity, while women at the scene gathered around to shelter her from the curiosity of crowds passing by. In the midst of the crowd, without proper care, Fatima gave birth to her fifth child, a baby girl, whom she later named Najat (meaning salvation). In tears, the mother wrapped the newborn in a tiny blanket and held it as she waited for help to come.
At the sound of cries and pleas, according to Fatima's testimony, which was documented by the Women's Center for Legal Aid and Counselling, two good Samaritans crossing the checkpoint approached the women. One identified himself as a surgeon from Al-Makased hospital in Jerusalem. He tried to calm Fatima and her mother, and then proceeded to cut the umbilical cord. His companion called for an ambulance because Fatima was haemorrhaging.
Forty-five minutes later, the ambulance arrived at the checkpoint and was allowed to transport Fatima, her newborn and her mother to the hospital. Upon arrival, they were rushed to the emergency room where Fatima received two units of blood while the baby was taken to the nursery for a check-up.
In the days and months to come, Fatima tried to live a normal life, but found herself overwhelmed by shame, anxiety and depression. "After what I have been through, I hated my body and that of all women," she said. "I cannot look at myself in the mirror and breastfeed my own daughter, thinking she was the cause in all of this.
"For a long time I isolated myself fearing to face my family's and the neighbours' questions about the incident," she added. "I feel besieged and cannot mentally and psychologically overcome it. I need help."
At least Fatimah and her baby survived. Some women were not as lucky. UNFPA, the United Nations Population Fund, estimates that even before the escalation of conflict in 2000, one fifth of pregnant women in Gaza and the West Bank could not receive prenatal care because of the difficulty travelling through checkpoints. Delays at these checkpoints have resulted in dozens of unattended roadside births, some of which ended in deaths. This issue is one of UNFPA's top priorities in the Occupied Palestinian Territory.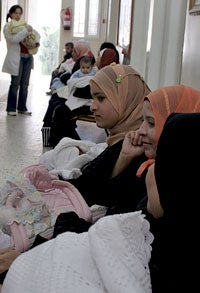 The Palestinian Ministry of Health reports that since the beginning of the Al-Aqsa Intifada in 2000, at least 68 pregnant Palestinian women gave birth at Israeli checkpoints, leading to 35 miscarriages and the death of five women. Additionally, 10 per cent of pregnant women spent 2-4 hours on the road before reaching a medical centre or a hospital, while 6 per cent spent more than four hours, when the normal traveling time before the Intifada was 15-30 minutes. This hardship is estimated to have contributed to an 8.2 per cent increase of home deliveries. There are a total of 528 checkpoints in the West Bank and Gaza.
"These figures underline the need to put an end, once and for all, to the agony of pregnant Palestinian women held at Israeli checkpoints," Thoraya Ahmed Obaid, Executive Director of UNFPA has said. "It is urgent to facilitate access by pregnant women to life-saving services, as stipulated by international humanitarian law."
Inadequate medical care during pregnancy was the third cause of mortality among Palestinian women of reproductive age, according to OPT Ministry of Health. Of the 117,000 pregnant women in the OPT, an estimated 18,000 will suffer poor pregnancy outcomes due to the lack of appropriate and timely prenatal, delivery and post-natal care.
To reduce the risk being faced by these women and their newborns, the Fund is working with the Ministry of Health and NGOs to provide greater access by establishing women's health centres in underserved areas, which offer reproductive health and emergency obstetric care as well as psychosocial counselling. These services are enabling health providers and midwives to more effectively administer safe deliveries in their respective communities and provide care for mothers and newborns afterwards. UNFPA is also funding the formation of community support teams to assist health providers and midwives raise community awareness on the availability of these services at various centres.
The increase in home deliveries has triggered a greater demand for qualified midwives in the various Palestinian communities. Responding to the need, UNFPA is supporting the Ministry of Health in the training of midwives, nurses and physicians in difficult to reach communities. The Fund is also supporting new initiatives seeking to upgrade maternity wards, operating theatres and referral mechanisms in six hospitals in the West Bank and Gaza, which account for more than 60 per cent of deliveries and represent the major referral centres in six governorates (Jenin, Nablus, Ramallah, Hebron, Gaza and Khan Younes). By improving emergency obstetric care within the Palestinian communities, these initiatives will help reduce the number of checkpoint deliveries and save the lives of mothers and their newborns.
— Henrietta Aswad