GABU, Guinea Bissau – One of the first people to greet Catarina Furtado here was an infant named in her honour. Baby Catarina was the first infant delivered by Caesarean section at the surgical unit that Ms. Furtado, a Goodwill Ambassador for UNFPA, the United Nations Population Fund, initiated as part of her mission to reduce maternal mortality in Lusophone Africa.
The purpose of her one-week visit was to direct a documentary for RTP (Radio Portuguese Television) on the project achievements in the regions of Gabu and Oio and to garner additional support for the project, which is being extended to the Bafata region.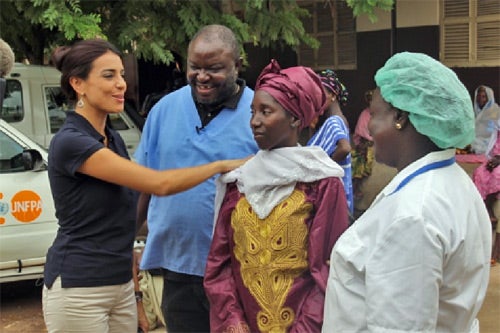 Catarina (left) listening to Dr G. Nikila (middle) telling Tene Keita's story (right) Photo: UNFPA
"Saving mothers' lives is an issue about health and human rights which commits all sectors: political stakeholders, donors' community, civil society," she told the welcoming party. "It involves directly the professionals of health, education and the media. It is everybody's concern because, as we say at UNFPA, 'Everyone counts,'" explained Ms. Furtado, one of Portugal's most popular personalities, who uses her celebrity to save and improve lives of women.
With 110 deaths per 100,000 live births – about two deaths each day – Guinea Bissau has one of the highest maternal mortality rates in the world. And women in rural areas like Gabu, women face even higher risks. However, the number of maternal deaths here fell by about 9 per cent the year after the surgery unit opened, according to Dr. Antonieta Martins, a UNFPA programme officer. There is still much room for improvement: the region of Gabu has only one ambulance and a driver to serve a population of more than 200,000. Not surprisingly, it is constantly in action.
On her second day in Gabu, Ms. Furtado met another grateful client of the surgical unit, Ms. Tene Keita. The 36-year-old mother of four was pregnant again, and suffering from an infection. A stillborn foetus was surgically removed from her womb, saving her life. After this, Ms. Keita does not want to risk another pregnancy: "I have told it to the doctor, and I am waiting for his advice on what to do," she said.
Watching the surgical team in action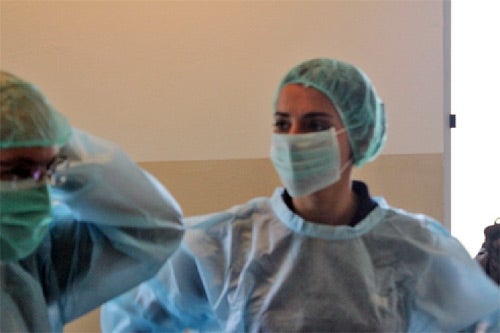 Catarina prepared for attending a Caesarean section in Gabu. Photo: UNFPA
That morning, a 17-year-old girl in the throes of an obstructed delivery was taken into the surgery unit, and Ms. Furtado scrubbed up to witness the operation. A quarter of an hour later, a newborn girl weighing 3.5 kilograms cried out for air. Delighted, Ms. Furtado took her to the delivery room where the midwife wrapped her in swaddling clothes. The surgery unit had just saved two more lives. "It is really exciting to share such moment," said Ms. Furtado.
Then followed the visit to a special guest house where women facing high-risk pregnancies – anaemia and hypertension for example – can stay, free of charge, in the weeks before delivery for medical surveillance. The day ended on a sad note: at the paediatric ward, Ms. Furtado saw a young girl dying from malaria and concluded: "We need to make the same efforts for malaria as we did for the maternal health, if we do not want to see the infants whose lives we save at the maternity die later in the next ward for lack of treatment."
Toward the end of a busy day, she visited the centre for reproductive health where men and women receive family planning advice and services, showing thus her interest for the linkage between family planning and maternal health.
Laying the foundation for maternal health in Bafata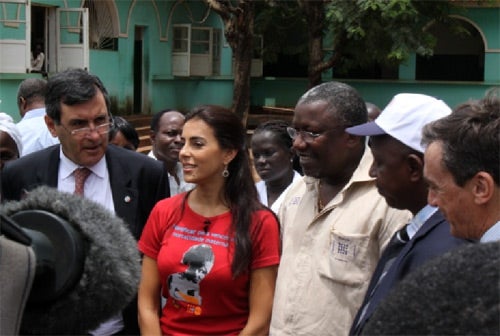 Catarina among officials in Bafata: President of IPAD, Ministry of Health, Governor of Bafata region and Portugal Ambassador to GB (from left to right) Photo: UNFPA
The rest of her visit was busy as well. On 28 July, she and her film crew documented the situation in Bafata, where the next surgical ward will be constructed. In 2008, complications of pregnancy contribute to a high mortality rate, and fewer than 7 per cent of women use contraception. Early marriages are common.
The following day, Ms. Furtado laid the foundation stone for a surgery unit and maternity ward, in the presence of community members, many local authorities, as well as the Minister of Health, Dr. Camilo Simoes Pereira; the President of IPAD (the Portuguese cooperation agency), Professor Manuel Augusto Correira; the Ambassador of Portugal in Guinea Bissau, His Excellency Antonio Ricoca and, UNICEF Resident Representative, Geoff Wiffin representing the Resident Coordinator.
During the speeches, connections were drawn between the project and CARMMA (the Campaign on Accelerated Reduction of Maternal Mortality), which has been embraced by African leaders, within the Africa Union, and was launched in Guinea Bissau two weeks earlier.
After a visit to a fistula treatment centre in Mansoa, Ms. Furtado returned to the capital for more advocacy with the country's decision-makers and donors. After showing part of her first documentary Dar Vida sem Morrer, (Give Life without Dying) she talked about the need for better conditions for medical doctors, to keep them from migrating and contributing to the 'brain drain' that is a problem across much of the region.
That evening, the UNFPA Goodwill Ambassador had an opportunity to brief Prime Minister Carlos Gomes Junior on her visit and advocate for strategies to help the country to improve maternal health, as called for by MDG 5. The country has already put a number of programmes in place, including a low-cost insurance scheme that covers maternal health, and expanded use of mobile phones to help manage obstetric referrals.
"I am going back optimistic because the nationals are highly involved in the process," said Ms. Furtado, promising to return for a followup visit next year.
--- Hugues Kone
The Goodwill Ambassador's Continuing Journey to Reduce Maternal Mortality in Guinea-Bissau
2006: In December, Ms Furtado raised 253,000 Euros to fight maternal mortality in a Lusophone country during a 12-hour televised dance marathon in conjunction with RTP (Radio Portuguese Television).
2008: Guinea Bissau was selected as the recipient country, with two priority regions were identified: Gabu and Oio. UNFPA, chosen as the implementing agency, drafted a project document in 2008, within the framework of the new country programme 2008 – 2012. The Portuguese development cooperation agency IPAD allocated an additional 250,000 Euros to the project. Ms. Furtado broke the ground for a surgery unit with two equipped operating rooms, training of staff (anaesthetists and operating-room nurses) and provision of an ambulance and a power generator unit for Gabu. Progress was documented by RTP and Ms. Furtado for a series of documentaries.
2009: Ms. Furtado attended the inauguration of the newly built and equipped Mansoa Hospital surgery. The documentary, Dar Vida sem Morrer was aired. Another visit to the project, reinforced by a visit of the Portuguese Group of Parliamentarians, led to the extension of the project to Bafata and an additional contribution from the Portuguese government of $450,000 over three years.
2010: The Goodwill Ambassador returns and is delighted by the progress that has been made. "When I was here in 2008, no surgery was possible at Gabu Hospital," she noted. "Women in need of Caesarean had to go to Bissau or die giving birth. I am happy to hear that thanks to the project-funded surgical unit and ambulance, 73 surgeries were performed in about the last six months in 2009, saving so many lives of women and their newborns….I am aware that it is not my personal work alone but the outcome of a joint effort of many people, UNFPA, Portuguese cooperation and RTP."