PETÉN, Guatemala — On a late afternoon last fall, Marcelino Coc was cycling anxiously on a dirt road in Guatemala's Petén province. He was trying to find someone who could help bring his wife, Maria (25), to the hospital in Sayaxché by car, or, if that was not possible, a midwife -- actually for anyone who could help.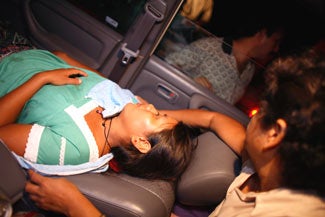 Maria was about to give birth in their little house next to the potholed road. Marcelino knew that getting her medical care could mean the difference between life and death. Maria's water had already broken. She had given birth at home twice before, but those births had taken an hour, and she had not experienced any problems. This time, things were not proceeding as smoothly. Maria was in pain, and urgently needed medical assistance.
The jungle in Petén during the daytime seems like a kind of paradise – a place blessed with an abundance of natural beauty as well as a bounty of fish, game, fruits and vegetables. But it feels much different once night falls – the lack of electricity, phone lines and access to health services impose a more frightening reality.
Impassable roads leave communities isolated
Maria and Marcelino live in a small, indigenous Queckchí community curiously named Ya Veremos (oosely translated, "Let's see"). The town is located on the banks of the Salinas river bordering the Mexican state of Chiapas, 40 kilometres (nearly 25 miles) away from the nearest hospital in the city of Sayaxché. This would not be a significant distance on a paved road, but the road to Sayaxché is passable only by truck or four-wheel drive vehicle. Sometimes during the rainy season, the road becomes completely impassable and the community is isolated for days.
That Tuesday evening Marcelino had no other option but to set out on his bicycle, desperately looking for help. Luck was with him. Two vehicles from UNFPA, the United Nations Population Fund, had visited the community that very day, and as they passed by, Marcelino signaled them to stop. They pulled up to the modest wooden house and Maria, supported by her husband, was able to get in the front seat of one of the vehicles. Marcelino jumped on the bed of the other truck, and the vehicles set out on the bumpy journey to the hospital. Darkness was quickly settling over the jungle like a damp blanket, bringing out night creatures like foxes and tarantulas, their silhouettes revealed by the headlights of the vehicles.
After about an hour of driving over deep ruts, across mud pits, through streams and over wider rivers by ferry the vehicles stopped at a small health station where the midwife in the care picked up sterile plastic gloves, just in case Maria were to give birth en route.
A happy ending, this time 
The vehicles continued for another hour and soon after arrival at the hospital, María gave birth to a healthy girl.
Not every delivery has such a happy ending. In Latin America and the Caribbean, a women dies every 20 minutes from preventable causes related to pregnancy and childbirth. The mortality rate is particularly high among the indigenous population. In Guatemala, indigenous people make up 40 per cent of the total population but account for 62 per cent of all maternal deaths. The country's maternal mortality rate ranks among the highest in the region, at 290 deaths per 100,000 live births. These figures are the 2005 international estimates, but the government believes that recent efforts have brought down this figure by nearly half. In any case the country-wide figures mask the far higher death rates of women who are part of the marginalized indigenous population.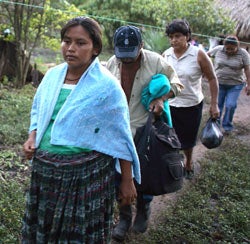 UNFPA lists four main pitfalls that contribute to maternal deaths; a delay in recognizing the danger signals; a delay in seeking skilled health services; poor transportation to health facilities; and poor quality of health services.
 
A shortage of trained health care workers
In Guatemala, UNFPA is working with the Ministry of Health to address these and other shortcomings that lead to high maternal deaths and injuries. This work includes improving reproductive health services nationwide, improving the registry of maternal mortality cases, providing of family planning services, and educating midwives and so-called 'health promoters' who in turn educate community members on health-related issues.
Roy Fitzgerald Flores, Director of the Southwestern Health District of Petén, says another problem is a severe lack of physicians. The District currently has 27 doctors, but needs 160 in order to meet the needs of the population.
"The problem is, nobody wants to live and work here," he says. The district has a budget to hire three more doctors, he explains, but the positions remain vacant for lack of qualified applicants.
But even with enough doctors in hospitals, pregnant women giving birth in indigenous communities like Chinajapec could still be in life-threatening danger if complications arise. The small community of about 16 families is located on a hillside in the jungle in the southeastern part of Petén with no road, no electricity and no telephone connection. It is about six hours by foot from the nearest hospital.
Indigenous communities face additional challenges
Health authorities face a number of other challenges as well. Dr. Hanibal Coti, director of a small clinic in El Estor in the neighbouring province of Izabal says that customs among indigenous people often keep them from seeking medical assistance. Most indigenous women are reluctant to be examined by male doctors, and prefer to give birth at home, often assisted by an untrained midwife, or by their husbands, who may have no training at all.
"This is why we put so much emphasis on training and equipping midwives," said Mario Aguilar, UNFPA Assistant Representative in Guatemala. Another solution for those who live in remote communities but want to seek medical help in a hospital is the establishment of so-called 'waiting homes' located next to clinics and hospitals. Women who are a few days away from giving birth can stay there in order to avoid being far from medical facilities if an emergency occurs, he explains.
UNFPA and the government of the Spanish province of Catalonia recently agreed to fund a waiting home next to the hospital in Sayaxché. When its construction is complete, Marcelino and his neighbours will no longer have to put their trust in faith alone to provide for quick transportation to the nearest hospital.
— Trygve Olfarnes
A three-pronged strategy for saving women's lives
Both the International Conference on Population and Development and Millennium Development Goals call for a 75 per cent reduction in maternal mortality between 1990 and 2015. This three-pronged strategy is key to the accomplishment of the goal:
All women have access to contraception to avoid unintended pregnancies
All pregnant women have access to skilled care at the time of birth
All those with complications have timely access to quality emergency obstetric care