TBILISI, Georgia – Like many other girls from rural villages in Georgia, Elene* didn't learn much about her sexual and reproductive health as an adolescent. Her mother told her about menstruation, but before Elene married at age 16, she had never visited a gynaecologist. Her husband was the first person to tell her about contraception.
"When my husband and I were dating, I was always afraid of getting pregnant even though we did not have sexual relations before marriage," said Elene, now 18, from central Georgia's Kaspi region. "If I had consulted a gynaecologist, the entire village would have learned about it and talked about me."
In Georgia, taboos, stigma and lack of education on the topic leave many young people struggling to navigate their own sexual and reproductive health. 
"A very big portion of the youth population is hardly even aware that sexual intercourse may result in pregnancy," said Dr. Lela Shengelia, head of the Division of Maternal and Child Health at Georgia's National Centre for Disease Control and Public Health. The 2014 National Youth Survey carried out by UNICEF revealed that while most young people aged 15–29 were aware of condoms as a method of contraception, less than half knew how to use them.
Awareness about reproductive health is much lower in rural areas like Elene's than among urban populations, according to Georgia's most recent Reproductive Health Survey, carried out in 2010 with support from UNFPA, USAID and UNICEF. Inequalities also persist among ethnic groups.
According to Zarifa*, 18, a first-year university student in Tbilisi, child marriage is common in her Azeri community in Marneuli, southern Georgia – but talking about reproductive health is not. 
"It was seen as shameful, even a perversion, to talk about these taboo things," she said. 
Misinformation and stigma 
Many young people have no other option but to seek out information on their own. 
"I would type 'sex' or something like that into Google and read some information," recalled Elene. "Once I tried to watch a programme on TV about AIDS and my father turned it off, saying it was not appropriate for me."
The information young people are able to find themselves can be biased, inaccurate and incomplete. "You can't really understand what is true and what is not online – what to trust and how to double-check it," said Mariam, 16, from Gurjaani municipality in eastern Georgia.
Even when information is available, many Georgians – especially young people – still encounter obstacles. While the law in Georgia grants adolescents and youth the right to obtain sexual and reproductive health services without their parents' or guardians' consent, youth-friendly services are not widely available.
And stigma creates a barrier to access, especially in rural areas. In villages, said Dr. Shengelia, "everything women do is more visible" – and, as Elene noted, subject to gossip.  
With lower access to information and quality services, especially for adolescents and youth, rural areas have lower usage of modern contraceptives and higher rates of child marriage, adolescent pregnancy and abortion. Surveys show rural women are more likely to resort to abortion to limit family size.
Providing youth-friendly information
To help equip Georgia's young people to make informed decisions, UNFPA signed an agreement with the Ministry of Education and Science to integrate material on reproductive health and healthy lifestyles into school curricula. The collaboration entails technical assistance as well as training of teachers and school doctors.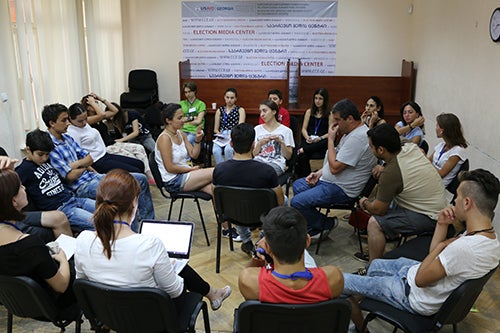 UNFPA-supported peer education training offers age-appropriate sexual and reproductive health information as well as an overview of relevant laws and available services. © UNFPA Georgia
Meanwhile, UNFPA supports informal interventions like information sessions at government-funded youth summer camps and peer education. Tailored to adolescents ages 14-16 or 16-19, the peer education modules offer information on sexual and reproductive health, family planning and HIV prevention services, relevant legislation, parental consent requirements, and confidentiality issues.
Zarifa participated in a training where she learned about the risks of child marriage and unplanned pregnancies, how to use modern contraceptive methods, and the need for regular visits to the gynaecologist. She also had a teacher who inspired most girls in her class to attend university.
"Now most of the girls in my village dream of studying instead of getting married," she said.
* Name changed to protect identity.
The original version of this article was written by Eka Kevanishvili and published by Radio Liberty.